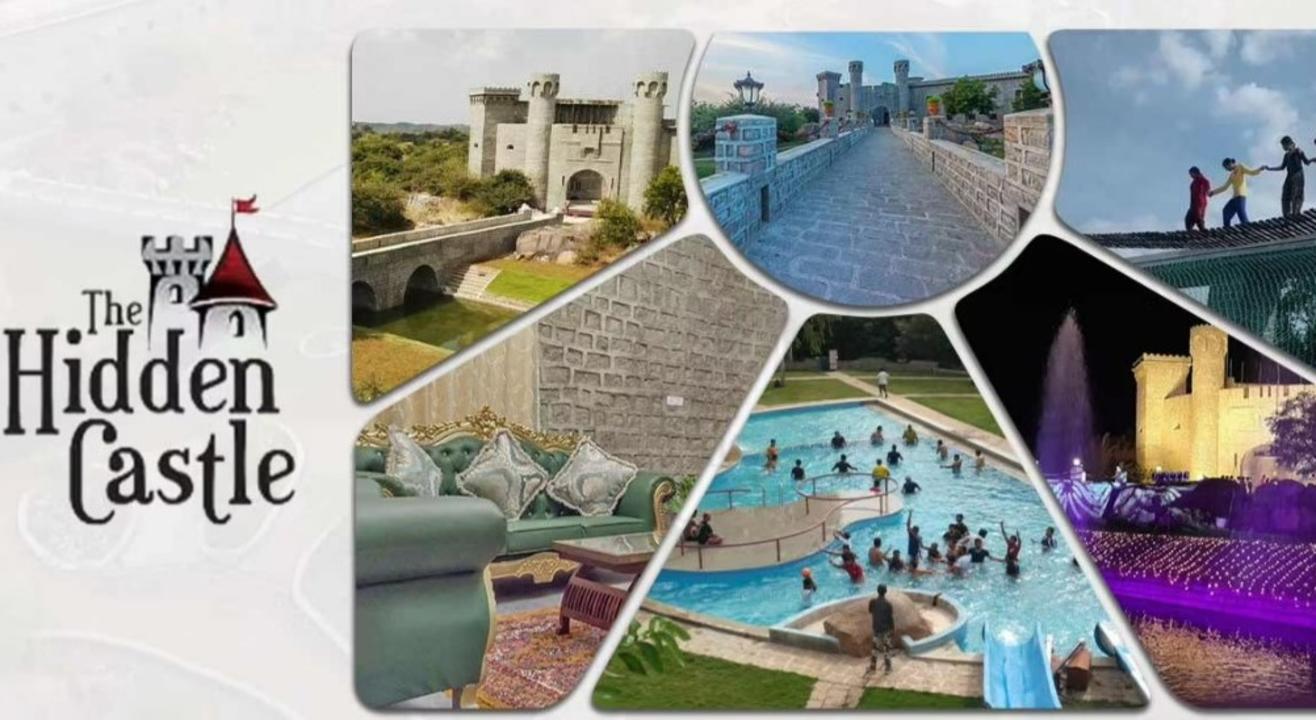 Day Outing @ The Hidden Castle
Everyday | Day outing 10 AM Onwards
The Hidden Castle, Hyderabad
Step out and enjoy this event
Event Guide
For Age(s)
Family Friendly
Invite your friends
and enjoy a shared experience
Day Outing @ The Hidden Castle
Everyday | Day outing 10 AM Onwards
The Hidden Castle, Hyderabad
Step out and enjoy this event
Event Guide
For Age(s)
Family Friendly
Invite your friends
and enjoy a shared experience
Event Guide
For Age(s)
Family Friendly
Invite your friends
and enjoy a shared experience
Timing: 10:00 AM to 6:00 PM
The Hidden Castle, as its name suggests, is an imposing castle-themed resort a one-hour`s smooth drive away from Hyderabad. Sprawling majestically over 30 acres of untamed terrain, it is just what adventure and nature lovers dream of. The awe-inspiring experience begins right from the circular, domed reception hall. It stays with them as they cross the arch bridge with quaint boats plying in the waters under it, intensifies as the drawbridge is lowered in their welcome, magnifies as they enter the Four Seasons hall named after the four marble statues that grace it and reaches a crescendo when they take in the many leisure and adventure activities awaiting them.
We have a plethora of activities and offerings to make your day trip fun-filled and unique each time you visit. If you are visiting as a large group, we have tailor-made packages to suit your group`s tastes and interests.
The Adventure Circuit
Tree top Walk
Commando net
London Bridge
Archery
Zip line
Secret Tunnel
Beach Volleyball (Not available if it rains)
Cricket
Museum
Army activities (Not available if it rains)
Aqua Circuit
Rain Dance
Swimming Pool
Spyder Hurl
High Rollers
Vertical Limit
Wood Walk
Jungle Pool
Other Activities for Night Stay Guests
Trekking (Not available if it rains)
Bonfire (Not available if it rains)
Karaoke (Not available if it rains)
Age Limit: Open for all.
Tickets once booked cannot be exchanged or refunded.
The above-mentioned prices may not be applicable for future events at The Hidden Castle.
DSLRs or any interchangeable lens cameras are not permitted.
Outside Food / Snacks and Beverages are strictly not allowed.
No refund or adjustment will be done after payment.
At the moment few games are available like Tree Top Walk, Vertical Limit, Wood Walk, Archery, Commando Net, London Bridge, and Zipliner.
Shoes and Pants are Mandatory for Adventure Games.
After confirmation of the booking, the person in charge of the group has to submit Id Proof as per the formality.
Liquor consumption, Drugs, Hookah and Pan is prohibited within the premises of the resort.
If anybody wants to bring liquor. A license has to be procured which is costing estimated Rs. 15,000/- per day.
Mode of Payments available – All Credit and Debit Cards (Merchant service fee would be applicable as per the Card Category)
We do not accept cash and cheque payments at the Castle.
Only the conversation which is documented between the Guest and Resort team is valid.
The above terms and conditions are subject to change at any time without prior notice.
Management reserves the right of admission.
Resort rules are applicable.
The Hidden Castle
State Highway No.1, Mathapalle, Telangana 502372, India
GET DIRECTIONS
Day Outing @ The Hidden Castle
Everyday | Day outing 10 AM Onwards
The Hidden Castle, Hyderabad
Step out and enjoy this event
Event Guide
For Age(s)
Family Friendly
Invite your friends
and enjoy a shared experience