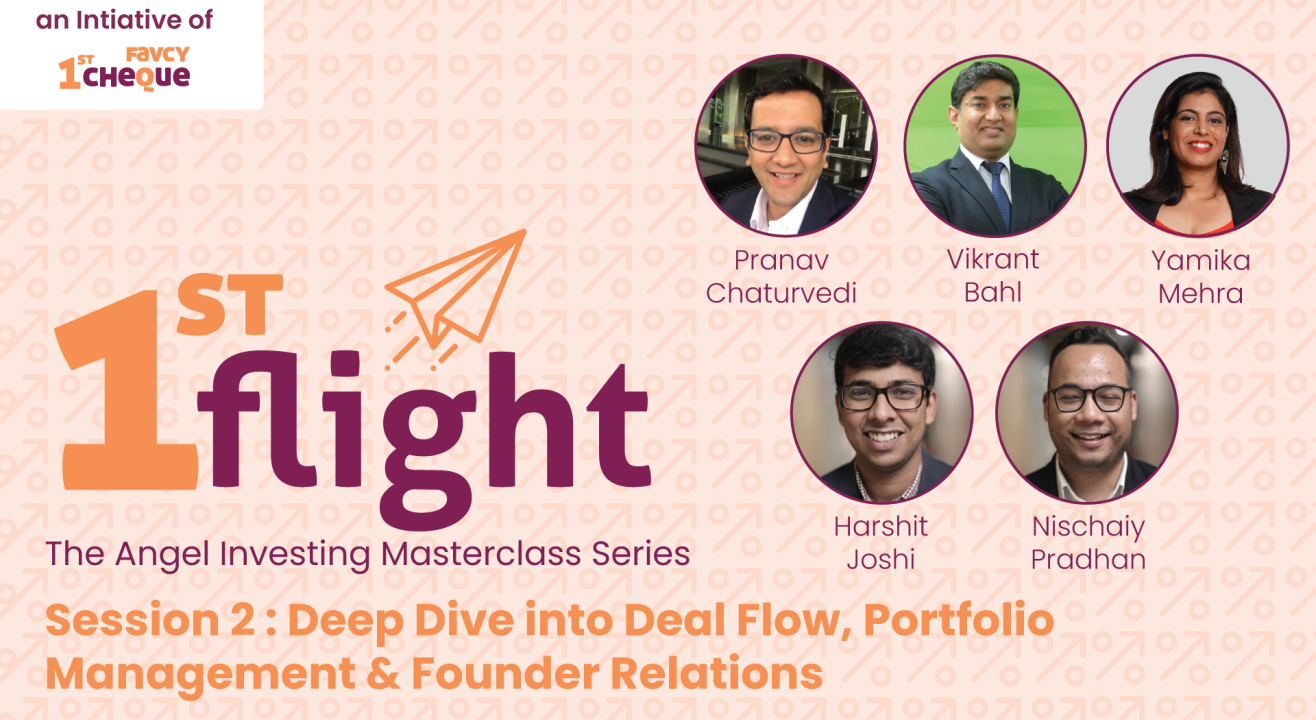 Deep Dive into Deal Flow, Portfolio Management & Founder Relations - 1stFlight (The Angel Investing Masterclass Series)
Invite your friends
and enjoy a shared experience
Deep Dive into Deal Flow, Portfolio Management & Founder Relations - 1stFlight (The Angel Investing Masterclass Series)
Invite your friends
and enjoy a shared experience
Invite your friends
and enjoy a shared experience
Join us for '1stFlight: The Angel Investment Masterclass', a premier online event series hosted by Favcy 1stCheque, the leading angel network in India.
Whether you're a budding investor looking to break into the field or a seasoned professional aiming to sharpen your skills, this course provides you with the knowledge and insights to succeed in the dynamic world of angel investing. During this session, we would be covering the following chapters
Chapter 4: Building Deal Flow: Master the art of deal sourcing in this insightful session. Learn strategies to build a strong and diversified deal flow, network effectively within the startup ecosystem, and spot potential investment opportunities early.
Chapter 5: Portfolio Management: Delve into the key aspects of managing your investment portfolio. This session covers the techniques for tracking performance, managing risk, making follow-on investments, and best practices for portfolio diversification.
Chapter 6: Effective Investor-Founder Relationships: Cultivate fruitful relationships with startup founders. Learn about the guidelines for productive and respectful interactions, how to provide value beyond the capital, and handle difficult conversations.
Who Should Attend:
Angel investors looking to expand their deal flow
Investors seeking to enhance their portfolio management skills
Any investor looking to build effective relationships with founders
What You Will Learn:
Techniques to generate and manage deal flow
Strategies for effective portfolio management
Best practices for building positive investor-founder relationships
Materials Provided:
Recording of the Session
Presentation Slides
Strategies for Building Deal Flow Checklist
Deal Flow Tracker Spreadsheet Template
Portfolio Management Best Practices Checklist
Portfolio Tracking Spreadsheet Template
Guidelines for Effective Investor-Founder Relationships Checklist
Quarterly Update Request Template
This masterclass is designed and led by experts in the field, leveraging their vast experience to give you a real-world understanding of angel investing. Join '1stFlight' and get ready to take your first step into the exhilarating world of angel investing.
About the Organizer:
Favcy 1stCheque is the Angel Network arm operated by Favcy VB (India's Largest Venture Builder) that is committed to supporting early-stage startups by providing capital, mentorship, and access to business networks. With a robust portfolio of successful investments, Favcy 1stCheque empowers new and aspiring investors to make informed and strategic investment decisions.
Note:
Tickets are non-refundable and non-transferable.
Participants will receive the Zoom link for the masterclass 24 hours before the event.
The sessions will be recorded and conducted in English.
Contact Information: For any queries, please contact us at piyush.verma@favcy.in
Deep Dive into Deal Flow, Portfolio Management & Founder Relations - 1stFlight (The Angel Investing Masterclass Series)
Invite your friends
and enjoy a shared experience