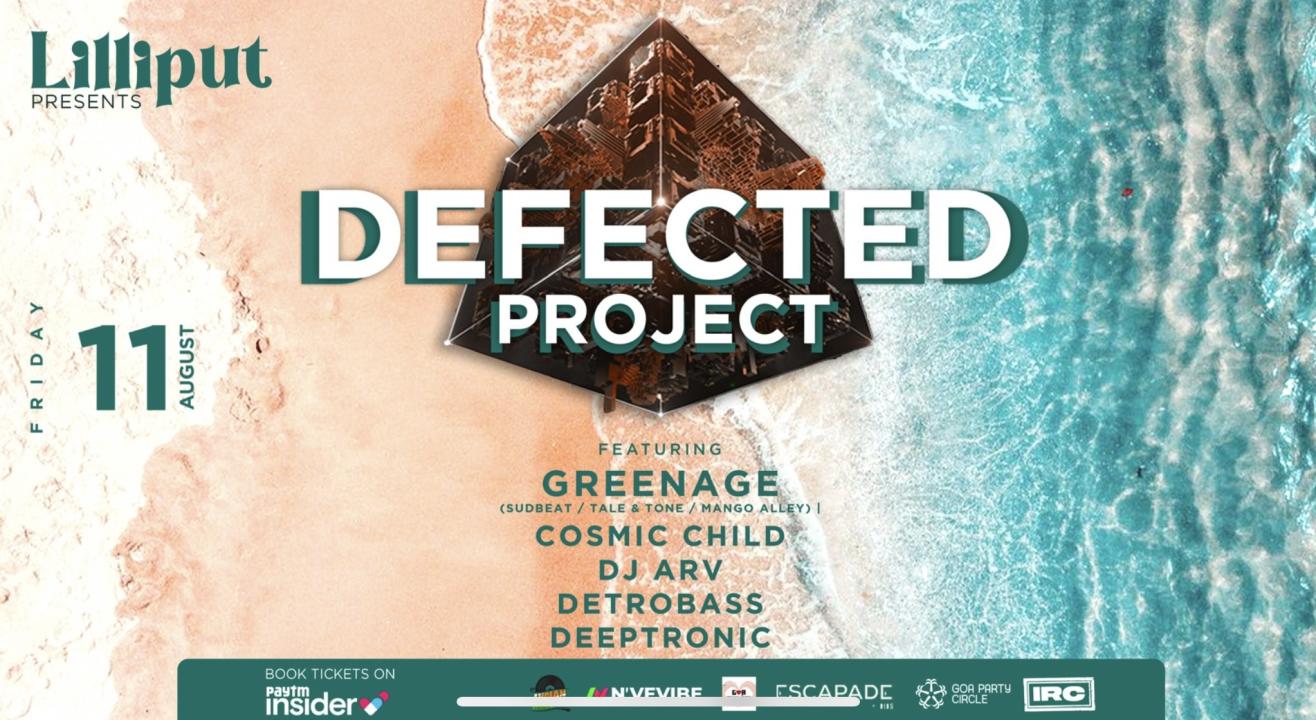 DEFECTED PROJECT | CAFE LILLIPUT, ANJUNA BEACH
August 11 | 8PM - August 12 | 6AM
Event Guide
Language
English, Hinglish
Live Performance
Enjoy a unique experience
Invite your friends
and enjoy a shared experience
DEFECTED PROJECT | CAFE LILLIPUT, ANJUNA BEACH
August 11 | 8PM - August 12 | 6AM
Event Guide
Language
English, Hinglish
Live Performance
Enjoy a unique experience
Invite your friends
and enjoy a shared experience
Event Guide
Language
English, Hinglish
Live Performance
Enjoy a unique experience
Covid 19 Safety Measures
This event adheres to the following

Health & safety measures
Invite your friends
and enjoy a shared experience
Covid 19 Safety Measures
This event adheres to the following

Health & safety measures
Join us for an electrifying night of musical enchantment at the much-anticipated "DEFECTED PROJECT" event, set to captivate souls and ignite spirits at the enchanting Café Lilliput, nestled in the heart of Anjuna, GOA. On the vibrant evening of August 11th, 2023, an exhilarating journey through the realms of progressive music awaits, promising an unforgettable experience that will transcend the boundaries of time.
Prepare to be swept away by the euphoric melodies and pulsating rhythms, as we groove to the beats of the mesmerizing headliner, "GREENAGE." With their innovative soundscapes and dynamic energy, GREENAGE is poised to lead us on an expedition through sonic landscapes that will redefine our perceptions of music.
But the magic doesn't stop there. Accompanying this sonic maestro are a lineup of extraordinary talents, each a luminary in their own right. Brace yourselves for a sonic odyssey guided by the celestial sounds of "COSMIC CHILD," the rhythmic finesse of "DJ ARV," the bass-driven enchantment of "DETROBASS," and the soul-stirring vibes of "DEEPTRONIC."
As the clock strikes 8:00 PM, Café Lilliput's doors will swing open to welcome you into a realm where music transcends mere sound, and dance becomes a sacred language. From the first beat to the break of dawn, immerse yourself in a musical narrative that will unravel your senses and set your spirit free.
The dance floor will pulsate with energy, friendships will be forged, and memories will be etched into the tapestry of time. Join us at "DEFECTED PROJECT" on August 11th, 2023, as we unite under the starry Goan sky to celebrate the unifying power of music, and to embark on a sonic voyage that promises to leave an indelible mark on your heart and soul.
Cafe Lilliput
Anjuna Beach, Monteiro Vaddo, Flea, Market Rd, Monteiro Vaddo, Anjuna, Goa 403509, India
GET DIRECTIONS
DEFECTED PROJECT | CAFE LILLIPUT, ANJUNA BEACH
August 11 | 8PM - August 12 | 6AM
Event Guide
Language
English, Hinglish
Live Performance
Enjoy a unique experience
Invite your friends
and enjoy a shared experience