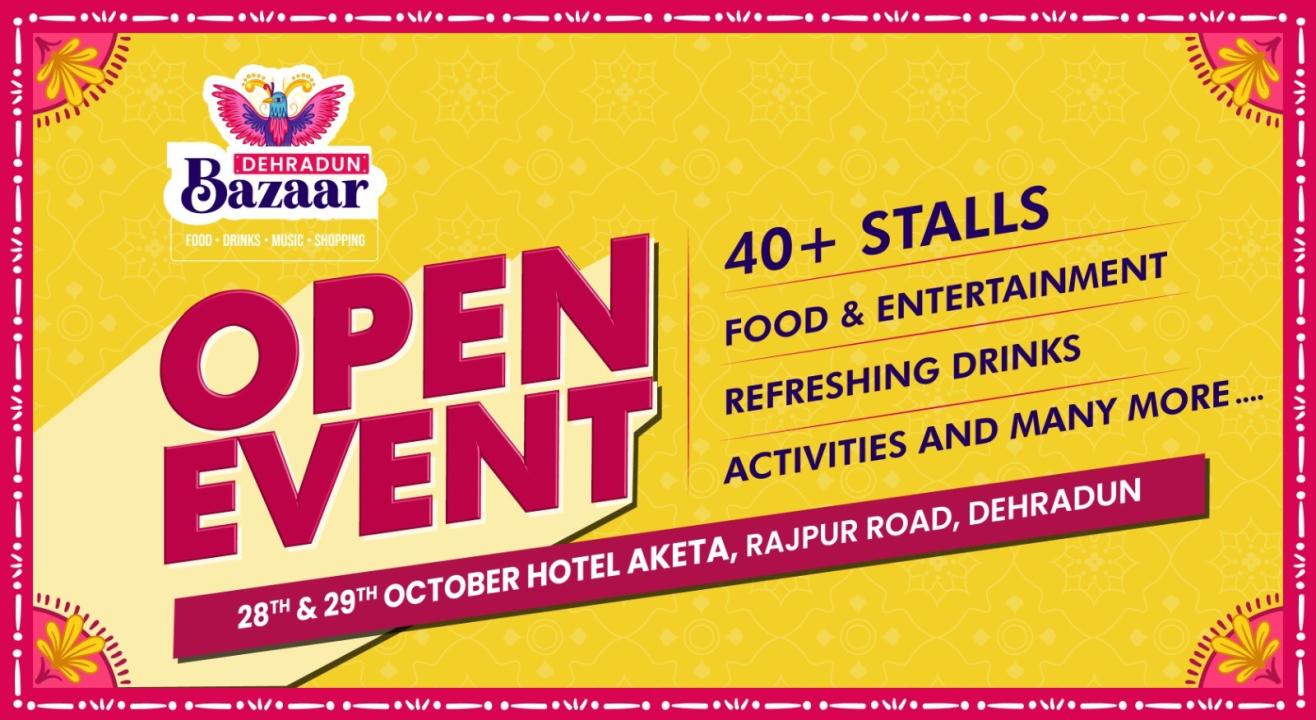 October 28 | 11AM - October 29 | 11PM
Event Guide
Celebration
Fun times ahead
Invite your friends
and enjoy a shared experience
October 28 | 11AM - October 29 | 11PM
Event Guide
Celebration
Fun times ahead
Invite your friends
and enjoy a shared experience
Event Guide
Celebration
Fun times ahead
Invite your friends
and enjoy a shared experience
Event Description: Dehradun Bazaar - A Celebration of Art, Culture, and Commerce
Get ready for a two-day extravaganza that promises to be a visual and sensory delight! Dehradun Bazaar, a vibrant celebration of art, culture, and commerce, is back and bigger than ever. Join us on the 28th and 29th of October at the picturesque Hotel Aketa, nestled in the heart of Dehradun.
What to Expect:
🎨 Art & Craft Stalls: Discover an eclectic showcase of local and regional artisans, craftsmen, and artists. From intricate handcrafted jewelry to breathtaking paintings, you'll find treasures that celebrate the rich heritage of our region.
🍽️ Delicious Bites: Treat your taste buds to a delectable array of cuisines. Savor the flavors of local delicacies, international cuisine, and street food favorites that will tantalize your senses.
🎶 Live Music: Immerse yourself in the soul-stirring melodies of local musicians and bands. The stage will come alive with performances that will make you tap your feet and sway to the rhythm.
🛍️ Shopping Extravaganza: Shopaholics, rejoice! From fashion-forward clothing to unique home decor, our shopping stalls offer something for everyone. Don't miss out on incredible deals and one-of-a-kind finds.
🖌️ Art Competitions: Witness creativity in action with live art competitions where artists will bring their visions to life before your eyes.
🌟 Workshops & Activities: Engage your creative side with hands-on workshops, interactive activities, and engaging demonstrations suitable for all ages.
🌆 Night Market: As the sun sets, the night market comes alive with a mesmerizing ambiance. The venue will be transformed into a magical wonderland with twinkling lights and a festive vibe.
✨ And Much More: Be prepared for surprises, giveaways, and a vibrant atmosphere that will make your weekend unforgettable.
Why Attend:
Dehradun Bazaar is not just an event; it's a celebration of our community's talents, traditions, and togetherness. It's a chance to support local businesses, connect with fellow enthusiasts, and create memories that will last a lifetime.
Mark your calendars, invite your friends and family, and be part of this cultural extravaganza that celebrates the essence of Dehradun. Admission is FREE, so there's no reason to miss out!
For the latest updates, follow us on social media and stay tuned for exciting announcements. See you at Dehradun Bazaar - where the heart of our city comes to life!
#DehradunBazaar #LocalTalent #CulturalCelebration
Dehradun Bazaar Event Instructions
Welcome to Dehradun Bazaar, where art, culture, and commerce unite! To ensure you have an enjoyable experience, please take note of the following event instructions:
1. Event Dates and Venue:
Dehradun Bazaar will take place on the 28th and 29th of October at Hotel Aketa, Rajpur Road, Dehradun.
Our venue offers a spacious and welcoming environment for you to explore.
2. Entry and Registration:
Admission to Dehradun Bazaar is FREE for all.
3. Event Timings:
The event will run from 11:00 AM to 11:00 PM on both days.
Be sure to check the schedule for specific session timings, workshops, and performances.
4. Vendor Stalls and Attractions:
Explore a diverse array of vendor stalls offering art, crafts, fashion, food, and more.
Engage with local artisans and businesses, and show your support for the vibrant community.
5. Food and Refreshments:
Savor the flavors of Dehradun with a wide selection of delicious cuisine and beverages available on-site.
Relax and enjoy your meals.
6. Live Performances:
Don't miss the live music performances, art competitions, and cultural activities happening throughout the event.
Check the event schedule for details.
7. COVID-19 Safety Measures:
Your safety is our priority. Please adhere to any safety guidelines and protocols in place.
8. Photography and Social Media:
Feel free to capture your favorite moments and share them on social media using our event hashtag #Dehradunbazaar.
Respect the privacy and consent of others when taking photos.
9. Lost and Found:
- If you lose or find an item, please report it to the Lost and Found desk located near the entrance.
11. Questions and Assistance:
- Our event staff and volunteers are here to assist you. If you have any questions or need assistance, don't hesitate to ask.
We hope you have a fantastic time at Dehradun Bazaar! Immerse yourself in the festivities, explore the creativity of local artists, savor culinary delights, and make lasting memories. Thank you for being part of this cultural celebration!
For updates and announcements, follow us on social media @nexus.entertainment___.
Enjoy the event!
#DehradunBazaar #LocalArtisans #CulturalCelebration
Hotel Aketa
113 1-2, Rajpur Rd, Hathibarkala Salwala, Dehradun, Uttarakhand 248001, India
GET DIRECTIONS
October 28 | 11AM - October 29 | 11PM
Event Guide
Celebration
Fun times ahead
Invite your friends
and enjoy a shared experience