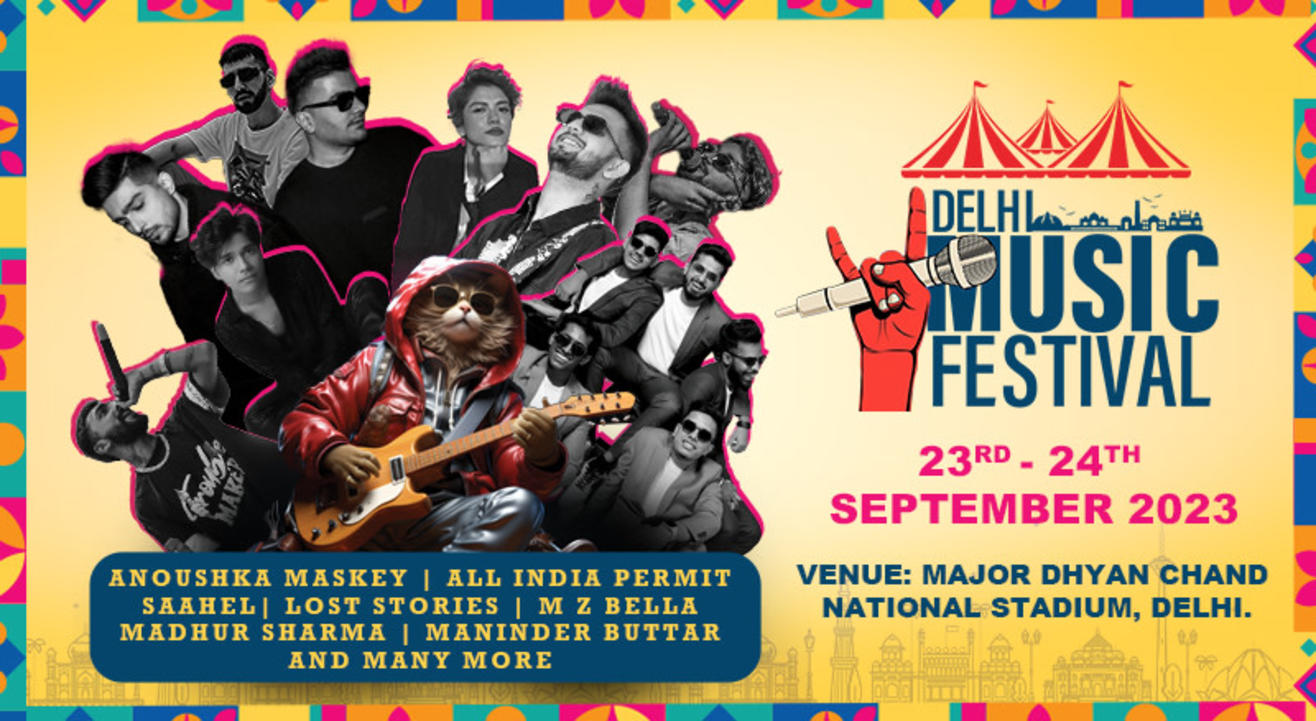 September 23 & September 24
Major Dhyan Chand National Stadium, Delhi
Event Guide
Live Performance
Enjoy a unique experience
Invite your friends
and enjoy a shared experience
September 23 & September 24
Major Dhyan Chand National Stadium, Delhi
Event Guide
Live Performance
Enjoy a unique experience
Invite your friends
and enjoy a shared experience
Event Guide
Live Performance
Enjoy a unique experience
Invite your friends
and enjoy a shared experience
Get ready to experience the ultimate cultural celebration under the sun & stars! Introducing the Delhi Music Festival, where we are bringing together the diverse sounds and rhythms of India to create an unforgettable experience of music.
From classical melodies to contemporary beats, we`ve got it all. Enjoy live performances featuring multiple stages and a diverse lineup of artists from a wide range of musical styles, all while taking in the beauty of Delhi city. The festival is meant to be a celebration of the rich and diverse mix of cultures of India and its vibrant music scene.
In addition to the music, there would be something for everyone, from craft beers to spirits, as well as a diverse selection of food options that would satisfy all palates.
Don`t miss out on this incredible opportunity to experience the fusion of different cultures through the power of music. Come and join us to celebrate India`s vibrant culture and music. GRAB YOUR TICKETS NOW!!
Day 1
4.00 PM - Dnox
5.00 Pm - Aryan Katoch
6.00 Pm - Saahel
7.30 Pm - Mz Bella
8.30 Pm - Maninder Buttar
Day 2
3.00 PM - Ragghav & Kabeer
4.00 PM - Mohit Oberoi Live
5.00 Pm - Anoushka Maskey
6.00 Pm - All India Permit
7.00 Pm - Lost Stories
8.30 Pm - Madhur Sharma
Major Dhyan Chand National Stadium
नैशनल स्टेडियम, India Gate Cir, National Stadium, India Gate, New Delhi, Delhi 110001, India
GET DIRECTIONS
September 23 & September 24
Major Dhyan Chand National Stadium, Delhi
Event Guide
Live Performance
Enjoy a unique experience
Invite your friends
and enjoy a shared experience