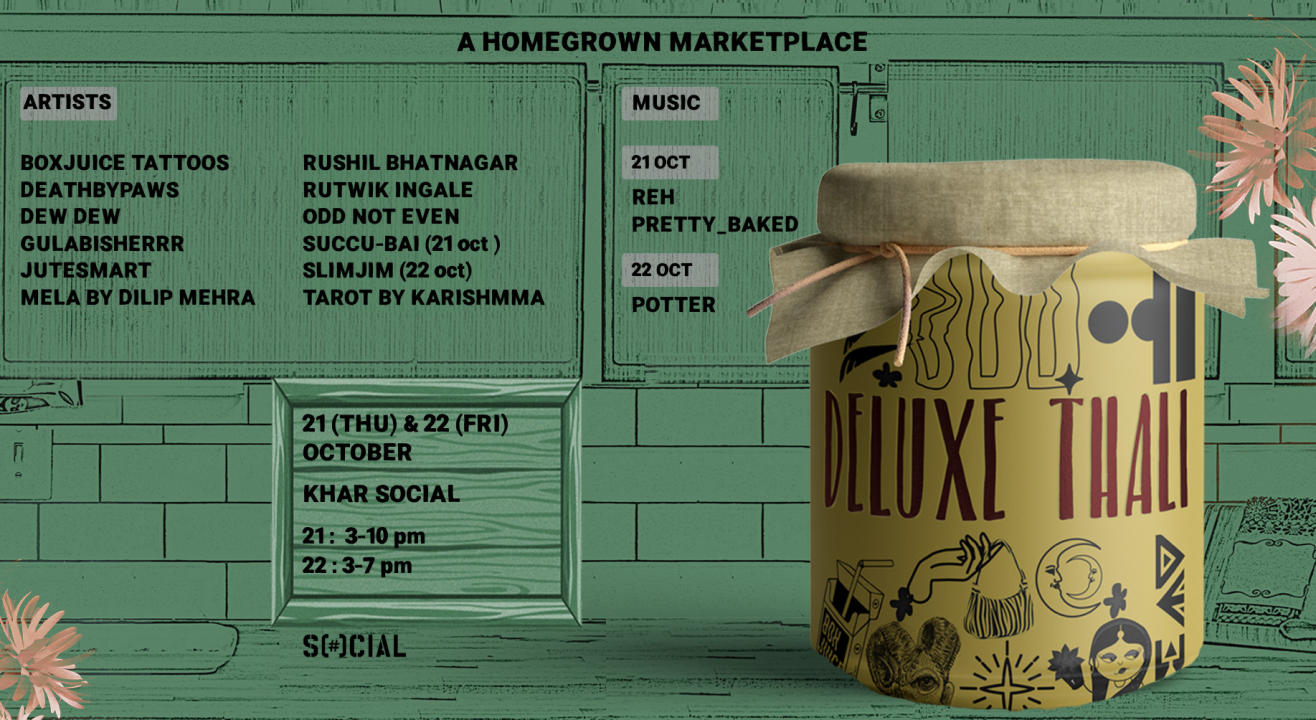 Deluxe Thali : A Homegrown Marketplace
October 21 | 3PM - October 22 | 10PM
Step out and enjoy this event
Invite your friends
and enjoy a shared experience
Deluxe Thali : A Homegrown Marketplace
October 21 | 3PM - October 22 | 10PM
Step out and enjoy this event
Invite your friends
and enjoy a shared experience
Covid 19 Safety Measures
This event adheres to the following

Health & safety measures
Temperature Checks
Hand Hygiene Stations
Sanitisation before the show
Social Distancing
Face Masks Required
Limited Capacity
Contactless Service
Organisers wear masks
Registered on Aarogya Setu
Invite your friends
and enjoy a shared experience
Covid 19 Safety Measures
This event adheres to the following

Health & safety measures
Temperature Checks
Hand Hygiene Stations
Sanitisation before the show
Social Distancing
Face Masks Required
Limited Capacity
Contactless Service
Organisers wear masks
Registered on Aarogya Setu
One thali, so many flavours! They say lovers of thalis carry a deluxe heart. Our thali of artists originates from the love of everything homegrown!
Presenting " Deluxe Thali ", a two-day marketplace serving you the hottest upcoming brands and artists from Mumbai, bringing all the spices to a table near you.
Date: 21st (Thursday) & 22nd (Friday) October 2021
Venue: Khar Social, Mumbai
Time:
3 pm-10 pm (Thursday)
3 pm-7 pm (Friday)
Our menu for the big spread includes :
BOXJUICE TATTOOS
DEATHBYPAWS
DEW DEW
GULABISHERRR
JUTESMART
MELA BY DILIP MEHRA
RUSHIL BHATNAGAR
RUTWIK INGALE
ODD NOT EVEN
SUCCU-BAI (21 oct )
SLIMJIM (22 oct)
TAROT BY KARISHMMA
To end this feast with a celebratory dance we've got our very own Mumbai-based DJs Reh & Pretty_baked on the 21st Oct (Thursday) and Potter on the 22nd Oct (Friday)!
There isn't any waiting for the tables at Deluxe Thali! It's a spread for all!!
Indulge in!
Boxjuice Tattoos
Box Juice is a tattoo studio led by Amiya Bhanushali, a queer and non-binary visual artist. Amiya (they/them) is an art curator, lover of all things wonky and a plant parent extraordinaire. While it started off as an initiative to design cool, new-age temporary tattoos for millennials and commitment-phobes, it has slowly evolved into a studio that provides budget-friendly, permanent hand-poked tattoos. This is a safe space and first serves women, non-binary/ trans persons, and practices body neutrality.
Deathbypaws
Your 20 y/o neighborhood art-hoe!
Aashana a.k.a 'Deathbypaws' design lighters, ashtrays & jewelry with epoxy compound and I hope by the end of the day everyone owns some cool shit that they can use & flex on people with!"
DewDew
Distinctive funky prints and clothing that makes you feel alive!
Gulabisherrr
Gulabisherrr is an amalgamation of two siblings simply letting their creativity flow. They hand paint their shirts, pants in cute, quirky patterns with absolute love and care. Every piece is an expression of their personalities ensuring no harm is done to our already depleting environment, so you're bound to have a guilt-free experience!
Jutesmart
Founded by Mrinmoy Bhattacharjee and Gitali Bhattacharjee in 2015 - based out of Calcutta, Jute Smart was ideally an export house manufacturing jute/burlap bags for the packaging industry across the world.
However, since Covid 19 Gitali's love for creativity and knack for designing pushed her towards creating trendy bags as a challenge to experiment with an eco-friendly fabric and bring jute into the light.
Her idea is to push sustainability with affordability, and the versatility the plant-based fabric Jute can offer which has been misunderstood as only sacks in the regular market shopping bags.
Mela By Dilip Mehra
A wonderland of the free-flowing, free-spirited collection that caters to the bohemian soul and all body types, the Mela is a store by the famous Bollywood actor, a celebrity fashion designer, and stylist Dilip Mehra. Expect a thoughtful curation of vintage goodies, unique one-off oversized patterns, a mix of fabrics from all around the world!
Rushil Bhatnagar
Rushil Bhatnagar presents " Jasmine "
Rutwik Ingale
Rutwik's stand-alone pieces explore a few unseen realms in nature and stem from his state of mind at the time of creation. Inspired by the music he immerses himself into, a viewer would find memories of his own in these paintings.
Even though they're solely visual, pondering upon these artworks invoke more than just one of your senses. They invoke memories, or a particular smell, or maybe even some song at times.
ODD NOT EVEN
A quirky perception of everyday scenarios in our own odd ways that's odd/weird in their own way. Anti-normal with a niche in streetwear.
Expect exclusive one of one limited pieces (3,5,7)
A custom look, just for you.
Succu-bai
Start loving Green! Succu-bai at your service!!!
Affordable green gifts for everyone!
Slimjim
India's first and #1 online Smoking paraphernalia headshop.
Founded by two young and eager entrepreneurs Kunaal Kapoor and Nikunj Ahuja. They hit upon the idea to fill this demand-supply gap with a portfolio of completely above the board range of products, which complied with every legal aspect as well as met customer expectations. Today it offers the widest selection of rolling papers, filters, pipes, bongs, 100% Nicotine Free Tobacco Substitutes, and an eclectic collection of wall décor, gifts, munchies, footwear, and more.
Tarot by Karishmma
Who doesn't like knowing their future? And enhancing it with all the beautiful opportunities you can ever have? That's a proper "thali" so at Deluxe thali, Karishmma, a professional psychic Tarot reader awaits your presence to know about your future and insightful guidance with definitely beautiful crystals as besties to solve your problems and heal you!
Healing is a way of living. With love - K.
Instagram Handles
BOXJUICE TATTOOS -
@boxjuice.tats
DEATHBYPAWS
@deathbypaws
DEW DEW
@wearedewdew
GULABISHERRR
@gulabisherrr
JUTESMART
@jutesmart
MELA BY DILIP MEHRA
@melabydilipmehra
RUSHIL BHATNAGAR
@rushilbhatnagar
RUTWIK INGALE
@rutwik_ingale
ODD NOT EVEN
@stutii13
SUCCU-BAI (21 oct )
@succu_bai
SLIMJIM (22 oct)
@slimjimindia
TAROT BY KARISHMMA
@kkayish_tarot
Khar Social
Ground, 1, Rohan Plaza, 5th Road, Ram Krishna Nagar, Khar, Ram Krishna Nagar, Khar West, Mumbai, Maharashtra 400052, India
GET DIRECTIONS