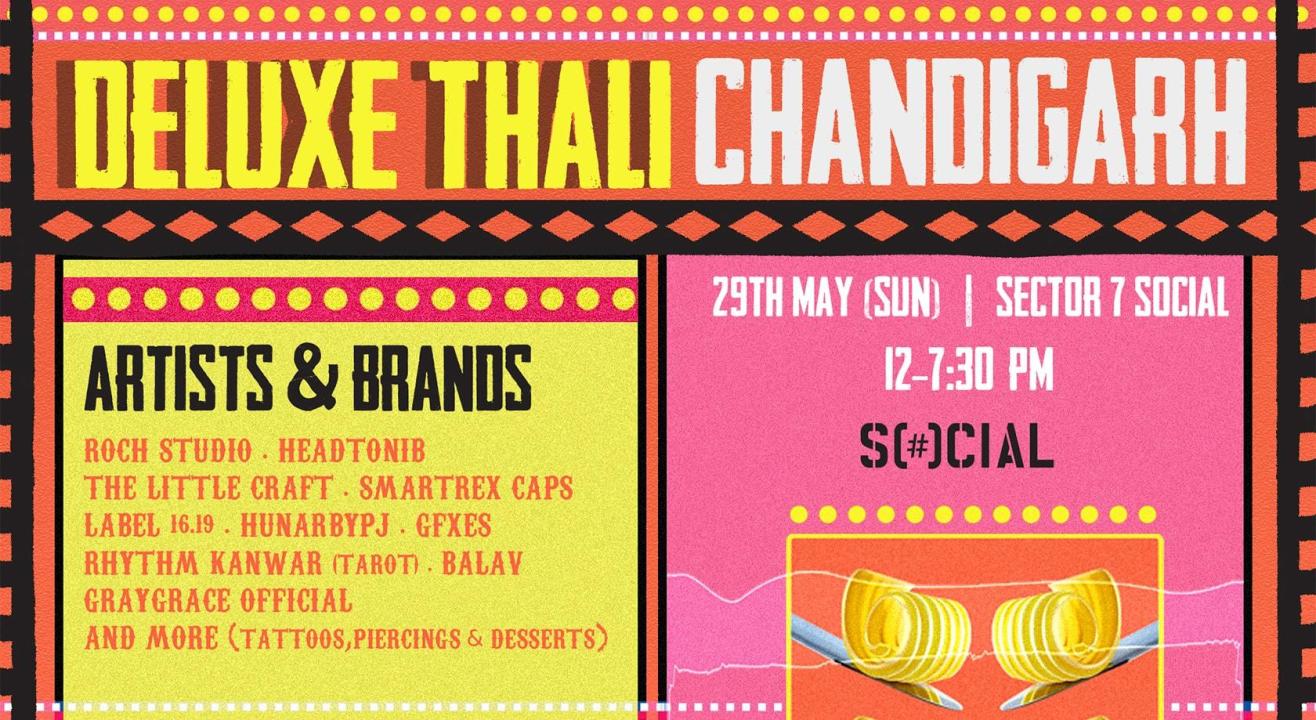 Deluxe Thali: A Homegrown Marketplace (Chandigarh)
Sector 7 Social, Chandigarh
Step out and enjoy this event
Invite your friends
and enjoy a shared experience
Deluxe Thali: A Homegrown Marketplace (Chandigarh)
Sector 7 Social, Chandigarh
Step out and enjoy this event
Invite your friends
and enjoy a shared experience
Invite your friends
and enjoy a shared experience
#Chandigarh it's time to feast on this exotic menu !!! We're super excited to see you at our debut Thali!
Presenting " Deluxe Thali ", an all day marketplace serving you the hottest upcoming brands and artists from Chandigarh and around, bringing all the spices to a table near you!
Venue- Sector 7 Social, Chandigarh
Date- 29th of May (Sunday) Time- 12-7:30pm
There's no waiting at the tables here, it's a spread for
all!
On this Sunday special menu we have -
ROCH STUDIO @rochstudio
HEADTONIB @headtonib
THE LITTLE CRAFT @the_littlecraft
SMARTREX CAPS @smartrex_caps
LABEL 16.19 @label16.19
HUNARbyPJ @girlish.thoughts
GFxes @gfxes.eth
RHYTHM KANWAR (TAROT) @rhythmkanwar
BALAV@balavofficial
GRAYGRACE OFFICIAL @graygraceofficial
ELMAS BOX @elmasbox
AND MORE (TATTOOS, PIERCINGS & DESSERTS)
Sector 7 Social
SCO 37, Madhya Marg, Sector 7-C, Sector 7, Chandigarh, 160019, India
GET DIRECTIONS
Deluxe Thali: A Homegrown Marketplace (Chandigarh)
Sector 7 Social, Chandigarh
Step out and enjoy this event
Invite your friends
and enjoy a shared experience