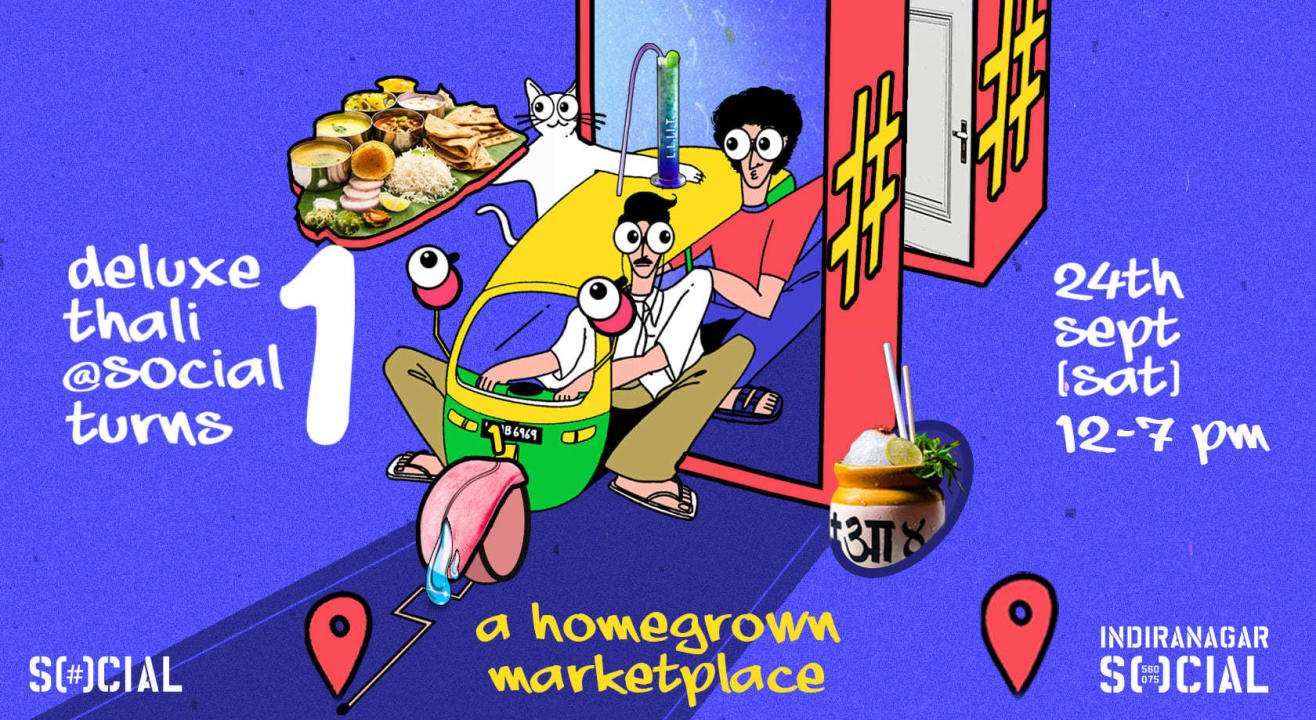 Deluxe Thali - A Homegrown Marketplace
Indiranagar Social, Bengaluru
Step out and enjoy this event
Invite your friends
and enjoy a shared experience
Deluxe Thali - A Homegrown Marketplace
Indiranagar Social, Bengaluru
Step out and enjoy this event
Invite your friends
and enjoy a shared experience
Invite your friends
and enjoy a shared experience
#Bengaluru we're bringing the Deluxe celebrations to you on the 24th Sept as #DeluxeThaliTurns1 at SOCIAL!
12 pm onwards, at Indiranagar SOCIAL.
Come through to indulge in this big feast featuring a whole lot of art, music, jewellry, clothing, tattoos, live activities, workshops, and more!!
Presenting "Deluxe Thali", an all-day marketplace serving you the hottest upcoming brands and homegrown artists from the city, bringing all the spices to a table near you!
Deluxe Special Menu for the day features -
ALIENS - @alienstattooindia
CLIME SCENE - @climescene
EAZY WAGON - @eazywagon
ESSENTIALLY NOMADIC - @shopessentiallynomadic
FISHHHITA - @fishhhita
HUED SPIRIT - @hued.spirit
INKED CLOTHES - @inkedclothes
MOHIT ADLAKHA - @mohitadlakha__
MUSCARI STUDIOS - @shop.muscari
NEOSOCIALE - @neosociale
QUIRE STUDIO - @quire.studio
TAROT READINGS WITH SHWETA - @readingswithshweta
SANJHP.ART - @sanjhp.art
SOOZAY Q - @soozay_q
STUDIO NAACH - @studio_naach
SUSAN HALFHIDE - @susanhalfhideartworks
TATTOOS AND TALES - @tattoosandtales
THE PRODUCT LAB - @the.product.lab
THE SEED STORE - @theseedstore
THRFT STORE - @thrft_store_
WELLNESS BY VITI - @wellnessbyviti
ZENZULA - @zenzula
Workshops for the day
Candle Making workshop by House of Drip - 1:30 to 4:30 pm (3 slots).
Zine Making Workshop by Preston Olakatu - 1:30 to 4:30pm.
Tipsy at Speakeasy: A mixology workshop by Jones Elish a.k.a @spirited_pirate - 5 to 6pm.
There isn't any waiting for the tables at Deluxe Thali!
Free Entry. It's a spread for all!
#SeeYouAtSOCIAL
Indiranagar Social
37, 80 Feet Rd, Hal, HAL 3rd Stage, Indiranagar, Bengaluru, Karnataka 560075
GET DIRECTIONS
Deluxe Thali - A Homegrown Marketplace
Indiranagar Social, Bengaluru
Step out and enjoy this event
Invite your friends
and enjoy a shared experience