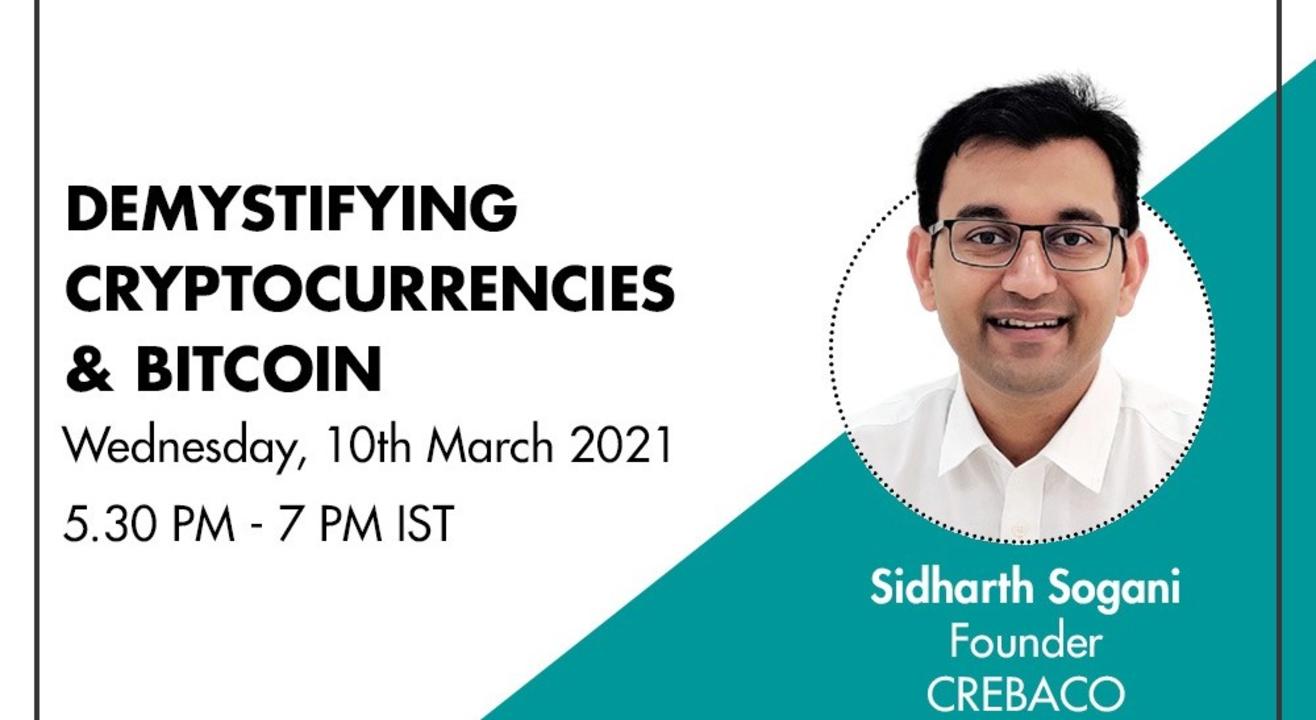 Demystifying Cryptocurrencies & Bitcoin
Enjoy this event from your home
Event Guide
Masterclass
Learn from an expert
Invite your friends
and enjoy a shared experience
Event Guide
Masterclass
Learn from an expert
Invite your friends
and enjoy a shared experience
About the Event
Love it or don't understand it, cryptocurrency has been in the news for all the wrong reasons, first with bitcoin values against the dollar constantly fluctuating and then the Indian government and others, considering or driving at an absolute ban. The future of cryptocurrency in India might be uncertain at this point in time, however, the world over, this new-age currency is starting to gain more traction and acceptance. Just recently, Goldman Sachs restarted its cryptocurrency desk, with plans to look into the possibility of a bitcoin exchange traded fund. Earlier this year, Tesla announced its plans to accept bitcoin as payment and has also purchased USD 1.5 billion worth of the currency.
So what is driving this interest in bitcoin, ethereum, litecoin and other types of cryptocurrency? Many expect the hype to wear off in time, but some expect that these currencies will take over the world some day, leading to a kind of parallel economy.
There is no question that cryptocurrency is complex, exciting, and to most governments it means decentralization and therefore, an instrument of anarchy. To cut a long story short, cryptocurrency is hugely misunderstood, while coming with far too many variables, and to set the record straight, Sidharth Sogani, Founder and CEO of CREBACO, will be taking us through its various aspects in our Masterclass on Demystifying Cryptocurrencies & Bitcoin.
CREBACO is a global leader in research intelligence and due diligence focused on the blockchain and cryptocurrency industry. By fostering an in-depth understanding of the cryptocurrency landscape, they aim to regulate, and promote a safer approach to considering investments in this space.
In this Masterclass, Sidharth will tackle the governance and regulatory aspects, explain to us why we need to give Cryptocurrency a fair hearing, discuss its emergence as a Global Asset Class, and lots more that you'll have to tune in to find out!
Join us for this free and open to all session on 10th March, between 5.30 - 7.00 pm!
For more information about this session, please feel free to reach out to: chandni@mumbaiangels.in / miloni@mumbaiangels.in
About Mumbai Angels Network:
We started our journey in 2006 and have since been closely associated with India's startup ecosystem. Now, we are one of India's premier platforms for new venture investing. We have over 500 members across geographies, located in 9 chapters across India and in more than 25 cities the world over. The network today has one of the strongest portfolios in the country with over 150 companies and more than 70 exits plus next round investments.
You can keep track of all our Masterclasses at: https://mumbaiangels.com/events/
Follow us on social media:
Instagram- https://www.instagram.com/mumbaiangelsnetwork/
LinkedIn- https://www.linkedin.com/company/mumbaiangelsnetwork/
Twitter- https://twitter.com/mumbaiangels
Facebook - https://www.facebook.com/MumbaiAngelsNetwork/
We're looking forward to seeing you and will be thrilled to have you join us!