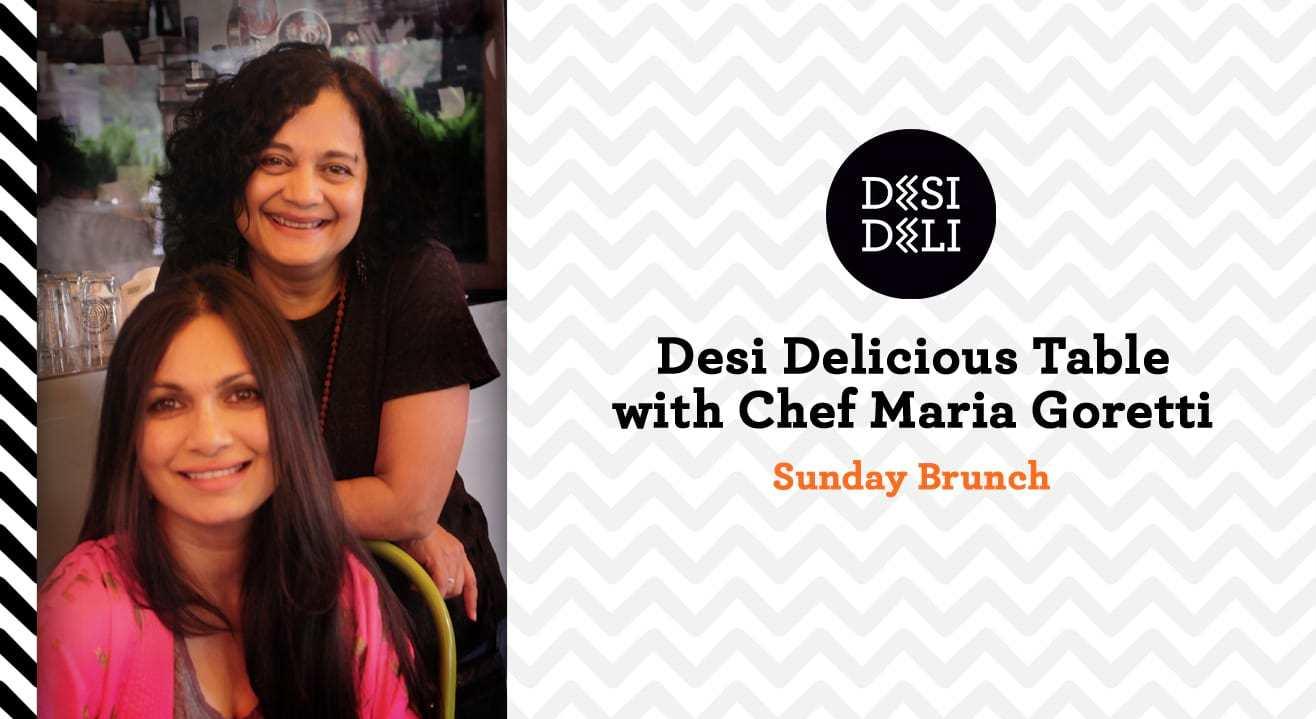 Brunch
Desi Delicious Table with Chef Maria Goretti - A Sunday Brunch
Every Sunday | February 26 - March 12 | 11AM - 4PM
About
Desi Deli is a restaurant that believes in bringing you a one-of-a-kind menu. It now brings you a one-of-a-kind brunch: The 'Desi Delicious Table' - every Sunday, through the month! In the series, the restaurant's favourite chefs whip up their personal favourite recipes (and of course, you get all the Desi Deli favourites too!).
This month, Desi Deli bring you Desi Delicious Table with Chef Maria Goretti, the author of 'From My Kitchen To Yours'.
Go on over for some delicious fun!
SOUP

Maria's Table
Mixed Vegetable Soup with Barley (nv)

CHHOTA BITES

(Choose 1)

Desi Deli Table
Mushroom Sliders (v)
Lamb Sliders (nv)
Buff Sliders (nv)
Tuna on Crisp (nv)

MAINS

(Choose 1)

Maria's Table
Sri Lankan Aubergine Moju in Bread Pocket with Green Salad
Pork Vindaloo in Bread Pocket with Green Salad

Desi Deli Table
Bengali Street Mutter with Couscous
Jungli Maas with Cracked Wheat Porridge and salad

DESI DELI DOGS AND BURGS

(Choose 1)

Dogs
Goa Desi (pork)
Vietnam Desi (v/nv)
Chicago Desi (v/nv)

Burgs
Hot Green burg (v)
Chicken 65 burg (nv)
Buff Kebab Burg (nv)

DESSERTS

(Choose 2)

Maria's Table
Orange Chocolate cake (gluten free)

Desi Deli Table
Crepe ka Meetha
Fruit with Chocolate Chantilly


Venue
Desi Deli
480, Adarsh Nagar, MHADA Layout, Oshiwara, Phase 1, Highland Park, Andheri West, Jogeshwari, Maharashtra 400102