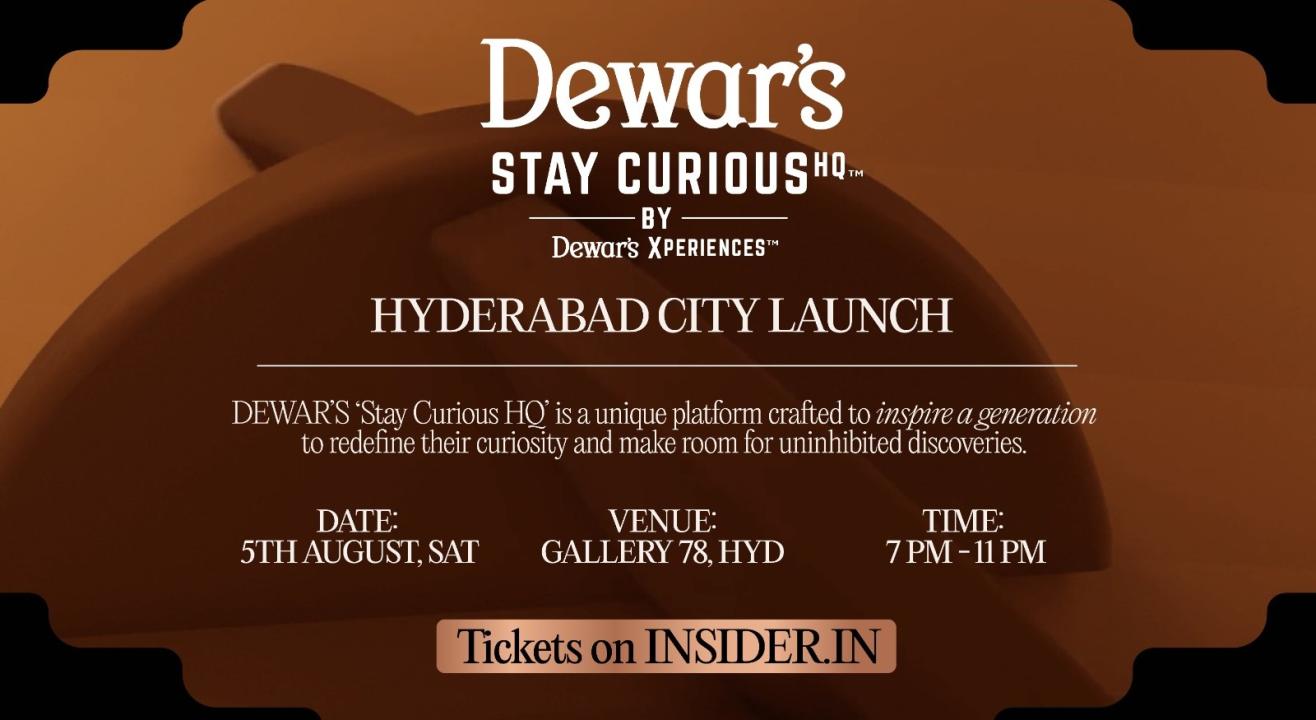 Dewar's Stay Curious HQ Hyderabad Event - Music, Audiovisual Art, Theatre, Workshops & More
Event Guide
Live Performance
Enjoy a unique experience
Invite your friends
and enjoy a shared experience
Dewar's Stay Curious HQ Hyderabad Event - Music, Audiovisual Art, Theatre, Workshops & More
Event Guide
Live Performance
Enjoy a unique experience
Invite your friends
and enjoy a shared experience
Event Guide
Live Performance
Enjoy a unique experience
Invite your friends
and enjoy a shared experience
Dewars Stay Curious travelling HQ — Hyderabad Launch: Witness curious confluences exploring performative art & design, music, immersive and hands-on workshop experiences all under one roof at a Gallery78,
Join us for a specially curated evening highlighting curious collaborations, unexpected confluences, and boundless co-creations, where boundaries will cease to exist, and exploration (of the senses) will know no limits.
THE TICKET COSTS INCLUDES
Craft Dewars cocktails & drinks (all inclusive for LDA & above only)
6 immersive experiences
ABOUT HYDERABAD EXPERIENCES
- (TALK) -
CURIOUS TALKS - With renowned filmmaker and Screenwriter: Nag Ashwin
- (MUSIC PERFORMANCE ) -
FLOW STATE- is a mixed media art collective presented by musician Murthovic alongside Bharatnatyam Dancer Anahita & vocalist Gopika Jairam.
- (IMMERSIVE INSTALLATION) -
OVERTURE - Audio Visual Immersive installation by artist Aniruddh Mehta & Technologist Myles Periera.
- (LIVE ART) -
REDUCTIONISM - A live art showcase by monochromatic artist Sushi Surge.
- (JEWELLERY INSTALLATION) -
A FUTURISTIC BRIDE - Modern bride is a captivating blend of elegance and boldness, embracing a futuristic fashion-forward style By Kavya Potluri
- (WORKSHOP) -
MIXOLOGY - by trade Ambassador Ishrat
-----
ABOUT THE CREATIVES & THE PROJECTS / EXPERIENCES:
1. FLOWSTATE BY MURTHOVIC X ANNAHITA X GOPIKA
About Project:
Built on the concept of fluidity and play, witness an audiovisual narrative that dives into various forms of the performing arts. Contemporary dance meets the principles of Bharatanatyam, in a narrative choreographed to tunes resting on electronic music and ambient vocals.
About Artists:
Murthovic | A DJ, producer, sound practitioner and researcher, whose belief in hybrid systems of collaborations has taken his music through all realms including clubs, festivals, advertising, fashion, audio-visual dance theatricals and fantasy video games. Sri Rama Murthy aka Murthovic is an independent Electronic music composer, sound designer and dj who has been working in the electronic music field for the last 18 years. He acquired his basic compositional skills in Western Classical music from Hyderabad western music foundation and currently is learning Carnatic music, apart from dj gigs at various clubs and festivals across the country.
Anahita Chaliha | A Bharatanatyam dancer and contemporary artist, and an alumni of the esteemed Kalakshetra Foundation.She is also a model, actor, and a teacher, driven by cross-collaborations in contemporary movement arts.
Gopika Jairam | A Carnatic singer, composer, producer, writer and thespian, originally from Kochi. She also leads the Strategy and Creative Communications at a leading PR agency in the city.
2. OVERTURE BY BIGFAT X MYLES
About project:
'Overture' is a new and previously unseen audio-visual piece by visual artist BigFat and creative technologist Myles . It was first showcased at Mumbai Light Festival's Satellite Edition in December 2022. The 14-minute piece combines a sci-fi abstraction of flashing lights, geometric forms, organic topologies & textures which come together to create a dynamic & ever-evolving visual landscape. It is accompanied by an original soundtrack that further adds depth and emotional resonance to the visuals.
About Artists:
Aniruddh Mehta is a Mumbai-based designer and artist whose work ranges from traditional graphic design to digital and new media arts. He is the founder of Studio Bigfat, a multi-disciplinary design studio that works in areas such as graphic design, digital illustration, and motion design.
Myles is a music technologist, creative coder, and composer who puffs out custom software solutions regarding interactive art exhibits, visuals, and tools that allow musicians to express themselves artistically.
3. THE FUTURISTIC BRIDE BY KAVYA POTLURI
About Project:
KP's Modern bride is a captivating blend of elegance and boldness, embracing a futuristic fashion-forward style. She gracefully wears a rustic metallic cape making her look like a cosmic being from another world, stepping into a dream like reality. Her sunglasses add an element of intrigue to her ensemble. With an enigmatic allure, a delicate black veil gracefully drapes over her, adding an air of mystery to her presence.
Bright red roses symbolise passion and love. Her look features carefully crafted dragonflies, butterflies and floral motifs, enhancing the beauty of her attire with an elegant touch.
The exquisite detailing adds a timeless charm to her look, evoking a regal sense of sophistication and grace. As she walks down the aisle, she leaves an indelible impression of a modern muse, a bride who defies conventions and embraces a style that transcends time. Her futuristic look is a testament to her fearless spirit, as she embraces the boundless possibilities of the future.
About the Artist:
Kavya Potluri is a handcrafted jewellery label by the eponymous designer. She is only 27 years old with a Bachelor's Degree in Jewellery Design from Raffles Design Institute, Singapore and Graduate from GIA, USA in Jewellery Manufacturing, Gemology and Jewellery Design & Technology. She has come a long way from days when as a precocious 8 years old child she started sketching. Her mother identified her creative talent and encouraged her to improve on those skills. When she was in the 10th grade she made up her mind to become a Jewellery designer and there has been no looking back.
4. CITY SOUL BY SUSHI SURGE
About Project:
Is a preview showcase with handpicked artworks from his upcoming exhibit of 'City souls'; provoking conversations about the identity crisis people face in such large cities and the feeling of sonder.
About Artist:
Sushi Surge is an Indian abstract artist who creates minimal, black and white artworks ; representing complex narratives by reducing his characters and scenes to simple forms. He works closely with the concept of 'reductionism' and the themes of crisis faced by people in our larger cities.
5. MIXOLOGY WORKSHOP
Led by an expert mixologist and trade Ambassador Ishrat, this workshop is set to offer an engaging experience for cocktail enthusiasts, providing hands-on training and guidance in crafting exquisite and innovative drinks. Participants explore the art of mixology, learning techniques and experimenting with a variety of flavours to create unique and tantalising beverages.
-----
KEY DETAILS
Time: 7PM onwards
Date: 5th August
Venue: Gallery78, Izzathnagar, Shilpa Hills.
EVENT FLOW
7:30 - 8 pm — Workshop
8-10 pm onwards — Art & design showcase, performances, recital & more
10-11 pm onwards — Afterparty
For more event details & information, follow @homegrownin on Instagram
Gallery 78
Rd Number 3, opp. Hitex Gate, Shilpa Layout, Izzathnagar, Shilpa Hills, Hyderabad, Telangana 500084, India
GET DIRECTIONS
Dewar's Stay Curious HQ Hyderabad Event - Music, Audiovisual Art, Theatre, Workshops & More
Event Guide
Live Performance
Enjoy a unique experience
Invite your friends
and enjoy a shared experience