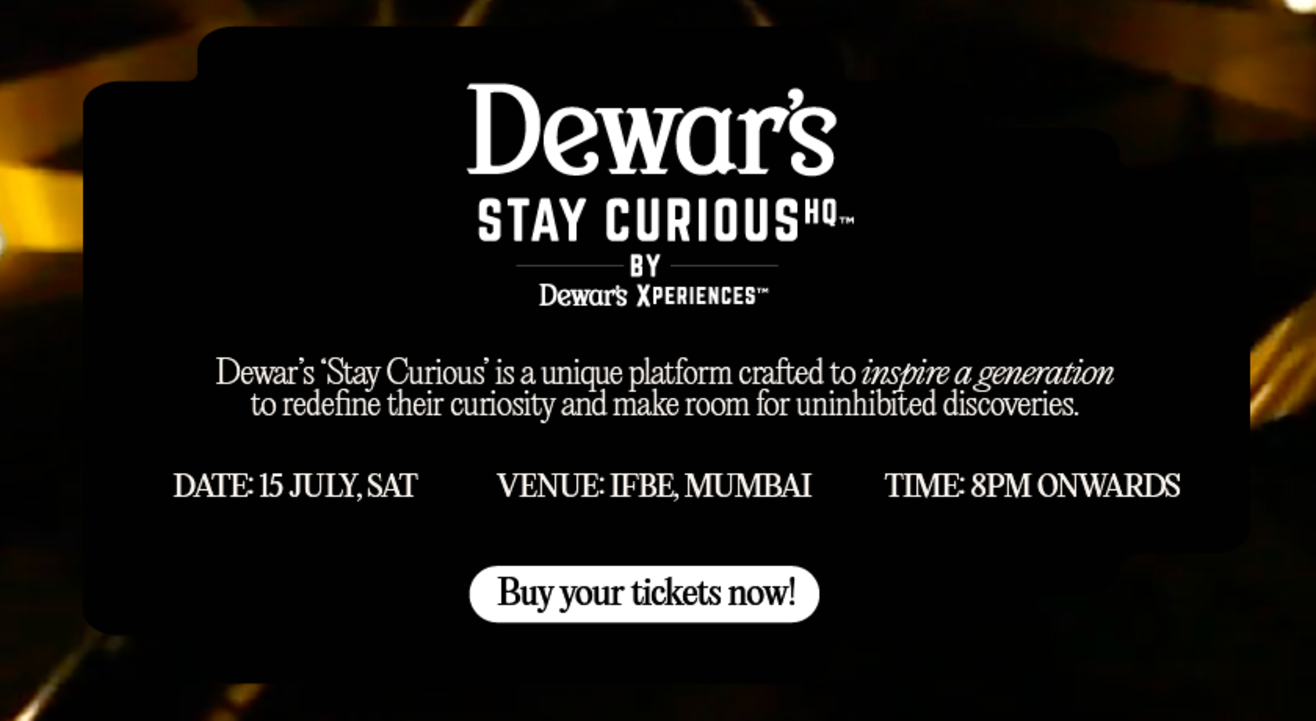 Dewar's Stay Curious HQ Mumbai Event - Music, Audiovisual Art, Theatre, Workshops & More
July 15 | 7PM - July 16 | 12AM
Event Guide
Live Performance
Enjoy a unique experience
Invite your friends
and enjoy a shared experience
Dewar's Stay Curious HQ Mumbai Event - Music, Audiovisual Art, Theatre, Workshops & More
July 15 | 7PM - July 16 | 12AM
Event Guide
Live Performance
Enjoy a unique experience
Invite your friends
and enjoy a shared experience
Event Guide
Live Performance
Enjoy a unique experience
Invite your friends
and enjoy a shared experience
Dewars Stay Curious travelling HQ — Mumbai Launch: Witness curious confluences exploring performative art & design, music, immersive and hands-on workshop experiences all under one roof at a 148 year-old ice factory in Ballard Estate, Mumbai.
Join us for a specially curated evening highlighting curious collaborations, unexpected confluences, and boundless co-creations, where boundaries will cease to exist, and exploration (of the senses) will know no limits.
The ticket cost includes:
Craft Dewars cocktails & drinks (all inclusive for LDA & above only)
4 immersive experiences
Key Experiences
- A PERFORMATIVE ART & DESIGN SHOWCASE by How are you feeling studio
- AN IMMERSIVE AUDIO VISUAL EXHIBIT by Johnny Ganta
- AN AFTER PARTY PERFORMANCE by Tech Panda x Kenzani
- A MIXOLOGY WORKSHOP by Dewar's Brand Ambassador
About The Creatives & Performers
How are you feeling studio - A multidisciplinary creative studio with an approach to investigate emotion in relation to a subject, their work is often magnanimous extensions in large scale installations, performance art & design, creative direction and sound design.
Johnny Ganta, also known as John Crucible, is known for combining past and future through his unique "retro-future compositing" technique,seamlessly integrating 2D and 3D environments offering a tantalizing glimpse into a visionary and captivating world of new-media art experiences
Tech Panda x Kenzani A musical experience by the dynamic duo Tech Panda x Kenzani, known for blending the old with the new while showcasing their solid Indian roots, bound to transport the audience to another realm.
Mixology Workshop — (For LDA & above only) Led by an expert mixologist and Dewar's Brand Ambassador, this workshop is set to offer an engaging experience for cocktail enthusiasts, providing hands-on training and guidance in crafting exquisite and innovative drinks.
Key Details
Time: 7PM onwards
Date: 15th July 2023
Venue: IFBE Mumbai
Event flow
7:30 - 8 pm — Workshop
8 pm onwards — Art & design showcase, performances, recital & more
10:30 pm onwards — Afterparty
Event info: For more details check out www.dewarsstaycurioushq.com
For more event details & information, follow @homegrownin on Instagram
IFBE
10-12, Calicut Rd, Ballard Estate, Fort, Mumbai, Maharashtra 400001, India
GET DIRECTIONS
Dewar's Stay Curious HQ Mumbai Event - Music, Audiovisual Art, Theatre, Workshops & More
July 15 | 7PM - July 16 | 12AM
Event Guide
Live Performance
Enjoy a unique experience
Invite your friends
and enjoy a shared experience