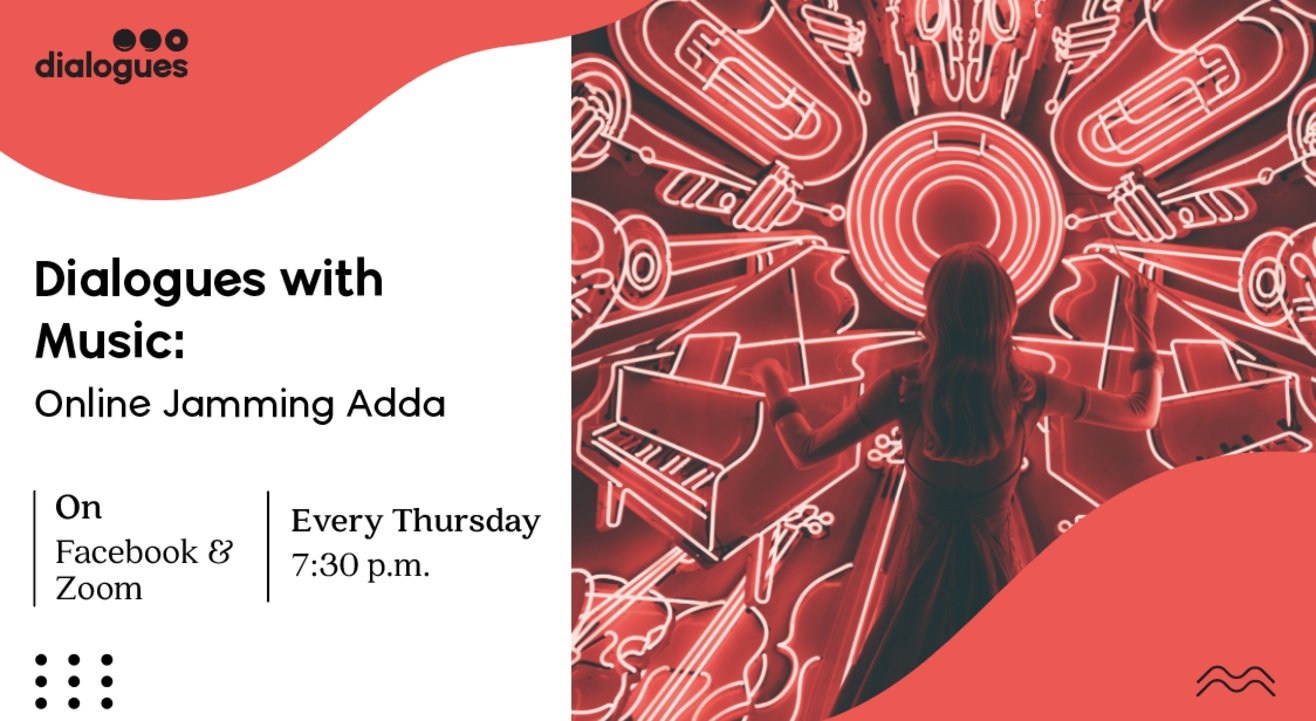 Dialogues with Music : Online Jamming Adda
July 9 | 7:30PM - July 30 | 9:30PM
Invite your friends
and enjoy a shared experience
Invite your friends
and enjoy a shared experience
About the Event
Dialogues with Music: Online Jamming Adda
Every Thursday
Hey, do you hear that? That background music playing?
Listen closely.To the bathroom singers, the ticktock artists,
To the ones who are dancing around their room, holding a hairbrush as a mic
To those playing air guitars and air violins
To the ones who can make a drum out of any surface,
if you're a musician or a singer or simply an admirer of music,
Jamming Adda is a place built for you to lose yourself in the glory of music.
We're bringing this once-offline event to your screens.
Join us from your homes or your balconies and shout it from the rooftops - Jamming Adda is back!
Join us every Thursday and jam your stress away.
Whether you want to sing or play an instrument or simply sit and enjoy some great music, you're welcome to be a part of this family of music lovers.
The event remains free of cost.
About the host:
Rishabh Jain is an up-and-coming musician based in Bangalore. He looks forward to exploring the intricacies of all Indian languages and aims to collaborate with writers all over India. His favourite genres are folk and Sufi music but he enjoys singing covers of Bollywood songs too!
IMPORTANT:
- This is a LIVE session.
- Limited seats only so everyone gets personal attention from the artist / trainer
- Download 'Zoom' App.
- For best experience join the workshop from your laptop / desktop or watch on phone on landscape mode.
- Ensure your internet connectivity is strong.
- Do login 10 minutes prior to the workshop. This would help us work out any technical difficulties so we can start the session on time.
- If you are unable to attend the live session due to technical reasons, please call us (+91-6361358825)
- This is a closed event. Only registered email ids will be allowed to join the session.
Please note that you will receive the link of the session via Google Calendar Invite 1 hour prior to the session. If, for some reason, you fail to receive the email please get in touch with us on team@dialogues.space or call us on +916361358825 and we will send the invite to you again.