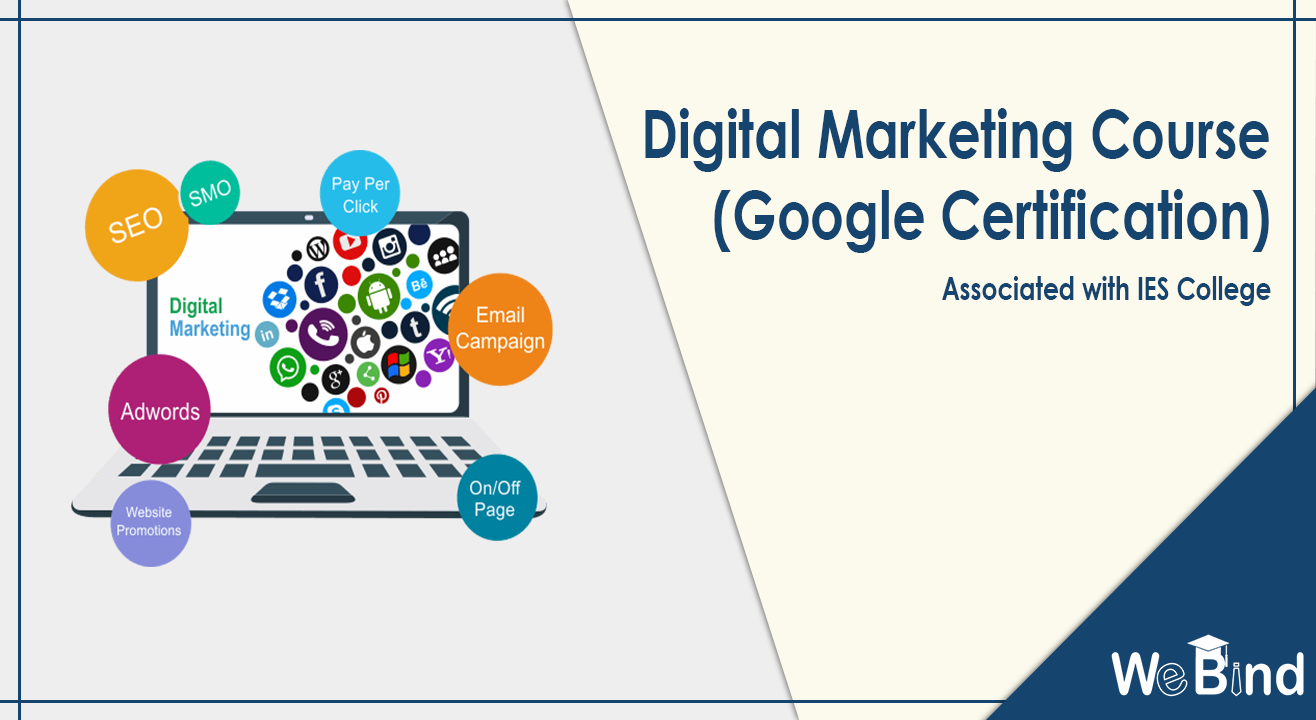 Learn
1- Month Digital Marketing Google Certification Course at IES College
Every Weekend | November 17 - December 9 | 10AM
About
WeBind's 1-month Digital Marketing Course is an exclusive hybrid program curated by leading marketing strategists with a cumulative experience of 50+ years. The hybrid model gives the learners, an opportunity to invest proportionate time in classroom hands-on learning, as well as online interactive learning and 1 to 1 personalized experience with the expert trainers. The course starts Digital Marketing from the basics and progressively skilling the participant enough to run a complete campaign on her/his own. The modules have been systematically assembled so as to form a storyboard pattern and equip learners with the day-to-day working of a Digital Marketing agency or team. This program will make the learners get armed with Digital Marketing as a life skill besides offering a holistic 360 degrees super specialization perspective. Business owners and founders have the added advantage of an exclusive 'Business Consultancy' session devising growth strategies. While students and professionals can avail the 'Career Consultancy' by our experts to get assistance in the career with the advantage of 3 Google certificates.16 Modules, 3 Google Certifications, 4 Expert Trainers, 8 Case Studies, 6 Live Projects, 8 Softwares/Tools hands on Training with rigorous practice, 2 hours of Business or Career consultancy for each participant.
Batch Starts: February 10 + Weekly online Live interactive sessions with the trainers.
Module 1:
Basics Of Digital Marketing
Different channels for Digital Marketing
Resources required for Digital Marketing
How to create Digital Marketing plan with live industry example
Goals and successfully implemented case studies of a Smart Digital Marketing plan
Metrics, KPI's and ROI calculation of a Digital Marketing campaign
Systematic approach deployed by top Digital Marketing strategist around the globe.

Search Engine Optimisation (SEO)
Understand the major functions of a Search Engine
What is SEO and its need?
How to find/choose relevant keywords
On-page optimisation
Off-Page Optimisation
Link Building
Next Generation SEO
Tricks to manipulate page rankings
Secret tools to analyze competitor's SEO ranking and strategies
Case Study Discussion on SEO(Activity)
Industry best practices
Live Project
Case Study (Online Weekly Session)

Google Adwords
Introduction to AdWords
Different types of campaigns
Certification and business usage
Google AdWords Account Structure
Basic Advertising Metrics
Keyword Planner
Conversion tracking
Account creation (Digital Marketing Course - Hands-on Activity)
Introduction to Search
Keywords and Match Types
Creating Search Ads
Bid Strategies and Bid Modifiers
Quality Score
Google Keyword Planner (Hands-on Activity)
Conversion Tracking
Live Project: You will be setting up, launching and optimizing a Google Adwords campaign and spending real money. The project will help you understand how businesses use this effective pull marketing channel.
Case Study (Online Weekly Session)
Google Analytics and Webmaster
Introduction to Web Analytics
Getting Started With Google Analytics
Accounts, Profiles and Users Navigation
Interpreting Google Analytics reports
Traffic sources
Direct, referring and search traffic
Live Project
Case Study (Online Weekly Session)

Basics of Social Media Marketing
What is social media marketing and broadening scope?
Choosing your channels
Social Strategy & Social Journey
Achieving sales and marketing goals through social media
Optimising strategy for millennial generation audience
Live Project
Case Study (Online Weekly Session)

Facebook Marketing and Facebook Adverts
Advertising On Facebook – Creating And Running An Ad
Facebook targeting alternatives - Interest base, custom based and retargeting or facebook exchange
Facebook Insights – Understanding important metrics to measure audience engagement
Ad Manager On Facebook
Best practices for ad content
Business Manager on Facebook
Ad Manager On Facebook
Best practices for ad content
Business Manager on Facebook

Instagram Marketing (Hands-on)
Understanding Instagram
Build Brand Following with Content Strategy
How to drive engagement
Influencer Marketing
Analytics & Measurement

LinkedIn Marketing (Hands-on)
Introduction to LinkedIn Marketing
How to Market
LinkedIn Ads
LinkedIn Campaigns
Case Study (Online Weekly Session)
Email Marketing and Mail Automation
Overview and effectiveness of Email Campaigns
Setting up a MailChimp Account and dashboard
Creating and nurturing email marketing list and database
Strategic content implementation for emails
Design Email Templates
Uploading datasets including filtering, scrubbing
A/B split test campaigns (headlines, copy, subject line, color,)
Open Rates, Click Rates and methods to optimize it
Email Automation - Features and Functions
Simple Automation Campaigns through MailChimp
Create your own campaign and analyze

Mobile Marketing
Importance of Mobile Marketing
Who needs mobile Marketing: TG
Mobile Marketing in Marketing Mix
SMS Marketing : Messaging
Geo-Fencing : Location Technologies
Mobile Coupons: SMS & App-based
In-App Notifications
App Ads: Types
Mobile Ad Analytics

Wordpress/ website building
How to create a WordPress blog
Why blog is important for any business
How website/ online presence can help build business

Lead Generation for Business
Learn the art of generating Leads online & converting them into Paying Customers by digital business
building techniques.

Content Marketing
How to Write High-Quality Blog Content That Gets Shared
Effective Writing for SEO
Personal Branding & Marketing using Writing for Artists and Entrepreneurs
How to Write Better Headlines
Web Content Optimisation
Content Strategy for Professio

Affiliate Marketing
How to make money online being a part/full time freelancer Affiliate Marketing & Google Adsense.
Add-on: 1-1 Online Session: Choose from Business Consultancy or Career consultancy

E-commerce: Online store building & marketing
Understanding e-commerce business model
E-commerce Legalities
How to grow your E-commerce business using Digital Marketing.
Inventory management
Supply chain management
Packaging & shipping
How to make your own online-store using Zepo (An E-commerce enabler)
Uploading products
Business process
Setting up payment gateway
Remittance cycle & return policy
Barriers to e-commerce
Digital methods to increase customer repeatability
Detailed description given here
For detailed descriptions, click here
Venue
IES College, Bandra
791, S.K. Marg, Bandra Reclamation, Opp Lilavati Hospital, Mumbai, Maharashtra 400050
GET DIRECTIONS