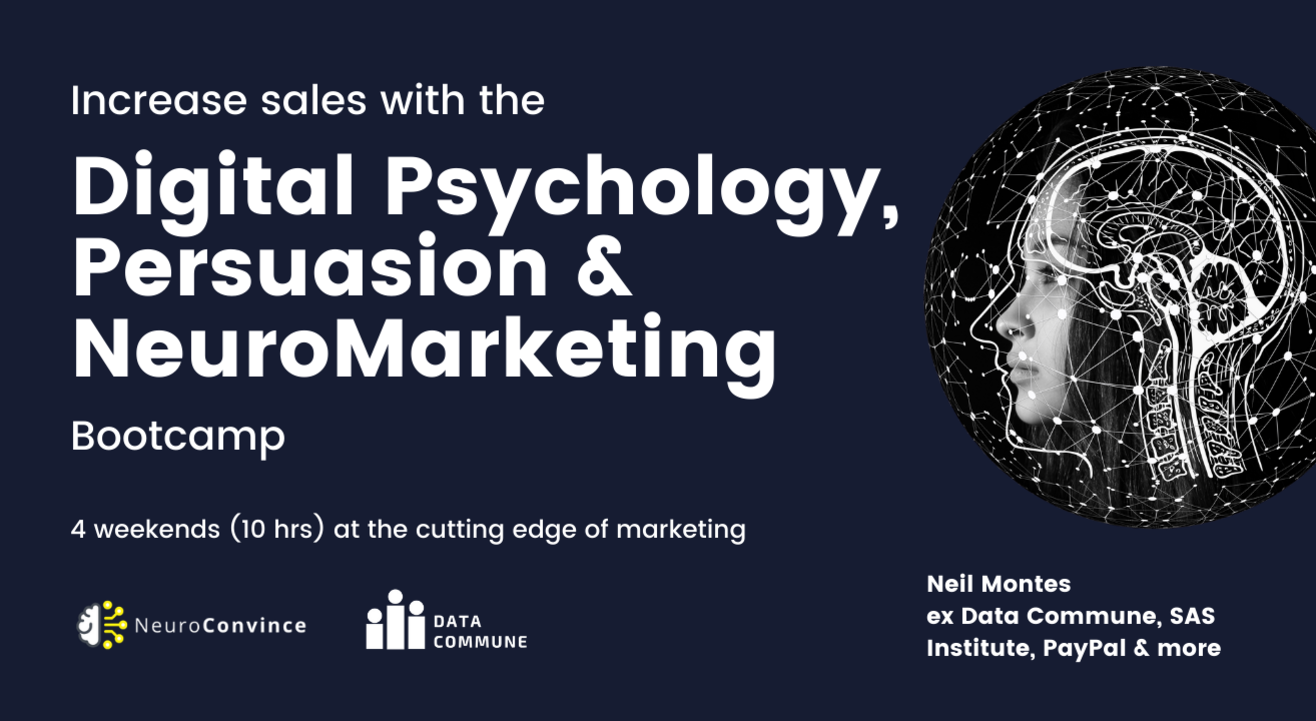 Digital Psychology, Persuasion and NeuroMarketing Course: Convert more customers
September 26 | 11AM - October 18 | 12PM
Invite your friends
and enjoy a shared experience
Invite your friends
and enjoy a shared experience
About the Event
How do you better understand your customer's mindset? How do you build habits and trigger action with cues and prompts?


How do you integrate psychological principles and use emotion to convert more? How do you use psychological principles and neuromarketing to market better?
Over 4 weekends (10 hrs total), you will learn to use psychology models and applied neuromarketing techniques into building high converting mobile apps, digital marketing campaigns and websites. It will be an interactive and experiential session where we will learn and share with each other.
You'll learn over 30 behaviour science principles, psychological design patterns, and persuasion models.You will take real results from proven NeuroMarketing experiments and apply them in your projects.
Designed for the beginner as well as a seasoned professional.
Whether you are a digital marketer who wants to enhance their skills, a UX professional who wants to apply consumer psychology in their designs and the entrepreneur who is trying to squeeze more sales in the Pandemic.
This course will alter how you look at marketing. All conducted with practical nuggets and projects after each of the 8 classes, you can test it on your digital properties.
Over 8 classes, some of the topics we will cover are:
Fundamentals of the brain
Behavioural design process
Tools of Neuromarketing
Psychological wireframing
Principles of attention
Implementing attention on your digital properties like websites, mobile apps, landing pages, product pages, shopping carts, forms, etc.
Designing for social influence, trust and motivation
Emotion design audits
Nudging users with decision science
5-stage applied psychology toolkit for digital experiences
Managing psychological backfires
Specific applications in product pages, shopping carts, landing pages, forms
Psychology of pricing
Context and impact of emotions
Experiments and tools that enable higher conversions and make more money
For a full course list of the topics covered, check here: https://bit.ly/32n0yX4
Dates and Time of Workshop
26 & 27 Sep - 11 am
3 & 4 Oct - 11 am
10 & 11 Oct - 11 am
17 & 18 Oct - 11 am
In the end, you will walk away with:
Better understanding of behavioural psychology and how it influences decisions
Using persuasiveness in copy and design
Learn to control perception to elicit trust and persuade
Improve conversions and buyer motivation by using emotions (and emotion design) such as fear and desire
Build better user interfaces that integrate neuromarketing tactics
Learn the cues and triggers to better direct attention and compel action
Understand how brain signalling and neuro chemistry are used to build habits, increase loyalty and change behaviour
Influence purchase patterns and use behaviour tactics for better customer experiences
We will use both global examples like (Amazon, Netflix, Salesforce, Instagram, Disney, Red Bull, Citi, Morgan Stanley, Accenture, 20 others) and Indian examples like (Hotstar, Ketto, Lenskart, Clovia, Pepperfry, Udaan, Infosys, Myntra, Acko, Big Basket etc).
Besides our experience, We will also use research and experiments from experts such as Dilip Soman, Nir Eyal, Dr BJ Fogg, Nathalie Nahai, Roger Dooley, Michael Luca, Rory Sutherland, Richard Thaler, Cass Sunstein among many others.
You'll also get a suite of educational resources, templates, checklists to go along with your training.
This course is perfect for:
Entrepreneurs
Digital marketing and advertising experts
UX and design professionals
Researchers
Marketing tech and analytics experts
Marketing career beginners and recent graduates
About Me
Hi, I am Neil Montes, Co-Founder & Lead Trainer of 2 training brands - Data Commune and NeuroConvince.
I have worked over 15 years at the intersection of Data, Marketing and Technology. In those years, I have worked or consulted with some leading companies – SAS Institute, PayPal, Dell, Autodesk, Walmart, Citibank, eClerx services and a large group of high-growth startups among others.
I will be taking you through the process, the art and the science of implementing a strategy that is based on keeping buyer psychology at its core the same way these companies have done.