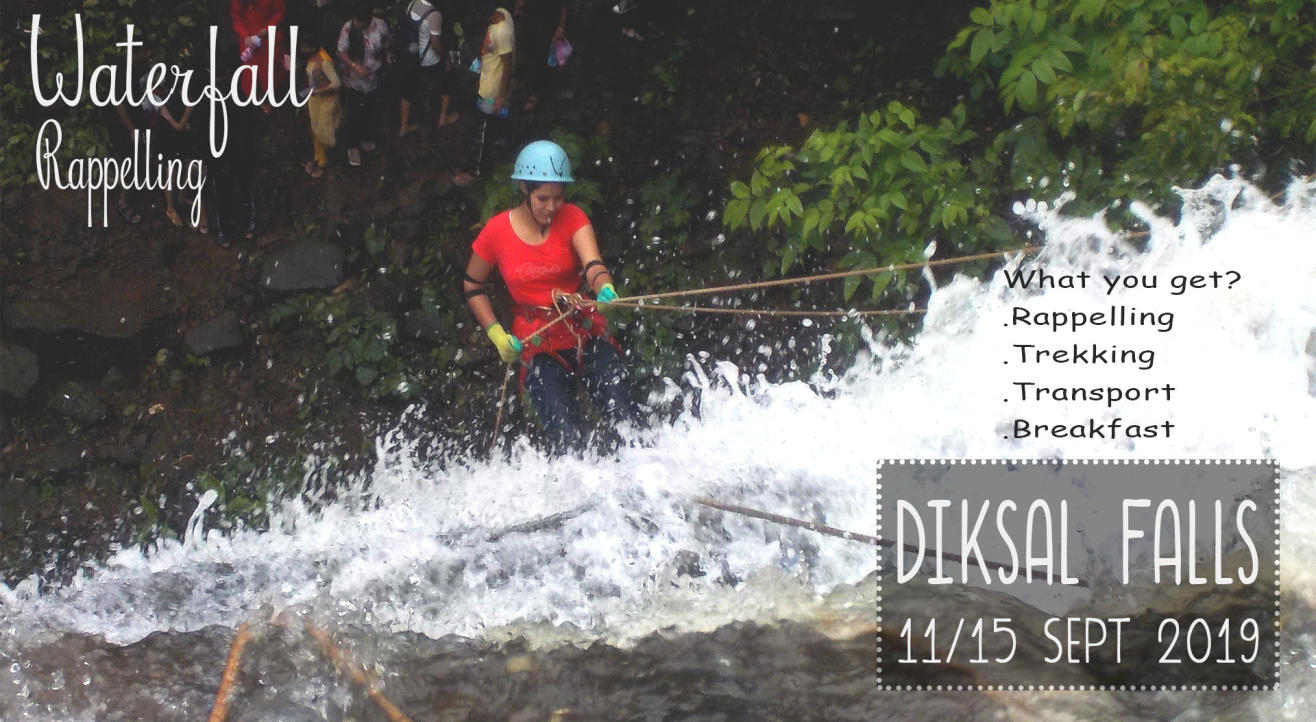 Trek
Diksal | Mapping Journeys
About
Diksal waterfall is located close to Bhivpuri station. A one hour trek from Bhivpuri railway station takes you to this waterfall which stands tall at about 115ft. The easy graded trek gives plenty of panoramic views of the surroundings. We get to walk beside the Dhom dam while crossing a small water stream. This short trek is one of the most scenic treks that can be done easily by all age groups.
The waterfall lies just below a small village known as Sagachi wadi. The famous Garbett point trek can be done via this route from the village. On the top of this village, the beautiful Matheran range can be seen.
Click here for more <a href="http://mappingjourneys.blogspot.com/2017/05/terms-and-conditions-and-cancellation.html" target="_blank"> details</a> and <a href="http://mappingjourneys.blogspot.com/2017/02/rappelling-faqs-team-mapping-journeys.html" target="_blank"> FAQ's</a>.
Rappelling
Trekking
Transport
Breakfast
Participants(car/train) need to report at Bhivpuri station at 8.15 am.
08:30 am : Have breakfast followed by a short briefing regarding the trek route. We travel till the waterfall patch together,
09:30 am : A short 1hr trek till the waterfall location begins.
10:30 am : The waterfall rappelling activity will begin dividing the group into batches. Depending upon the amount of rainfall and the water pressure the process may get delayed/start earlier, or get cancelled altogether. On an average it takes 10 minutes per client to complete the rappelling process safely.
People coming along with us are requested to know this and be patient enough as rushing up with the procedure is a risky business compromising safety.
03:00 pm : Wrap up and the return journey to the village.
04:00 pm : Event concludes.
One time rappelling Charges.
Transport charges. (Bhivpuri to Bhivpuri)
Breakfast.
Trek charges.
Safety and First Aid.
Professional expertise.
All Equipment Charges.
Note:Lunch available at extra cost.
1. Meals during travel.
2. Personal expenses.
3. Insurance of any kind.
4. Medical hospitalization, evacuation and related expenses.
5. Any item not covered under "inclusions"
-By train : Catch Cst Karjat train starting 6:10am from Cst and reaching Bhivpuri at 7:56am, get down at Bhivpuri.
-By own car : Reach outside the station using google maps.
-Bus : We can arrange for a Mumbai to Mumbai bus if you have a group of 15+