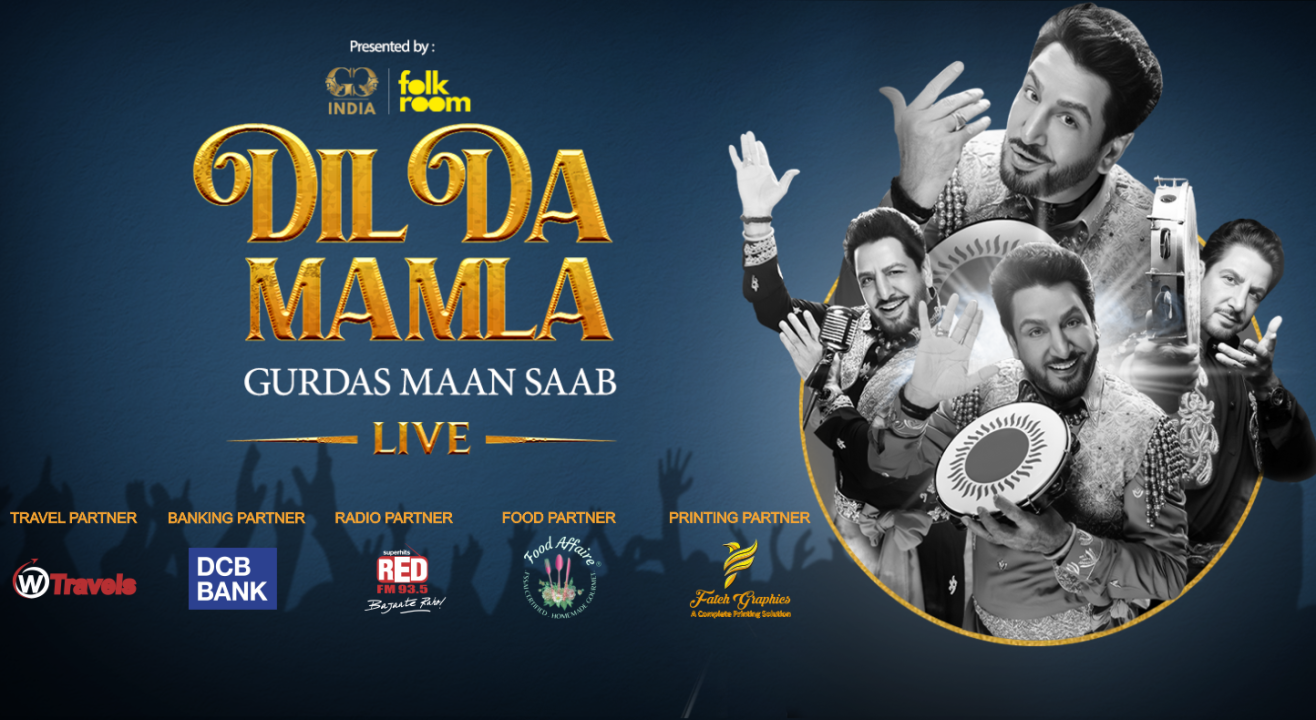 DIL DA MAMLA | Gurdas Maan | Live in Delhi
Siri Fort Auditorium, Delhi
Event Guide
For Age(s)
Family Friendly
Live Performance
Enjoy a unique experience
Invite your friends
and enjoy a shared experience
DIL DA MAMLA | Gurdas Maan | Live in Delhi
Siri Fort Auditorium, Delhi
Event Guide
For Age(s)
Family Friendly
Live Performance
Enjoy a unique experience
Invite your friends
and enjoy a shared experience
Event Guide
For Age(s)
Family Friendly
Live Performance
Enjoy a unique experience
Invite your friends
and enjoy a shared experience
Experience an unforgettable musical evening with the legendary Indian Punjabi icon, Gurdas Maan, as he takes the stage to perform his timeless hits like 'Dil Da Mamla,' 'Challa,' and 'Ki Banu Duniya Da.' Join us for a night filled with entertainment, fun, and Gurdas Maan Saab's unparalleled style of performance. Get ready to be mesmerized!
About Artist:
Gurdas Maan, is an artist whose career spans over 4 decades, with over 37 solo albums to his credit, he has gone on to perform to sold out crowds at the most prestigious venues around the world such as the Madison Square Garden, Royal Albert Hall, Wembley Arena to name a few.
What sets him apart is the fact that he writes his own songs. Some of his lyrics are considered to be timeless classics, and have stood the test of time. Ki Banu Duniya, Sajna Ve Sajna, Dil Da Mamla hai are some examples of his maestro. His music has helped break barriers, and has helped take Punjabi music to urban centres in the early eighties.
His versatility as a performer on stage is considered to be one of his biggest strengths, and performing on stage live in front of his audiences is his first love.
Event FAQs:
Q. Is this a standing or seated concert ?
A: This is a Seated concert.
Q: Can I transfer my ticket to someone else?
A: No
Q: At what time will the event start?
A: The event starts at 7 PM
Q: At what time will the event end?
A: The event ends at 10- 10:30 PM
Q: Is re-entry into the venue allowed?
A: No
Q: What is the age limit to attend the event?
A: This concert is open to people of all ages, but children aged 4 years and above will need a ticket to enter. All children under the age of 14, will need to be accompanied by an adult guardian at all times.
Q: Will food be available at the venue?
A: Yes
Q: Is alcohol available at the event?
A: No
Q: Can I smoke?
A. No
Q: Are pets allowed?
A:No
Gurdas Maan | Dil Da Mamla | Live Performance
Siri Fort Auditorium
August Kranti Marg, Siri Institutional Area, Siri Fort Institutional Area, Siri Fort, New Delhi, Delhi 110049, India
GET DIRECTIONS
DIL DA MAMLA | Gurdas Maan | Live in Delhi
Siri Fort Auditorium, Delhi
Event Guide
For Age(s)
Family Friendly
Live Performance
Enjoy a unique experience
Invite your friends
and enjoy a shared experience