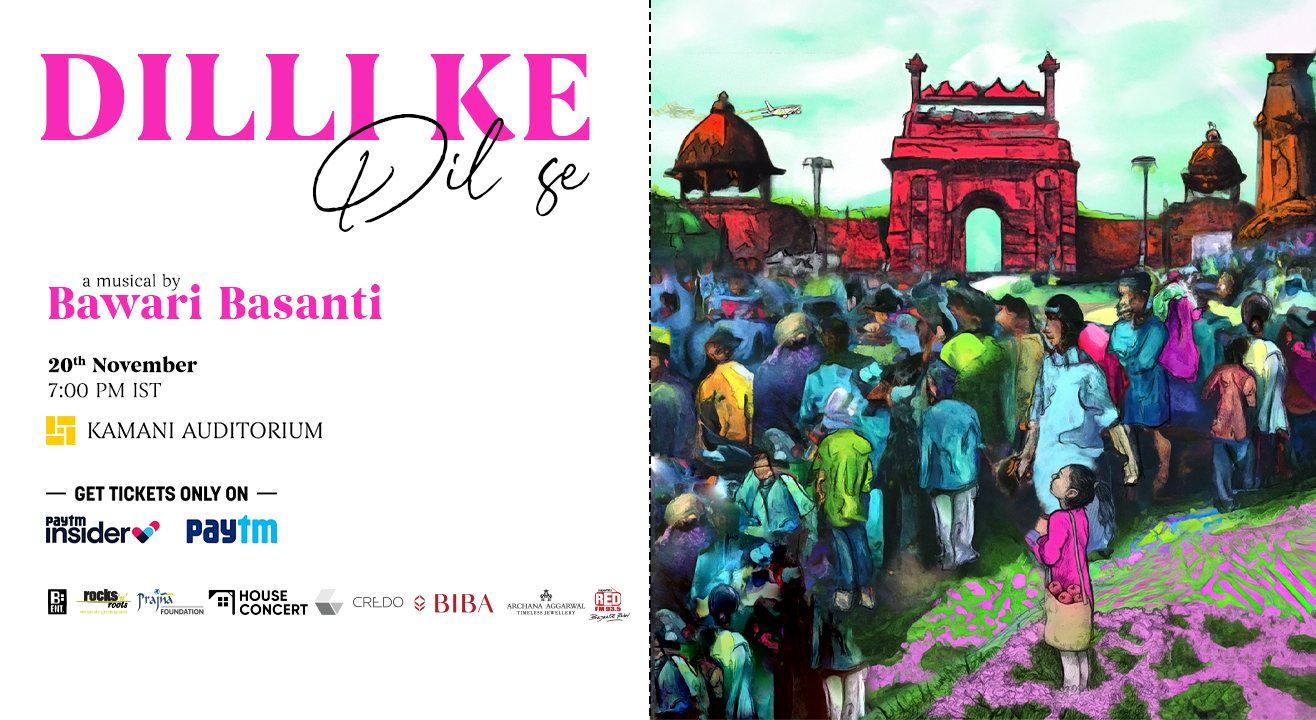 Dilli Ke Dil Se by Bawari Basanti
November 20 | Gates Open At 7PM
Step out and enjoy this event
Event Guide
Live Performance
Enjoy a unique experience
Invite your friends
and enjoy a shared experience
Dilli Ke Dil Se by Bawari Basanti
November 20 | Gates Open At 7PM
Step out and enjoy this event
Event Guide
Live Performance
Enjoy a unique experience
Invite your friends
and enjoy a shared experience
Event Guide
Live Performance
Enjoy a unique experience
Invite your friends
and enjoy a shared experience
Bawari Basanti Presents 'Dilli Ke Dil Se'.
The show is about a woman finding her Individuality in the big city, through song and light. The narrative of the musical aims to empower every listener to overcome social pressures, and stand up for their own.In order to accept mental health and self-care, as an important factor that needs attention and nurture. Each song represents a moment in a woman's life, where she learns to hold her ground and embrace the new with each obstacle. Our main focus is female mental health and education. Join Bawari Basanti as she embarks on a mission to support mental health & education for all the Basanti's out there.
Supported by - Vipasha Malhotra and Hanita Bhambri
*Proceeds from the show shall be used toward educating the girl child, in association with the Prajana Foundation.
About Bawari Basanti -
BawariBasanti is a contemporary Indian artist known for her modern interpretations of traditional tunes and vocal styles, creating uniquely authentic musical compositions. Her team is producing a light sound musical, to be showcased at Kamani Auditorium on the 20th of November, 2022.
Mahima Dayal Mathur, professionally known as Bawari Basanti is a lyricist, recording artist, storyteller and composer from New Delhi, India. Mahima started to learn music at the young age of nine, when her grandmother, Late Smt. Lalita Dayal would take classes for classical music in their family home. A culturally rich environment at home provided the foundation for her art and nourished her creative abilities. She later studied Hindustani Music from Prayaag Sangeet Samiti and further, studied the performing arts at Swarnabhoomi Academy of Music. She is currently working on multiple releases, collaborations and shows across the globe. Over the years, Bawari has worked with some of India's finest musicians and producers. Her music takes the listener on a journey, to find a silverlining in moments that are toughest.
Hanita Bhambri - Described by Vogue as one of the top 10 musicians to know in India and touted by Rolling Stone Magazine as the "angsty-soulful pop artist to look out for", New Delhi based singer- songwriter - Hanita Bhambri is steadily gaining an army of fans and critics alike with songs that are often soul searching reflections about love and loneliness revolving around her life and experiences. Her songwriting has been widely appreciated and she holds the title of a Semi Finalist in International Songwriting Competition (ISC) 2019 in multiple categories. Her music has been featured in the list of Best Singles by Rolling Stone, in Cosmopolitan and Scoopwhoop to name a few.
The self-taught singer also made the nation proud by winning the internationally coveted title of Project Aloft Star Asia, amongst the best talent from countries like China, Australia, Thailand and South Korea. In her homeground, she also won the TIMD award for the best singer- songwriter in India. As a power packed performer she's done a pan India tour with packed venues in 8 cities and performed at festivals like Nh7 Weekender and Zomaland. In a very short time she has garnered 25 Million+ streams across platforms, and was featured as a Spotify Radar Artist & featured on Times Square for their global campaign. This opportunity has further pushed her music across international borders. Recently she performed at one of the largest music festivals, SXSW in Austin TX. In addition to having released a lot of music independently she has also released songs with labels like Universal Music Group, India, Sony Music and T-Series, India and is on a steady path to global recognition
Vipasha Malhotra - Bio: Vipasha is a 25 year old Singer-songwriter and digital creator from Delhi. Popularly known for her song - Main bhaagi Iss Jahan Se; the Hindi Version of Runaway by Aurora, she garnered a huge following and 20M+ views across social platforms. She also writes Musical Comedy songs, of which, a few have gone viral. With themes of self-love, and mental health in her songs, she aims to normalize conversations around these issues. She usually covers the genres of Pop, Alternative Pop, Bolly Pop, RnB.
Artist Details
Vocals, production and direction: BawariBasanti
Keys: Almudena Longares
Tabla: Mohit Lal
Sarangi: Ejaz Hussain
Guitars: Abhishek Mittal
Light Design: Tech Quartet
Choreography and Movement: Vaishnavi Mannava
Show & Stage Production: B:Ent. & House Concerts
Kamani Auditorium
1, Copernicus Marg, Opposite Doordarshan Bhawan, Mandi House, New Delhi, Delhi 110001, India
GET DIRECTIONS
Dilli Ke Dil Se by Bawari Basanti
November 20 | Gates Open At 7PM
Step out and enjoy this event
Event Guide
Live Performance
Enjoy a unique experience
Invite your friends
and enjoy a shared experience