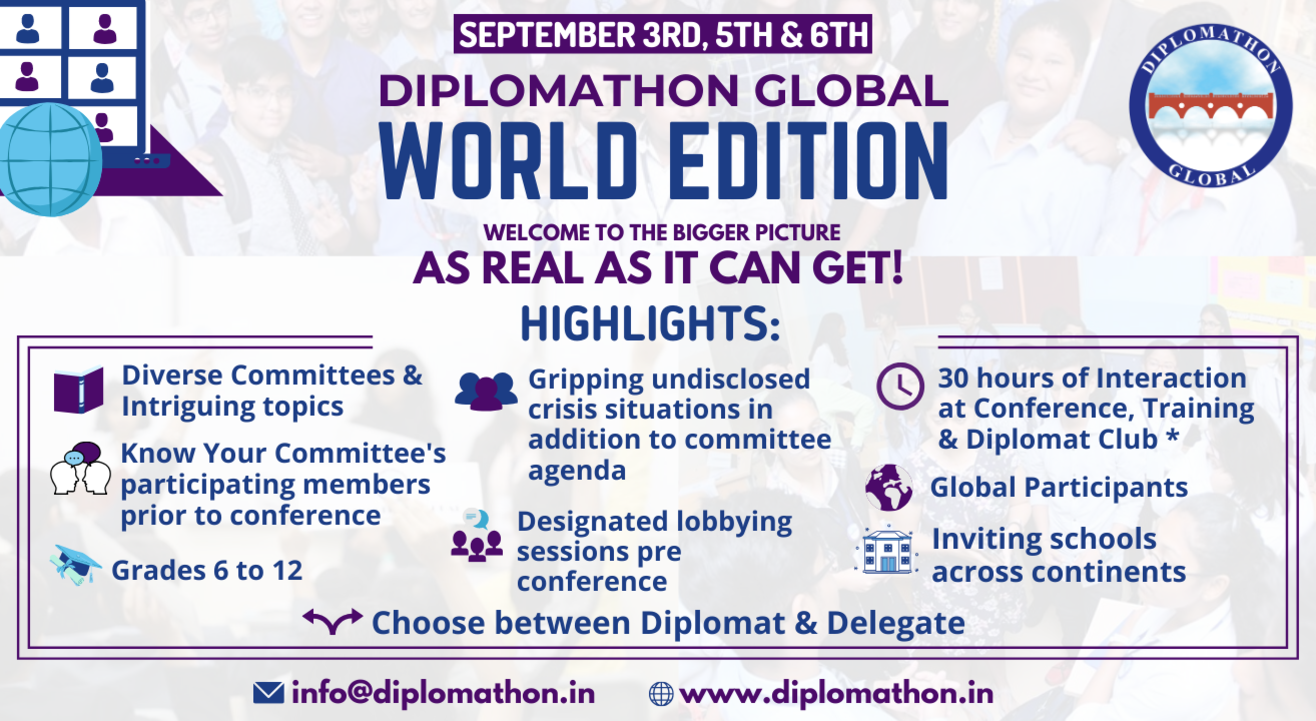 Diplomathon Global World Edition
September 3 | 5PM - September 6 | 6PM
Invite your friends
and enjoy a shared experience
Invite your friends
and enjoy a shared experience
About the Event
The determination to win is the better part of winning. With the resounding success and overwhelming response to Diplomathon Global Virtual Edition held recently on June 6 & 7 wherein students felt alive over the two exhilarating days of rendezvous and knowledge exchange. We are delighted to bring back all the memories because it's that time of the year again! Annually held in August- September in the city of dreams- Mumbai, our flagship editions have been home to 42000+ students over the span of 5 years, and this year we are bringing the entire planet together for a stellar experience presenting you DIPLOMATHON GLOBAL WORLD EDITION to be held on September 3rd, 5th & 6th for young global citizens of Grades 6 to 12.
Diplomathon Global World Edition, as real as it can get! This initiative is a part of Support the Community Program which aims at welcoming every student across geographies from the comfort of their homes at a world stage by providing an international experience and manifold value for money at a nominal fee.
This 3 Day Conference is aimed at immersive learning and experiential education for young minds to build real world thinking, global competencies, a hands on experience on diplomacy and build communication skills via our mentor driven plenary sessions, masterclass training on global perspective, peer learning milieu, public speaking and presentation, connecting with like minded students globally, skill development live sessions certified by Diplomathon Global.
Welcome to the BIG picture, Diplomathon Global World Edition Highlights:
Diverse Committees & Intriguing Topics
Designated lobbying sessions pre conference
33 hours of Interaction at Conference, Training & Diplomat Club
Choose between Diplomat & Delegate
Know Your Committee's participating members prior to conference
Global Participants
Open for all Students Grades 6 to 12
Inviting Schools across continents
Gripping undisclosed crisis situations in addition to committee agendas
Choose between Diplomat or Delegate
Register as DIPLOMAT - Program Inclusions (Total interaction time 33 hours):
9 hours DIPLOMAT CLUB TRAINING COURSE (6 SESSIONS TOTAL pre and post conference)
3 hours Mock Session in month of August
3 hours Lobbying Session - Pre Conference Lobbying Session on 3rd September evening (post school hours)
18 hours Conference Time - Two-day long Conference on 5th & 6th September (9 hours per day with breaks)
Unrestricted access to world edition study material : Virtual Delegate Kit (Study Guides & Allotments)
Lobbying & Networking
Course Completion Certificate Issued by Diplomathon Global
Conference Participation Certificate Issued by Diplomathon Global
Pre Conference Sessions :
Conference Preparation (1.5 hours) : Rules of Procedure, Understanding substantial debate, Online adaptations and special provisions
How To Research (1.5 hours) : Research Methodology, Understanding PESTEL & SWOT
Global Perspectives & Effective Communication (1.5 hours)
Delegate Presentations & Diplomat Club with co-delegates (2 hours)
Post Conference Sessions :
Formats of debate & Overview of their proceedings e.g,. Oxford style debate, moot courts, mock parliaments, MUNs etc (1.5 hours)
Personalised Feedback Session and participant improvement areas (1 hour)
Register as DELEGATE - Program Inclusions (Total interaction time 24 hours)
3 hours Training Session (Pre Conference Only)
3 hours Lobbying Session : Pre Conference Lobbying Session on 3rd September evening (post school hours)
18 hours Conference Time : Two-day long Conference on 5th & 6th September (9 hours per day with breaks)
Unrestricted access to world edition study material : Virtual Delegate Kit (Study Guides & Allotments)
Lobbying & Networking
Conference Participation Certificate Issued by Diplomathon Global
Pre Conference Sessions:
Rules of Procedure, Understanding substantial debate, Online adaptations and special provisions (1.5 hours)
How To Research : Research Methodology, Understanding PESTEL & SWOT (1.5 hours)
About Diplomathon Global : Having influenced the lives of over 600K students in India & Internationally, Diplomathon Global is the Highest Ranked Platform in India by Education World Eduresources Star Rankings 2019-2020 in Experiential Education for Programme Design, Training Support, Soft Skills & Value for Money. Establishing exclusive invitation to schools & students across the world for this unique experience of Model UN & similar Mock Parliamentary Simulations of organisations of global importance, it is a parliamentary form of debate on international organisations to understand real world scenarios and skill development. Diplomathon Global is a solitary stage where millennials meet diplomacy, know more : www.diplomathon.in
In case of any queries, you can reach out to : info@diplomathon.in
Diplomathon Global & skill development for students