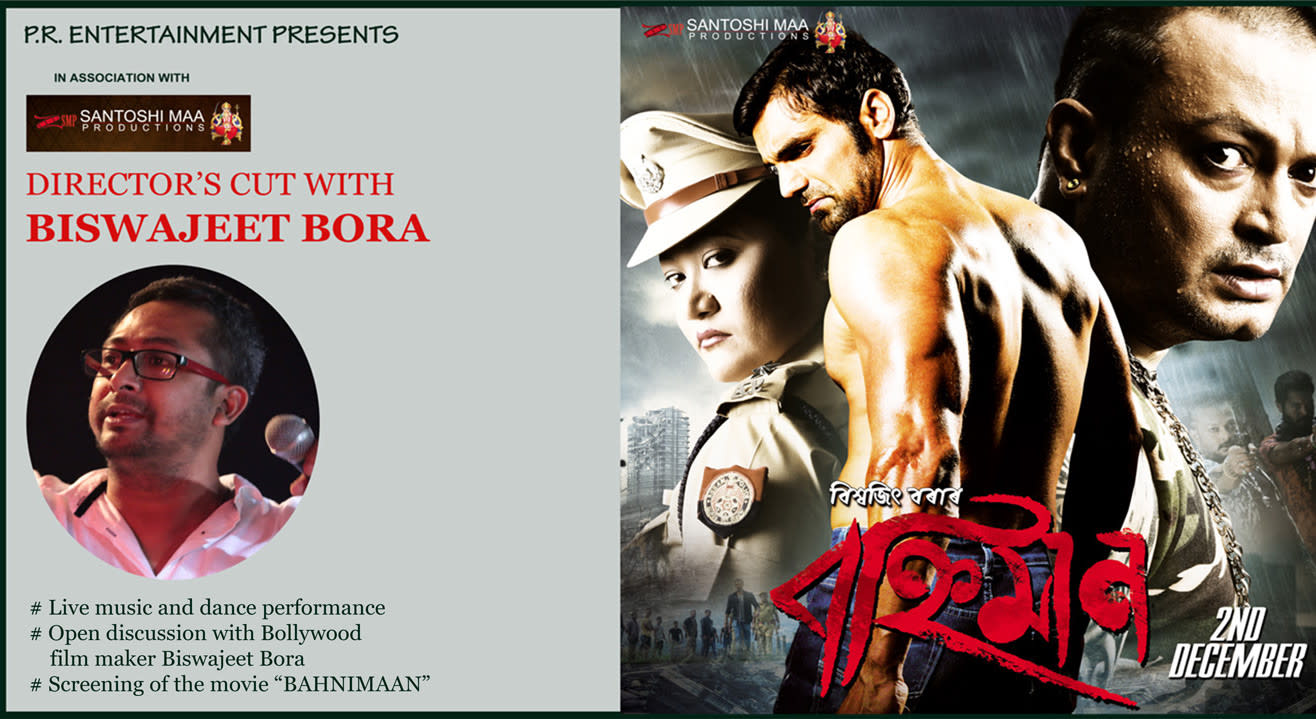 Director's Cut With Biswajeet Bora's Bahniman
March 18 & 19 | 4PM - 9PM
Kasturi Rangamandira, Bangalore, Bengaluru
Invite your friends
and enjoy a shared experience
Director's Cut With Biswajeet Bora's Bahniman
March 18 & 19 | 4PM - 9PM
Kasturi Rangamandira, Bangalore, Bengaluru
Invite your friends
and enjoy a shared experience
Invite your friends
and enjoy a shared experience
PR Entertainment, a Bangalore based event management organization brings Directors Cut with Biswajeet Bora, an exclusive screening of his film "Bahniman", in Bangalore on 18/19 March, 2017. The exclusive event will also feature a candid Q&A on filmmaking with the director, and live performances by various artists.
Bahniman is an Assamese movie directed by Biswajeet Bora and was released on 02 December, 2016. The movie features Yashpal Sharma, Jatin Bora, Ravi Kanghu, Rimi Hazarika as lead characters. Other popular actors who were roped in for the movie are Arun Hazarika, Baharul Islam, Bishnu Khargharia, Nihal Das, Champak Sharma, Rina Bora, Chetana Das, Majadev Deka, Pooja Kasekar and Mahadev Deka, along with many more. The movie is under the banner of Santoshi Maa Production and is produced by Barnali Hazarika.
Biswajeet Bora:
Biswajeet Bora, who is also well known for his films like " Aisa Ye Jahan", is a prominent emerging director from Assam. Initially, Biswajeet wanted to be an actor and being from Assam, he started with theatre. He did a lot of work as an actor and also directed a few plays. Following this, he moved to Mumbai where he joined an editing studio and started working as an editor. Then he assisted internationally acclaimed filmmaker Jahnu Barua for several years before making his own foray into film direction, including the Assamese film Ejak Jonakir Jhilmil (A Thousand Fireflies Sparkle) in 2007. In 2009 he made the documentary – Angel of the Aboriginals: Dr Verrier Elwin. This documentary was selected for several international film festivals, including the 'Bollywood Beyond Film Festival' in Germany and the IUAES (International Union of Anthropological and Ethnological Sciences) in Turkey.
Duration: 2 hours and 30 minutes.
Kasturi Rangamandira, Bangalore
Hoysala Nagar, Horamavu, Bengaluru, Karnataka 560016
GET DIRECTIONS
Director's Cut With Biswajeet Bora's Bahniman
March 18 & 19 | 4PM - 9PM
Kasturi Rangamandira, Bangalore, Bengaluru
Invite your friends
and enjoy a shared experience