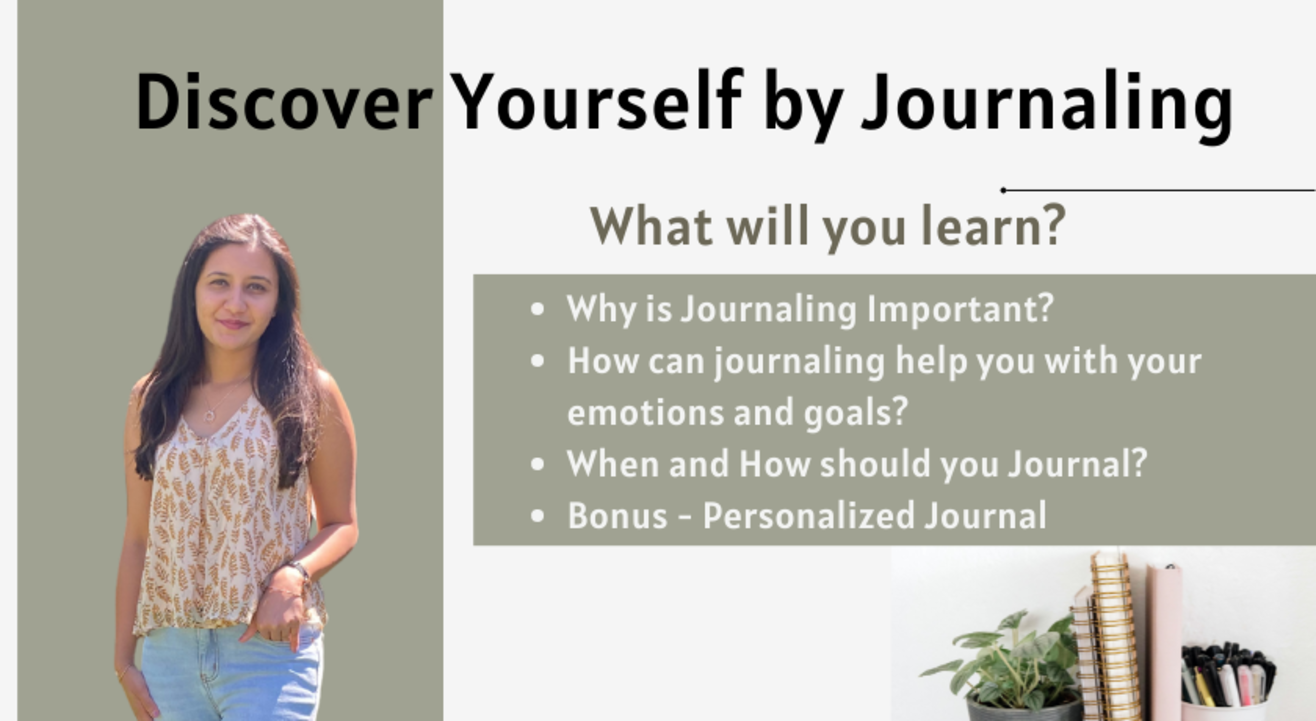 Discover Yourself by Journaling
Event Guide
Masterclass
Learn from an expert
Invite your friends
and enjoy a shared experience
Discover Yourself by Journaling
Event Guide
Masterclass
Learn from an expert
Invite your friends
and enjoy a shared experience
Event Guide
Masterclass
Learn from an expert
Invite your friends
and enjoy a shared experience
A lot of people struggle with their emotions and self-doubts; they often find it challenging to come out of the current situation. This situation keeps on leading them to procrastination and unreal fears.
Firstly, these feelings are Humane. But there has to be a way to come out of it. And most of them cannot lead their way out because they have yet to explore their inner self, which can be done through Journaling.
Through this 1 hour in-depth session, you will learn how to use Journaling to work on your emotions, relationships, and career and build a better version of your mindset.
Essential topics covered in the Workshop:
Journaling correlation with the mindset
Three crucial elements to Journal about
Why should you start Journaling
Best time to Journal
Bonus: You will also get a personalized e-book journal that covers every aspect of your life, which you can use at your own pace from your own space.
ABOUT THE HOST
Hi, I am Maitri Shah, a Certified Neuro-Linguistic Programming Practitioner. I am also a Mindset, Time Management and Productivity Mentor.
Journaling has changed my life and mindset for the most promising reasons, and I cannot wait to teach you the same and help you be your best version through Journaling.
So, make sure to Sign up today!! I can't wait to teach you how, why and what Journaling is. I assure you it will improve your life for the best. Let's together make your 2023 a better year. One simple habit can change your 2023 into a more fulfilling year.
Please join the session on time.
If you miss attending the event, payment is non-refundable.
Once the payment is made, no refund will be processed in any situation.
At the end of the session, we will have a Q&A time.
Session Link will be sent to your registered email id one day before the session.
Discover Yourself by Journaling
Event Guide
Masterclass
Learn from an expert
Invite your friends
and enjoy a shared experience