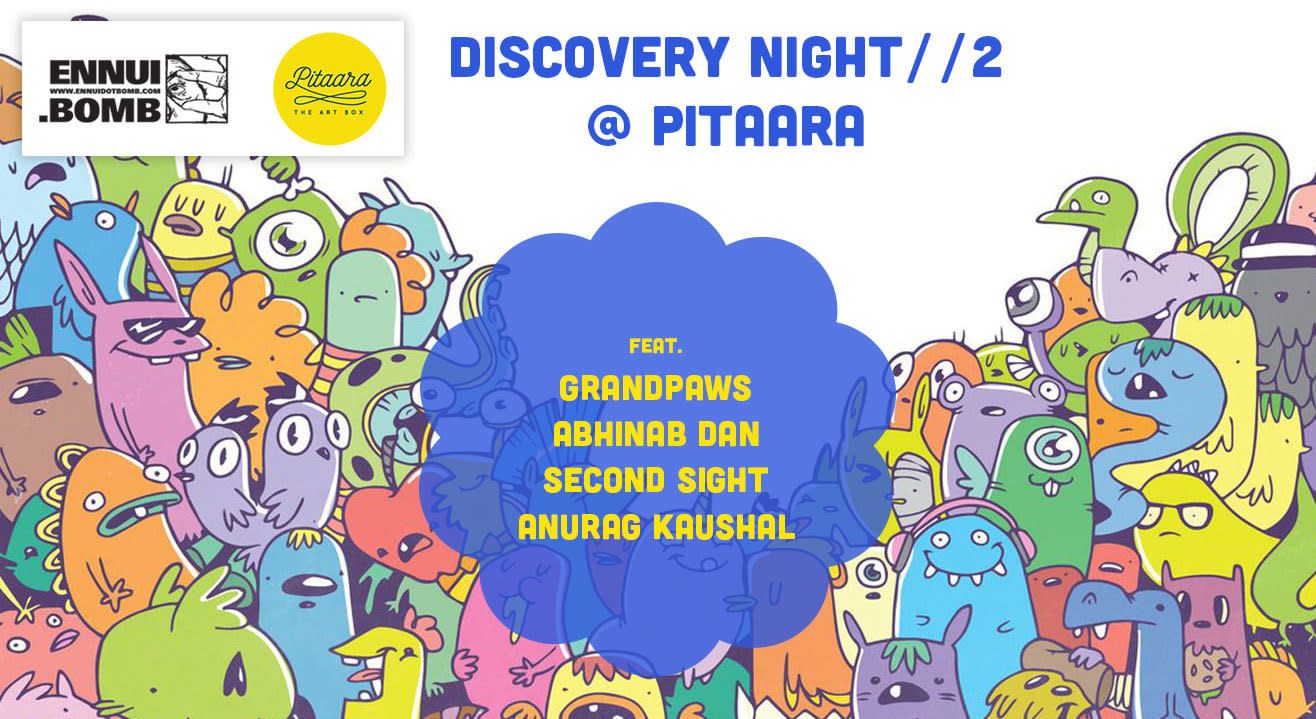 Discovery Night #2 At Pitaara
Pitaara - The Art Box, Mumbai, Mumbai
Step out and enjoy this event
Invite your friends
and enjoy a shared experience
Discovery Night #2 At Pitaara
Pitaara - The Art Box, Mumbai, Mumbai
Step out and enjoy this event
Invite your friends
and enjoy a shared experience
Invite your friends
and enjoy a shared experience
Pitaara - The Art Box and ennui.BOMB proudly present the second chapter of Discovery Night at Pitaara.
A great evening for Mumbai's Western suburbs to discover some fresh music and unheard talents. This is going to be an exclusive acoustic chapter featuring some very fresh names.
Who is performing?
Abhinab Dan- A singer/songwriter and a guitar player from Mumbai, Abhinab believes he is more comfortable and connected composing songs in Hindi and hence, this chosen language to express himself.
GrandPaws- GrandPaws is a collaboration between musicians cum composers Himanshu Salunke and Nigel Fernandez who likes infusing their lives with colourful musical influences which reflect in their music too.
Anurag Kaushal- Anurag Kaushal is an independent singer-songwriter from Assam, currently based in Bombay. Coming from a land that prides itself of its natural bounty, Anurag draws his inspiration from encounters with nature and the many mysteries that it abounds in. Choosing to see the brighter side in the monotony of a city-life, his music is an attempt to applaud the ordinary and find beauty in the everyday.
Second Sight- "What is unsaid can be heard, what is unheard can't be said." This is what their bio reads. You'll have to go down there to know better!
Pitaara - The Art Box, Mumbai
Pitaara The Art Box, Lane Opp. Apana Bazaar, Yashwant Nagar, near Teen Dongri, Goregaon West - Maharashtra - 400104
GET DIRECTIONS
Discovery Night #2 At Pitaara
Pitaara - The Art Box, Mumbai, Mumbai
Step out and enjoy this event
Invite your friends
and enjoy a shared experience