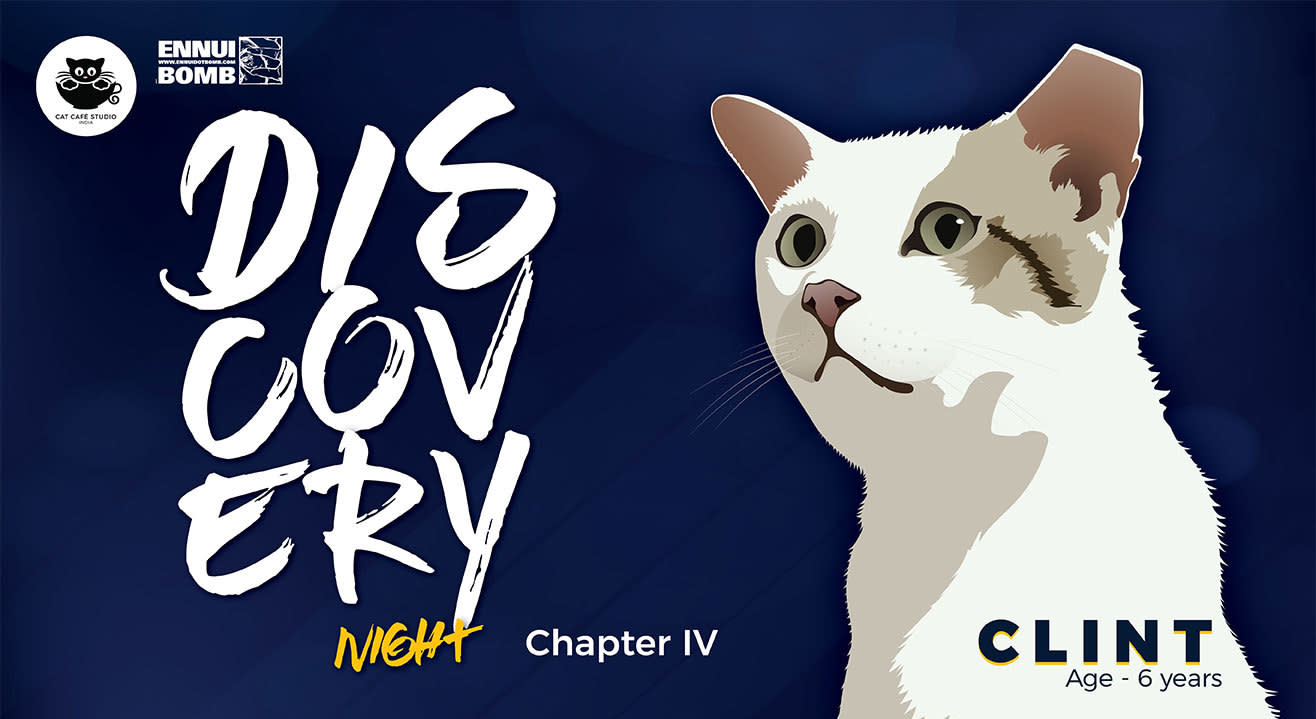 Music
Discovery Night Chapter IV
About
Discovery Night is here with its latest edition, and are now bringing to you a musical evening surrounded by cats. To delight feline lovers across Mumbai, the fourth chapter of Discovery Night will be held at the Cat Café Studio. This show features Mojo Bombay, sonaluna, blue reverie, Revolt Art Technology(R.A.T.) & The Dharavi Project(Hemant Heam Dhyani), and a very special act by iblinkwhenithink, who played their very first public performance at the last month's edition. With that solid line up, the organisers are looking forward to sharing an a-meowzing evening. Patrons are requested to book tickets soon, as very limited seats are available.
Mojo Bombay:
Mumbai-based Mojo Bombay is an alternative rock outfit that likes to keep their music really simple. Besides this, they are also a part of a project called 'Azaad'. Mojo Bombay promises to unfold and fuse both their projects in a unique way.

sonaluna:
A composer/producer/vocalist, Sonal D'Silva aka sonaluna makes music for the on-screen lives of robots, lost lovers, cities, trains, dancers, explorers and even a ninja who breaks into homes. Influenced by artists such as Trent Reznor, Shania Twain, Miles Davis, Outlandish and A.R.Rahman, her music has taken her to the Red Bull Music Academy(London'10), Berlinale'08 and Esquire Magazine( John Mayer Songwriting competition'05).

Revolt Art Technology(R.A.T.) & The Dharavi Project:
This act is a coming together of sorts, for the very first time of MC Heam, Poetik Justis, Hhb and Vibe- a rapper, a DJ, a producer and a beatboxer all on one stage, to present a mad fusion.

blue reverie:
A post-grunge ambient rock band formed in 2013, blue reverie brings alive sights and sounds with their music which is best when FELT!

iblinkwhenithink:
iblinkwhenithink presents a gritty-electronic take on some well loved pop/indie songs.
Cat Cafe Studio is India's first cat cafe that opened it's doors animal lovers in 2015. A quaint, cozy place in Versova, this studio houses 30-40 cats who are rescued and open for adoption. Visitors can have a hot cup of coffee, play board games or read books all in the company of these little felines. CCS is a private organisation run and funded by Zcyphher – An Independent Creative Agency.
Venue
Cat Café Studio, Versova
63, Harminder Singh Road, Aram Nagar Part 1, Aram Nagar, Versova, Andheri West, Aram Nagar Part 1, Aram Nagar, Versova, Andheri West, Mumbai, Maharashtra 400061
GET DIRECTIONS