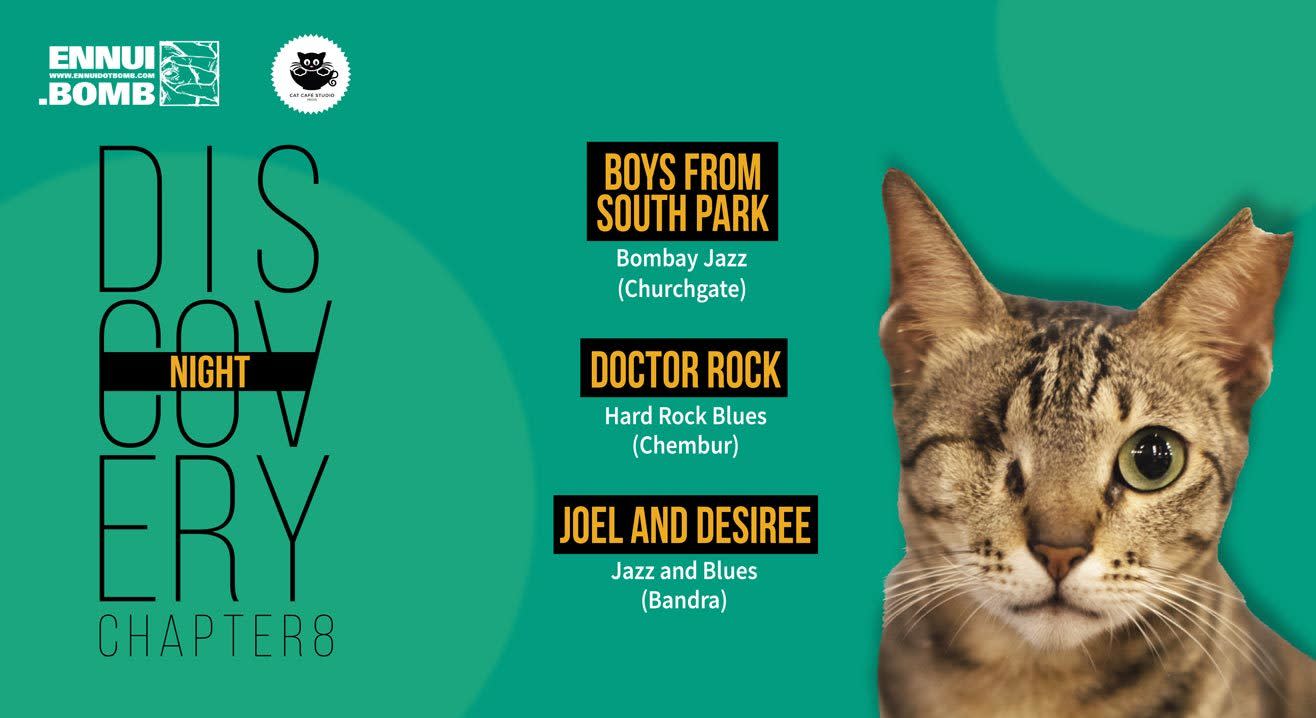 Music
Discovery Night Chapter VIII at Cat Cafe Studio
About
#DiscoveryNight Chapter VIII is here with another BRAND new line-up for the 8th edition.
Boys from Southpark
Boys from South Park is a five piece band and is made up of Roshan Bhat (Vocalist/kazoo), Tapan Kantharia (Guitars), Prince Mangan (Bass) and Moin Farooqui (Drums/Percussions). The band shies away from the confines of genre and loves dabbling in different styles. They especially enjoy improvisational music, played with a punk jazz twist. The band performs original compositions. They like to write about 'contemporary issues' and so, one finds many songs with this theme in their set list. The band has an interesting formation story for it was created by the members who used to meet up and jam at Shivaji Park. They realised that their music was fresh, groovy and entertaining and decided it was time to take their music out of the park and into the streets, to be heard by a larger audience. They are resident artists for Nspa (Natural Street for performing arts) an Ngo that helps and support them to do busking scenes in Mumbai.

Doctor Rock
The old school Rock band - Doctor Rock was formed in the start of 2015 by Rugved Mahajan a.k.a Rugy (Guitarist ) and Atharvaved Mahajan a.k.a Wulf (Drummer ), composing 4 original songs. After a lot of members changing, the band met Sameer Shaikh a.k.a Sam (Bassist ) in late 2016 (Nov-Dec)who introduced Nishith Shah a.k.a. Steel Shah (lead vocalist), adding to the compositions. These like minded boys believes in the great, endless power of own composed and butt-punching songs, and will be up soon with their first album "Promise Land". DOCTOR ROCK is all about 80s rock to modern rock.
"From groovy drums to jazzy vocals and retro bass to heavy solos, we are here to kill it fellows"
"WE ARE HERE TO CURE YOU WITH OUR MUSIC".
- DOCTOR ROCK

Joel & Desiree feat. Neerad Sumeet
Bombay based duo, Joel & Desiree was formed in late 2016. The duo hit it off with their similar love for Blues, RnB, Jazz and Soul music.
Joel Padikkal, front-man for Bombay based Blues - Rock outfit, The Tripp, has played at venues across the country, NH7 Weekender, Sula Fest, Hard Rock Café and blueFROG to name a few. Being greatly influenced by Jazz and Blues music from a young age, Joel plays a stripped down soul/jazz singer - songwriter set as well, showcasing some of his originals and a variety of covers. Desiree Saldanha is an upcoming and versatile singer songwriter whose sound varies from influences like Led Zeppelin , Amy Winehouse and Pink Floyd to fairly modern artists like Rihanna, Tame Impala and J.Cole. Making her debut into the music scene through this project, Desiree looks to release her own music later this year. This blend of old school and contemporary sounds coupled with groovy harmonies is guaranteed to keep you hooked.
Venue
Cat Café Studio, Versova
63, Harminder Singh Road, Aram Nagar Part 1, Aram Nagar, Versova, Andheri West, Aram Nagar Part 1, Aram Nagar, Versova, Andheri West, Mumbai, Maharashtra 400061