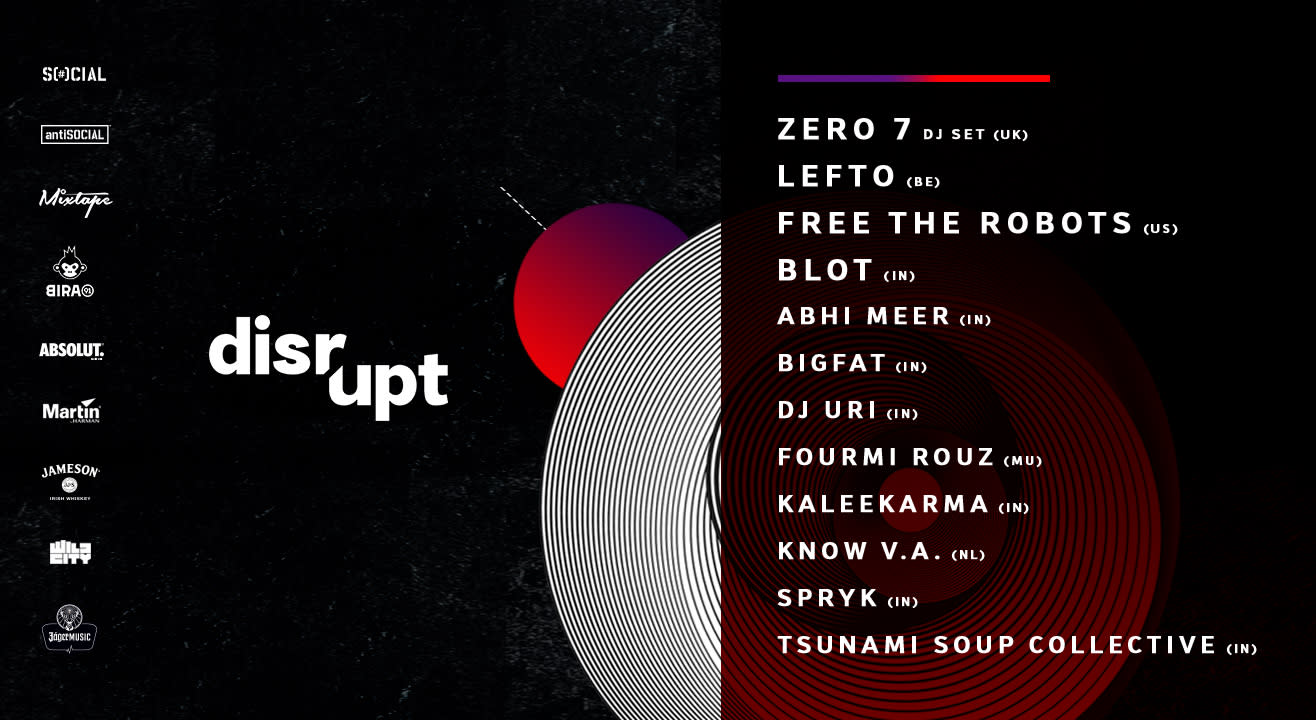 November 16 - 17 | 4:30PM (Gates Open)
Step out and enjoy this event
Invite your friends
and enjoy a shared experience
November 16 - 17 | 4:30PM (Gates Open)
Step out and enjoy this event
Invite your friends
and enjoy a shared experience
Invite your friends
and enjoy a shared experience
Disrupt is an urban festival celebrating music from the most forward thinking artists in electronic music from India, and around the world; showcased using the latest audio and visual technology, the festival's distinct offering for the music and nightlife community.
Gates open at 4:30PM
Headlining Disrupt will be the British electronic act Zero 7 who is playing a DJ set, in what is a rare appearance by the act. Described by FACT Mag 'as your favorite DJ's favorite DJ', Lefto joins a line-up that also includes the beat movement pioneering producer and DJ, Free The Robots; India's favorite DJ and producer BLOT, Mumbai-based bass music producer Spryk, and DJs like Uri, Abhi Meer, Kaleekarma and bigfat alongside Amsterdam-based experimental duo Know V.A, Mauritian curator Fourmi Rouz and Goa-based selectors Tsunami Soup Collective.
Famous Studios
20 Dr. E. Moses Road, Mahalaxmi, Worli, Mumbai, Maharashtra 400011
GET DIRECTIONS
November 16 - 17 | 4:30PM (Gates Open)
Step out and enjoy this event
Invite your friends
and enjoy a shared experience