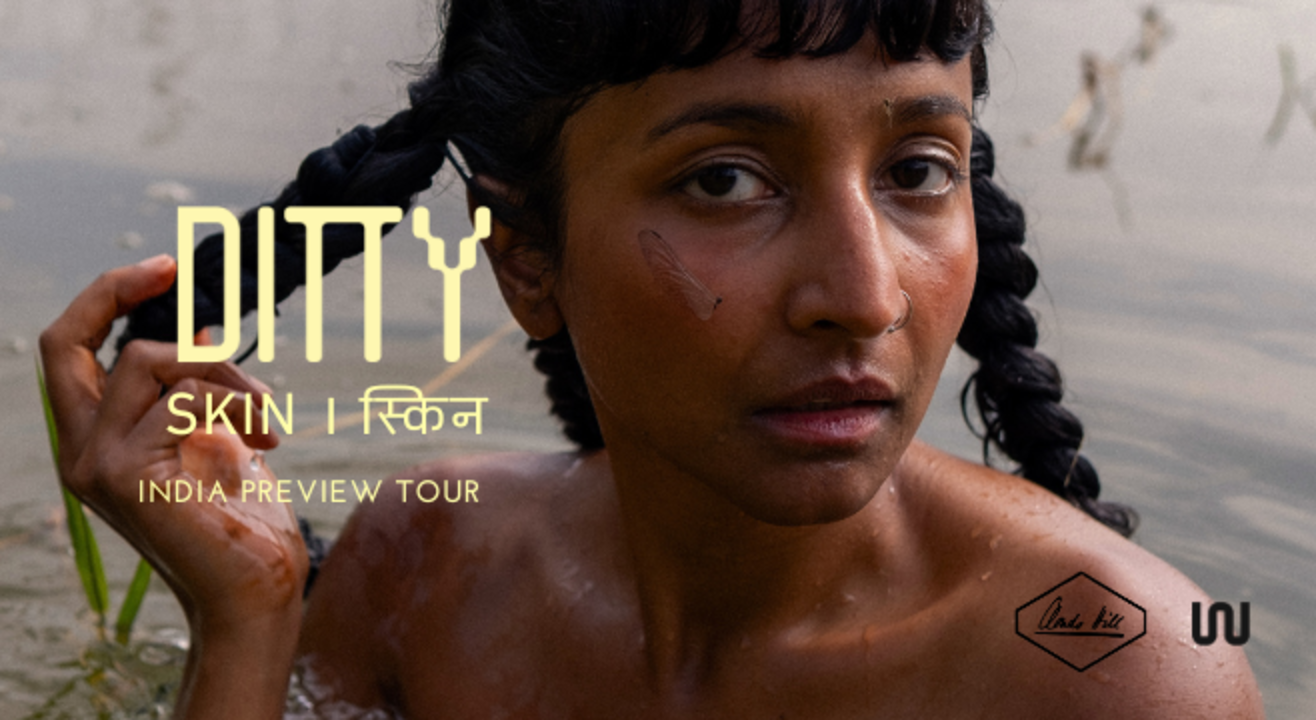 Event Guide
Live Performance
Enjoy a unique experience
Invite your friends
and enjoy a shared experience
Event Guide
Live Performance
Enjoy a unique experience
Invite your friends
and enjoy a shared experience
Event Guide
Live Performance
Enjoy a unique experience
Invite your friends
and enjoy a shared experience
Ditty's new EP, skin, drops early next year. This is a series of intimate concerts through the country before she returns to Berlin. She will be traveling through 10 cities in India, and collaborating with local environmentalists and artists to start important conversations around climate change, sacred ecology, communal regeneration and transformation. In 2020, Ditty had created India's first carbon neutral tour, Make Forests not War. This is her 3rd such tour and is aimed to be low in emissions and pollution + carbon neutral. We hope to plant forests and restore lands as we go.
ABOUT DITTY
Ditty's songs are bold and beautiful ruminations on our shared future. Growing up in Delhi, India, she spent many summers climbing trees, collecting flowers and seeds, and building a deep connection with the natural world. Bearing witness to the difficult changing landscape and deplorable fate of south asian cities in the 90s and 2000s she started writing songs. Public parks, plazas, and bylanes were her first stages to busk and reclaim unsafe spaces as a woman. Her intersections with ecology and feminism fundamentally shaped her artistic stance. She is a soaring voice in an emerging Indian indie scene.
Ditty's first album Poetry Ceylon (2019, Pagal Haina Records) recites stories of leaving the city behind and moving to the island of Sri Lanka. Offering an invitation to feel all that is beautiful and heart-wrenching about being human, it was called 'Debut Album of the Year' by the India Today magazine. A netflix sync of her song, Deathcab (Little Things, 2020) made her visible to millions. Accompanying the debut, Ditty created India's first carbon-neutral tour – Make Forests Not War (2020), passionately working towards a conscious model for touring artists.
Gardens and forests have been home to her intimate performance, drawing people out of their comfort zones, challenging traditional notions of where and how live music resonates. Her ephemeral voice leads listeners closer to their own hearts and to other living beings. 'Sweet choir girl gives way to seductress, gives way to harridan and climbs back down again without breaking a sweat', writes Elle Magazine.
In between, she co-founded the international experimental collective, Faraway Friends. Their work meanders between Asia and Europe, art and activism, music and visual arts. On their record, Rain is Coming (2021, VCA music x Chimperator Records) Ditty extends her musical universe into Pop, Hip-hop and electronica constructed from field recordings. 'They represent a generation that no longer needs a nudge to see how quickly climate change hits us.' says Taz, Germany. Ditty now divides her time between Berlin and New Delhi. She received a Musicboard Berlin Scholarship in 2023 and signed to Clouds Hill Recordings, Hamburg.
In the coming months she is releasing a series of EPs, titled skin and kaali.
Rhaen Basera
647/2, Mumatpura Karnavati Club Rd, off Billionaire Street, Mumatpura, Ahmedabad, Gujarat 380054, India
GET DIRECTIONS
Event Guide
Live Performance
Enjoy a unique experience
Invite your friends
and enjoy a shared experience