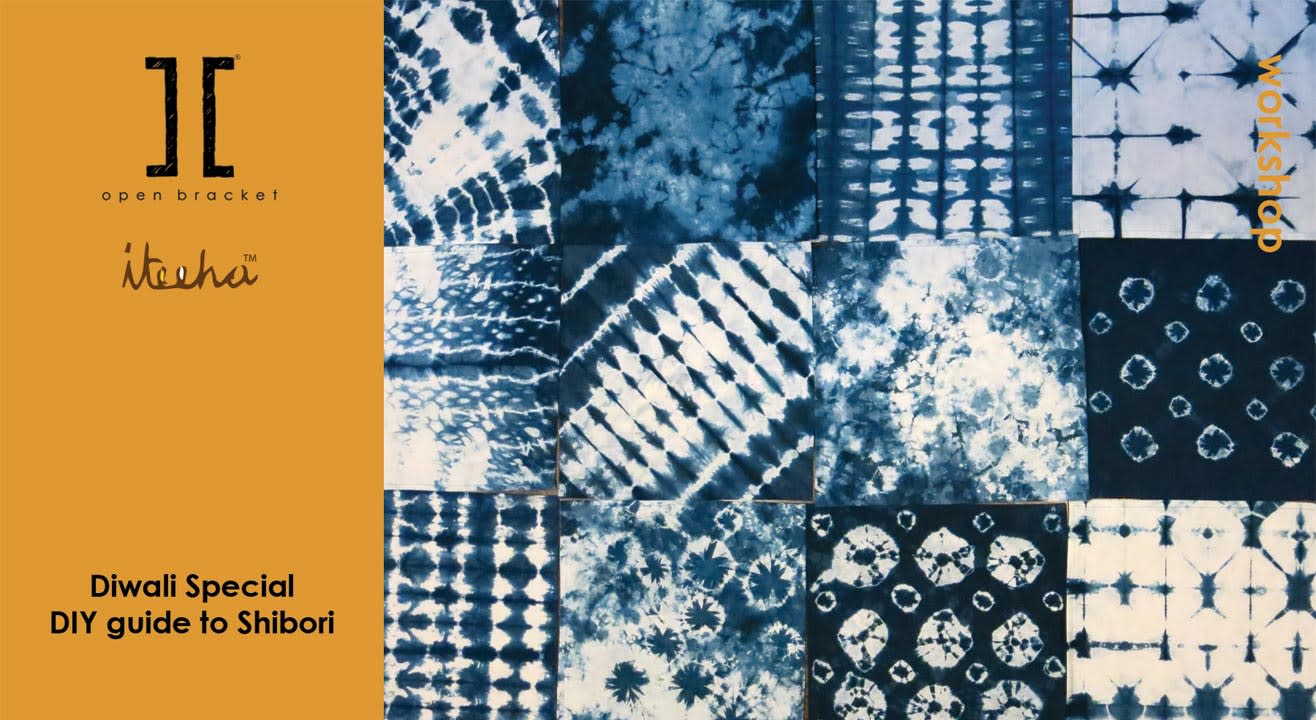 DIY
Diwali Special- DIY Guide to Shibori
About
This Diwali make lovely handmade (paper and fabric) buntings of Shibori for Diwali decoration. This delicate, skill-oriented practice of Shibori and Tsutsugaki originated in the imperial society of 8th century Japan and was practiced on silk, hemp and eventually cotton cloth and also paper. It employs organic colouring substance such as Indigo and Purple root to resist-dye fabric using methods of binding, stitching, twisting and compressing; or a combination of any of the above. As can be expected, the results are beautiful!
Shibori (Japanese name or Tie and Dye) is part of the larger family of resist-dyeing techniques that can be found in different forms across many cultures. Although the techniques of tie and dye vary from culture to culture, the concept of dying remains one of the oldest methods of printing design on fabric.
This interesting technique will be applied on fabric and paper during the workshop. The interesting patterns made on paper can be used for various decorative purposes like gift wrapping for Diwali gifts, book covers, book folders, bookmarks, table mats etc. We will also be dying fabric with this technique which can be used for door 'Torans', cushion fabrics, bedcovers and so much more. What is more, not only can you take a pristine, self-dyed piece of fabric back home, but you will also be in a position to design your own patterns for customized clothing and cloth accessories!
So hurry up and register, clearly, it's an opportunity to dye for!
List of materials inclusive in the ticket
Handmade sheets of Papers
Water colour papers
News papers
Decorative Hangings
Cotton fabric
Clamps
Ice Cream Sticks
Coins
Thread
Gloves
Dyes (eco friendly)
Dye fixer
A study manual.
This workshop is in collaboration with Iteeha. Built on years of work in the textile industry; the folks at Iteeha and Inkling work in close collaboration with more than 200 skilled artisans and indigenous craftsmen from rural India; with the aim to revive traditional folk arts and crafts which are on the verge of extinction.
Open bracket is an experimental platform for all things creative! We organize and curate custom made workshops that stand firmly in the no man's land between classroom lectures and professional training, though never shying from mandatory hops of fun. The workshops are conducted by professionals who are invited from an extensive list of artists and creators from all over the country. To know more log on
Venue
Bombay Connect BKC
501 A Pinnacle Corporate Park, Bandra Kurla Complex, MMRDA Area, near Trade Centre, Mumbai, Maharashtra 400051