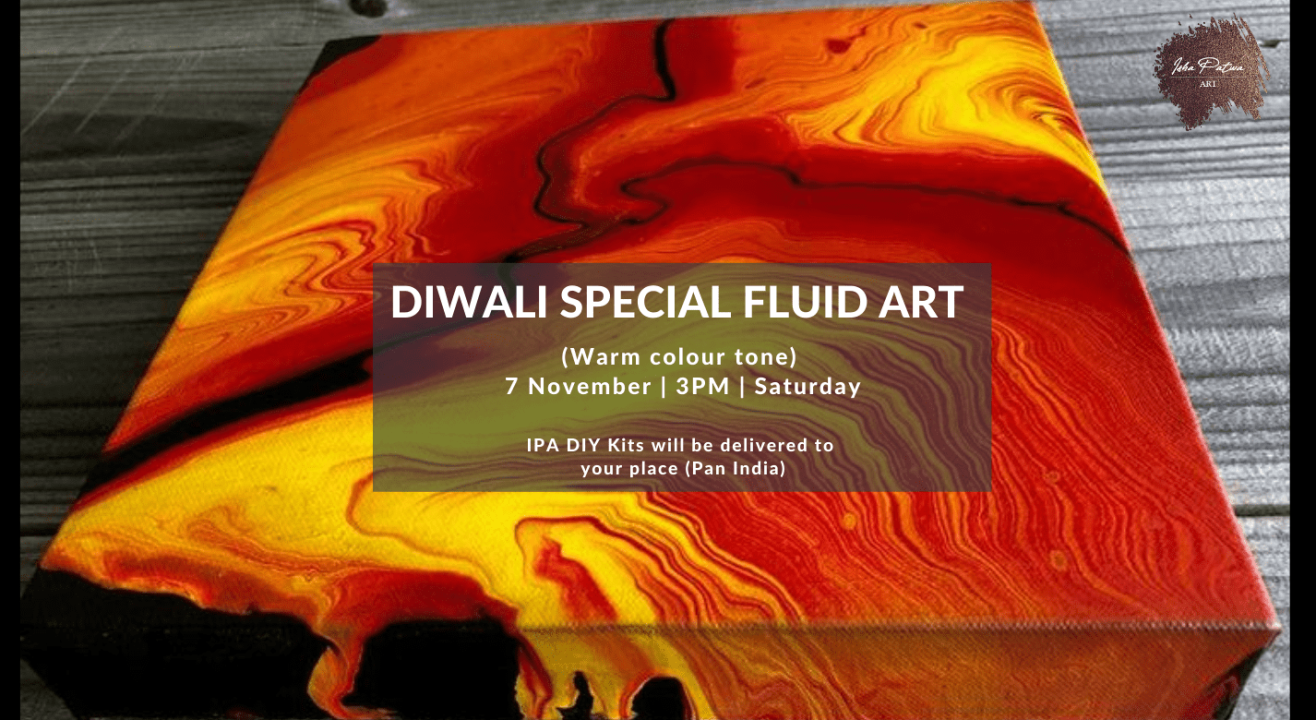 Diwali Special Fluid Art - IPA DIY Kit
Enjoy this event from your home
Invite your friends
and enjoy a shared experience
Diwali Special Fluid Art - IPA DIY Kit
Enjoy this event from your home
Invite your friends
and enjoy a shared experience
Invite your friends
and enjoy a shared experience
This diwali join in with your friends and family to learn fluid art !
Have you seen fluid art videos of colours blending into each other where they use warm colours to show lava like formations? Do you feel like actually trying out painting one of them?
Join Isha Patwa Art's FLUID ART WORKSHOP!! The most satisfying and de-stressful art form ever! Once you get your hands of these you will fall in love with it instantly!
Also known as paint pouring, acrylic pour etc. Is a form of abstract art that uses acrylic paints with a runny (fluid) consistency. The acrylic paints react with each other when combined together to make interesting and visually organic motifs. All you have to do is pour the color with a specific technique with some brilliant matches of colors, and there you are ready to showcase a beautiful art piece home!
The best part about this workshop is, that it is absolute fun and which does not require any painting or drawing experience at all. Just a love for colors and an eagerness to learn and have fun is enough for this. Great for both beginners as well as artists, to learn the most important techniques in fluid pouring art. Therefore, join us for this paint-party where you can meet new people online, socialize, along with some fun and learning! We believe that 'ART is THERAPY' and will help one de-stress and feel the love for art with us.
ABOUT THE EVENT
Date: 7 November, Saturday
Time: 3pm
Venue: Zoom call
Price: 1299 (Charges include the IPA DIY Kit delivered at your doorstep + workshop)
Technique: Swirl, straight pour, dirty pour and strainer
Canvas size: 12 inch by 12 inch stretched canvas
IPA would be guiding you to make fiery lava formations with the help of fluid art!
Inclusive of IPA DIY kits delivered at your doorstep!
· Only for Indian residents
ZOOM CALL
Please be ready with all required materials at least 5-10 mins before the start of the session. The ticket price is per user per session. For example, if two people are attending using one login, please pay for 2 people. Tickets once booked, cannot be cancelled/ rescheduled.
To simplify communication, please register using the participants name and phone number (on which whatsapp is functional). Please note the all timings are in IST (which is GMT+5:30hrs).
Because of logistical reasons, it will not be possible to take in late entries. Also, we would recommend you familiarise yourself with Zoom and its usage so you have no trouble during the session. You can join in to the session through that Zoom link.
ABOUT THE ARTIST
Ever since Isha Patwa was 3 year old, she has been fond of throwing colours on a canvas - intercepting an art form of herself. Today, over 20 years later - she has found herself specialising in different forms of art - ranging from various oil painting techniques like knife and finger techniques to fluid art forms. With an attempt to share her passion, she also holds online fluid art workshops PAN India. In the process of wanting to pursue designing as a career to doodling in between work meetings, her bond with art only grew stronger. Apart from being an artpreneur, she's also a dance choreographer and social entrepreneur along with pursuing a career in Finance - combining various art skills not only on canvases, but in life.
ABOUT ISHA PATWA ART (IPA)
Bringing together our passion for art, we - a father-daughter duo have found comfort and solace in art, artists, ideas and more. With constant love and admiration for painting, we have grown up with the ideology to paint our hearts out - and have seen this run in our family. Bringing on this platform - our creativity and visual thinking - we find it difficult to combine letters and sentences to talk about how we sanded down that one spot or how we decided the piece was finished - not to mention expressing the larger meanings with decisions, or describing how the work will hum with energy in a viewers living room. But we hope you like what we create and we leave you wanting more.
For personal group workshops/ events contact ishapatwa.art@gmail.com
For more details visit - https://www.ishapatwaart.com/
Diwali Special Fluid Art - IPA DIY Kit
Enjoy this event from your home
Invite your friends
and enjoy a shared experience