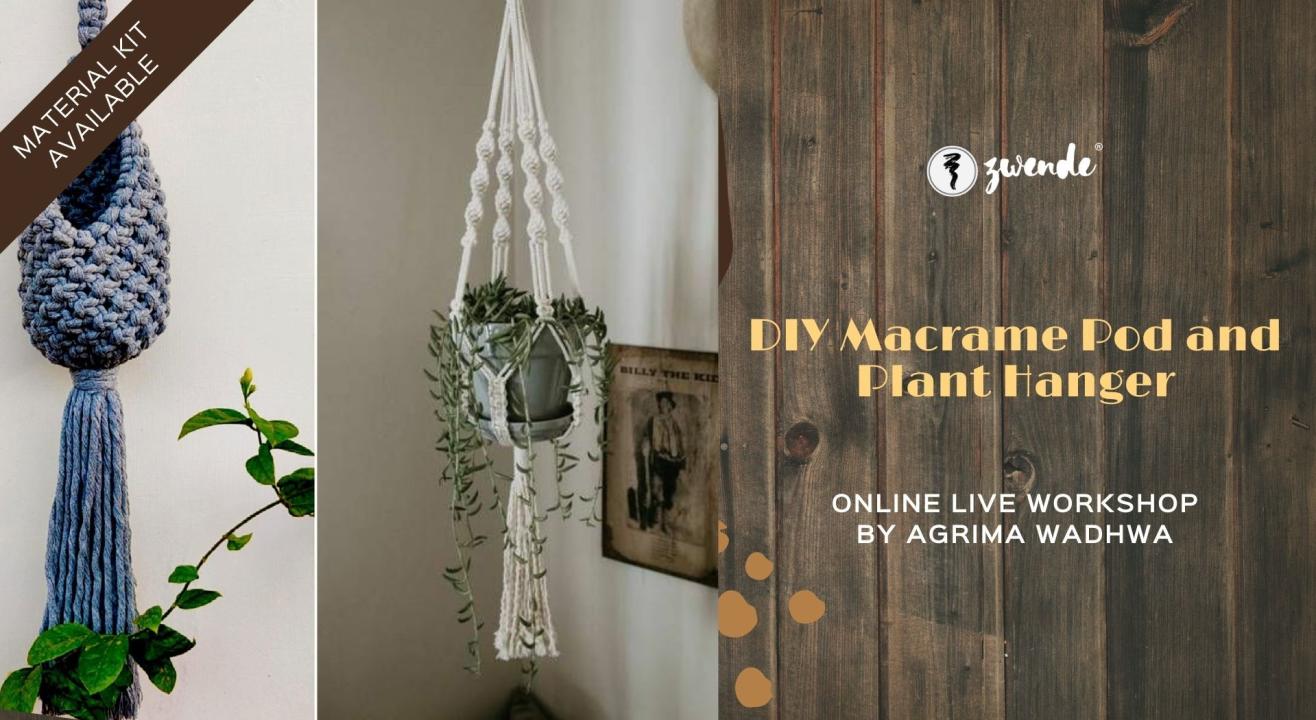 DIY Macrame Pod and Plant Hanger [Online Live Workshop - Material Kit Available]
Enjoy this event from your home
Event Guide
Masterclass
Learn from an expert
Invite your friends
and enjoy a shared experience
Event Guide
Masterclass
Learn from an expert
Invite your friends
and enjoy a shared experience
About the Event
About the Artform
Macrame is a form of textile production using the process of knotting. Common knots that are used are the square knot and the half knot. The word 'macrame' comes from the Arabian word 'macramia' which gives the meaning of a 'striped towel' or an 'embroidered veil'. Hence, the origin of this art is generally attributed to Arabic weavers of the 13th century.
Any item or piece of home decor made using Macrame gives the item a delicate and bohemian feel. Macrame is used to make wall hangings, pieces of clothing, tablecloths, bedsheets, rugs and much more.
About the Workshop
The Canvas
Overall Details
In this two-day workshop, each participant will be introduced to the intricate art of Macrame. On the first day, you will learn the basics and how to make your own macramé pod. The second day, you will create an elegant looking macrame plant hanger all by yourself!
At the end of the 2-day workshop, you will have made a stunning macrame pod and a plant hanger to decorate your house with!
The colours in the palette
Elements you will learn
Macrame is all about the different knots that are used to create some aesthetic pieces of art and decor.
The participants will get to learn the lark's head knot, square knot, spiral square knot and the gathering knot, in addition to many other tips and techniques!
Flow of the Workshop
Day 1 - Macrame Pod
Introduction to Macrame
Introduction of the artist and the participants
Brief introduction about the beginning knot and its importance
Making of the product using the square knot
Finishing the product with the last knot called the gathering knot
Questions and doubts can be asked throughout the session!
Day 2 - Macrame Plant Hanger
Introducing the participants to the spiral square knot
Making the plant hanger using different knots
Questions and doubts can be asked throughout the session!
Who is this workshop "just right" for?
This workshop is ideal for people who love the concept of DIY craft.
If you're also a person who loves home decor, this workshop is perfect for you!
It is beginner friendly (Age 15+)
What your Material kit will contain
Materials at your doorstep
Day 1 - Macrame Pod Kit Includes:
Pre cut yarn ( you can chose your color post registration - navy blue/ yellow/white)
Wooden ring
Day 2 - Macrame Plant Hanger Kit Includes:
Pre cut yarn (white color)
Wooden ring
Other Materials Required for both the days:
Pair of scissors
Hard bound paper/notebook
Tape
The scope of creativity
Further prospects and application of what you will be learning
The techniques and knots you learn during the workshop can be used to make other accessories for yourself and your home. You can try making earrings, neckpieces, keychains, belts and much more!