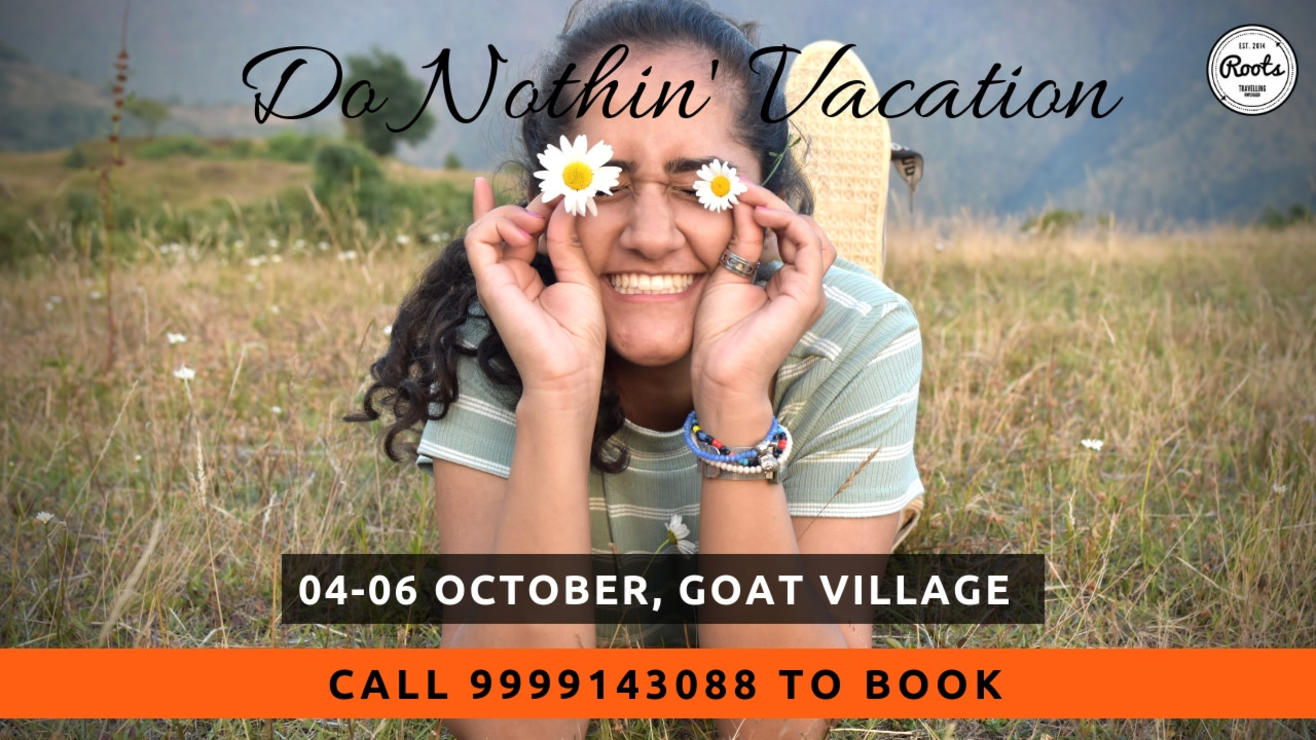 Travel
Do Nothing Vacation - Goat Village
About
Don't feel like every single one of your days off has to be spent doing something crazy or going somewhere far. There are so many ways to explore, be curious, and find exciting experiences right under your nose, in this small world.
Plus, there's zero shame in taking time off to simply rest and recover from a crazy work week or impending burnout. So we have planned everything for you to make you comfortable, serve you some food for you and your soul both. Escape the city life and be a guest to the birds in the forest somewhere in the mountains.
Roots plans to take you to a beautiful place in pangot where we will - Refresh. Renergize. Rejuvenate. BY JUST DOING NOTHING.
Day 1
Instead of feeling like you have to respond to work emails, or make a slide in Powerpoint, or take a million photos for your website, Relax. Spend much-needed time with yourself.
• Take in some sunshine and fresh air.
• Introduce yourself to others.
• Have warm conversation over the cup of coffee with a beautiful landscape.
• Do an eye gazing session to access wisdom within.
• Build you New Life Story
• Lets tell a story to each other with drums rolling and celebrating life
End your day with affirmations to fulfil your dreams over the bonfire and music.
Day 2
Wake up to the birds chirping and the pitter-patter of the raindrops. Halt at this moment and think of the most happiest moments in your life.
We start our morning with adoration circles.Appreciate everything in your life that brought a smile to your life. Trust life. This brings healing to our body, mind, heart and being.
Experience this weekend to live life to the fullest.
Leave for Delhi after the evening tea.
Please Note: You can extend your stay by a day.
Inclusions
• All Travel from Delhi and Return in Tempo Traveller
• Stay for 1 night ( In a shared condominum or shared cottages)
• All meals during the stay at the cottage
• Healing Activities
• Music Night
• Trek if you wish to
Exclusions
• Anything not mentioned in the inclusions
• Anything ordered in the room
Venue
Maharana Pratap ISBT
Yudhister Setu, Inter State Bus Terminal, Kashmere Gate, New Delhi, Delhi 110006
GET DIRECTIONS