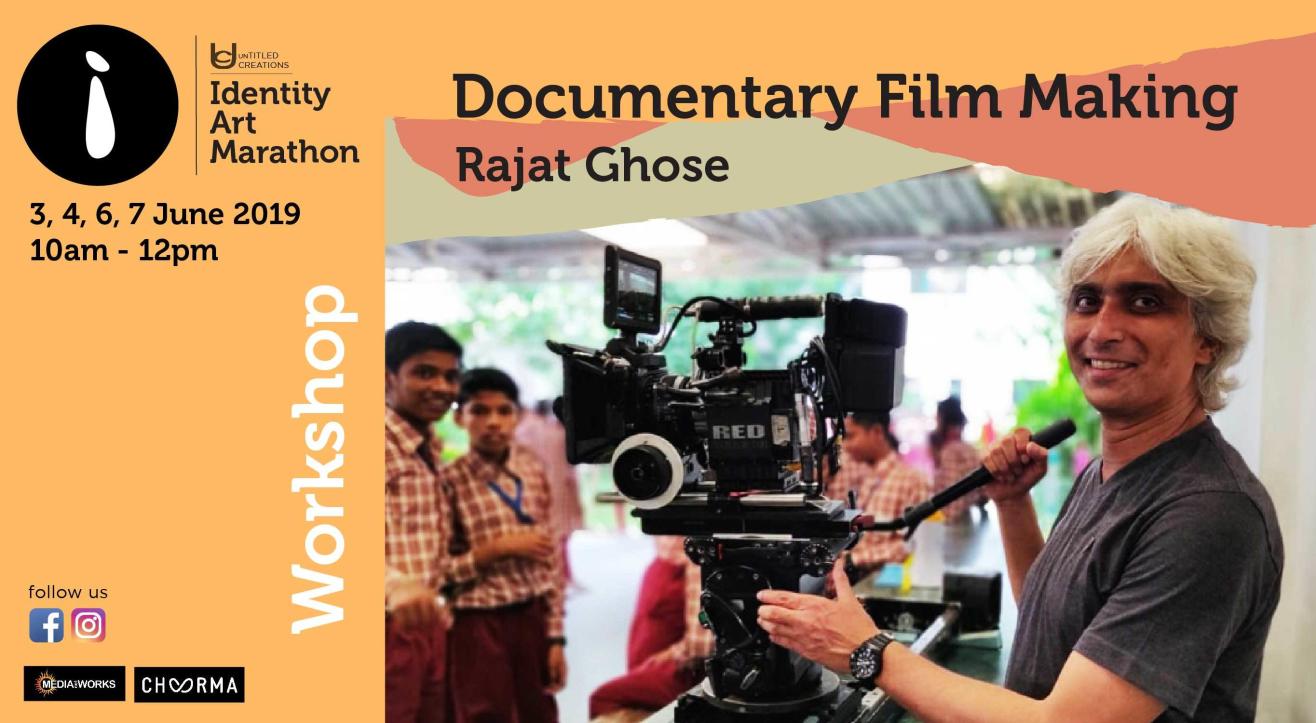 Documentary
Documentary Film Making Workshop
About
Documentary Film Making Workshop
by Rajat Ghose
3rd, 4th, 6th, and 7th June 9 (10 am - 12 pm) - Workshop at Arpana Fine Arts Gallery
10th June - (11 am - 5 pm) - Editing Workshop at Sound Garden Studios (Kailash Colony)
16th June - (1 - 2 pm) - Screening of Workshop Films at Arpana Fine Arts Gallery
June 3
INTRODUCTION – The scope of the workshop. How to make this your launching pad into film making.
THE STORY – The importance of STORY in a documentary. Story Structures in Films. How to find a story? How to use this to prepare for a shoot?
PRACTICAL – HOMEWORK Find a story you can tell in the documentary form.
June 4
TH IMAGE 1: Basics of Image in Film making. How to approach a subject and derive images using the Camera. Shooting a subject so that the images can be edited.
PRACTICAL: Examining Homework from previous day and exploring the stories in terms of images. HOMEWORK: Bring back images of your stories.
June 6
THE IMAGE 2: Examining the Homework. Deriving STORYLINES. Preparing narrative presentations.
HOMEWORK: Script the stories of your films as short pitches.
June 7
INTERVIEWS and TALKING HEADS: This is a core element in documentaries. How to film an interview.
PRACTICAL: Film interview frames with participants narrating their story pitches.
June 10
Edit the out put into one reel using the filmed images of participants pitching their story along with images they have shot of their stories. Final Meeting and thoughts of Participants.
June 16
Final Screening of Documentary Films created during the Workshop.
Part of 'I AM - Identity Art Marathon',
24 day multi disciplinary art festival from 24th May to 16th June 2019
Curator: Aakshat SInha
Organiser: Untitled Creations Private Limited
Media partner: Media net Works
Design partner: Choorma
Venue Partner: Arpana Fine Arts Gallery, New Delhi
https://www.facebook.com/identityartmarathon/
Book any workshop ticket and get a 7-day cult.fit pass FREE. Offer valid till 31st September. (T&C apply) Click here for more information
Venue
Arpana Fine Arts Gallery
Arpana Fine Arts Gallery, Academy of Fine Arts and Literature, 4/6 Siri Fort Institutional Area, Opp. Gate No. 2, Siri Fort Auditorium, New Delhi 110049. Metro Green Park.