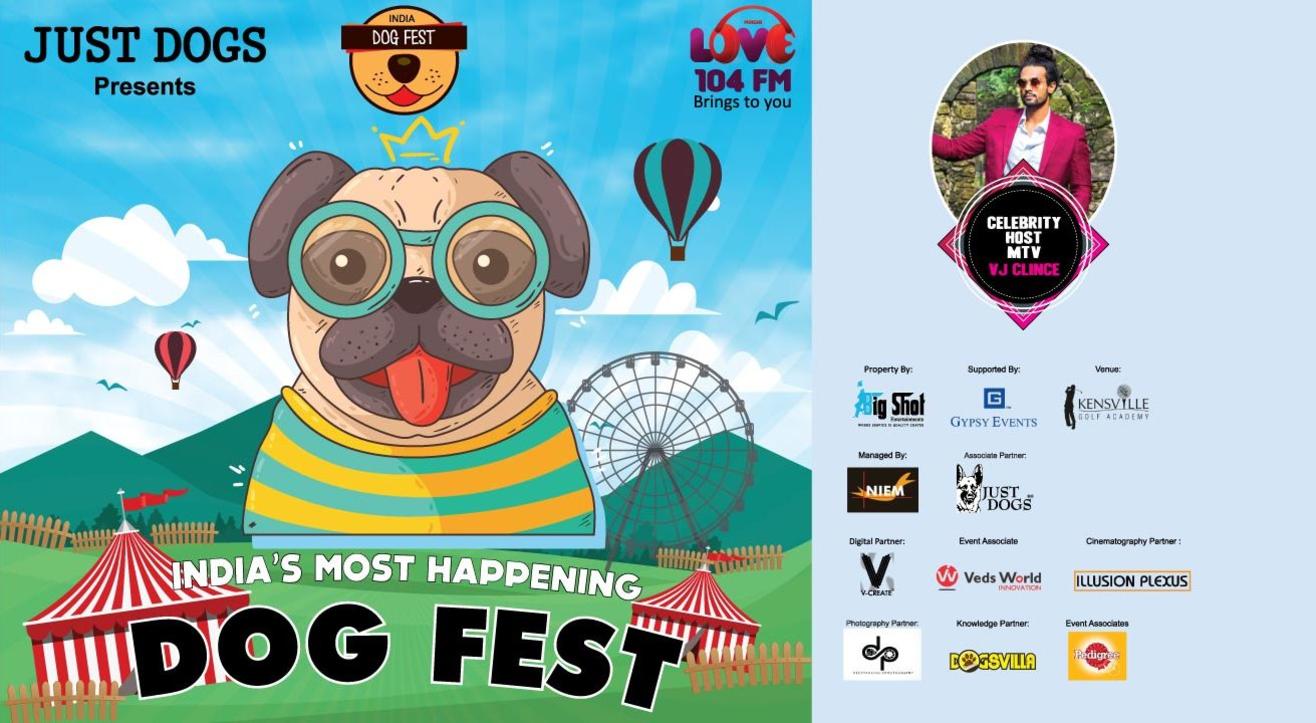 Kensville Golf Academy, Ahmedabad
Invite your friends
and enjoy a shared experience
Kensville Golf Academy, Ahmedabad
Invite your friends
and enjoy a shared experience
Invite your friends
and enjoy a shared experience
Hello to all the lovely pet parents!


Finally, the wait is over, as Just Dogs is coming up with India's most happening dog show ever for the first time in Gujarat! The "Dog Fest India 2017" will be held at Kensville Golf Academy, Ahmedabad!🏆
And for this special occassion, Just Dogs invites you for an ultimate day out for your loving pet and you, filled with lots of fun and excitement! 🙋😃


So be a part of this unique event where all pet lovers will be together under one roof, for an entertaining fiesta which you might have never experienced!
Artist Performing - VJ Clince Varghese
Clince is a VJ for MTV and a live performer known for his high energy. He has performed in over 1000 events as an anchor/singer/motivational speaker. He is also an International award winning rockstar who has represented India at various international music and cultural festivals.
Celebrity host from MTV
Proffsional judges
Winner titles
Best dog brands from across India
Pet grooming competition
Dog playzone
Exhibition on world of dogs
Live painting competition
Free health check-up 🏥 for your pet
Pet grooming workshops 🐶
Dog training workshop
Exciting prices and trophies
Dog utility stores🍼
Dog adoption programme
NGO introductions
Stray dog awareness programme
Photoshoot walls
Category 1
"Dog fest bestie"
Best of breed
Best in show
Best dog handler
Best puppy

Category 2
" Dog fest contest "
Prettiest bitch
Best owner look a like
Child's best friend
Most obedient dog
Waggiest tail

Category 3 "Dog fest wonders"
Heaviest dog award
Tallest dog
Smallest dog breed
Longest hair

Category 4
Best dog groomer of Ahmedabad
Just Dogs is a one stop solution for pet parents. An online superstore and spa, full service 365 days, 24x7 at your finger tips is found by Pet Lovers & Pet Parents. Pet business dedicated to consistently providing high customer satisfaction by rendering excellent service, high quality pets, pet care par excellence, and furnishing a fun, clean, enjoyable atmosphere at an acceptable price.
Golf knows no boundaries of either age or background. Strategically located in the heart of the Ahmedabad, just behind the Rajpath Club and off the S.G. Road, Kensville Golf Academy has been meticulously designed to provide an unparalleled Golfing experience for all. Whether you are learning the basics of golf from scratch or seeking to improve a specific aspect of your game, Kensville Golf Academy will provide you with the very best.
Kensville Golf Academy
Behind Rajpath Club, Off SG Highway, Thaltej, Ahmedabad, Gujarat 380058
GET DIRECTIONS
Kensville Golf Academy, Ahmedabad
Invite your friends
and enjoy a shared experience