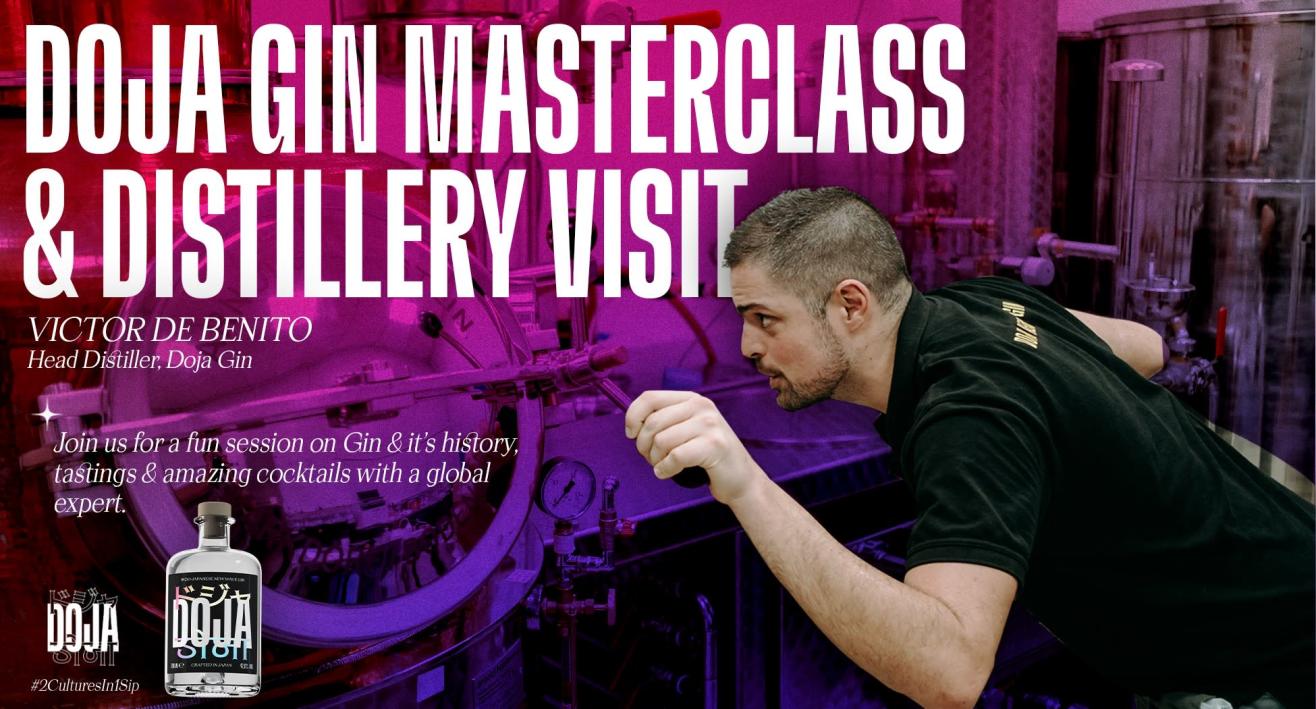 DOJA Indo-Japanese Gin Masterclass & Distillery Tour
East Side Distillery @ Naveen Distillery, Goa
Event Guide
Masterclass
Learn from an expert
Invite your friends
and enjoy a shared experience
DOJA Indo-Japanese Gin Masterclass & Distillery Tour
East Side Distillery @ Naveen Distillery, Goa
Event Guide
Masterclass
Learn from an expert
Invite your friends
and enjoy a shared experience
Event Guide
Masterclass
Learn from an expert
Invite your friends
and enjoy a shared experience
The "2 Cultures in 1 Sip" Experience
DOJA is the award winning world's first Indo-Japanese gin crafted in Wakayama, Japan at a 90 year old distillery, and distilled in Goa by our leading global Head Distiller - Victor De Benito using a world-class German Holstein Still.
Come attend an amazing 1.5 hour Masterclass & Distillery Visit conducted personally by Victor where he takes you through the world history of gin starting in Babylon, and the temples & forest of Wakayama, Japan. Touch & smell our unique Indian & Japanese botanicals, learn how Gin is made, and how to nose and taste it. A unique opportunity to see the Holstein Still, understand the process, closing out with a special Japanese cocktail.
The duration of the tour and tasting is one and a half hour long (Fridays and Saturdays only).
Fridays | 3:00 p.m. and 5:00 p.m.
Saturdays | 3:00 p.m.
The Experience Includes:
1. A Gin Masterclass by DOJA's globally recognized Head Distiller, Victor Benito
2. A DOJA Nosing & Tasting Session, and a unique Tasting Challenge Game
3. A viewing of the Holstein Still and an explanation of the distilling process
4. A DOJA cocktail making session with a Japanese twist
5. Opportunity to buy 2 DOJA bottles co-signed with the Head Distiller with a photo-op
6. A complementary Cocktail Guide Booklet
Other Activity:
Shop from a selection of stylish lifestyle products including clothing, bags & barware.
Entry for adults only above 21 years of age.
Crafting Doja: The making of the World's First Indo-Japanese Gin
East Side Distillery @ Naveen Distillery
Unit A2/1, Margao Industrial Estate, Sao Jose de Areal South Goa 403709
GET DIRECTIONS
DOJA Indo-Japanese Gin Masterclass & Distillery Tour
East Side Distillery @ Naveen Distillery, Goa
Event Guide
Masterclass
Learn from an expert
Invite your friends
and enjoy a shared experience