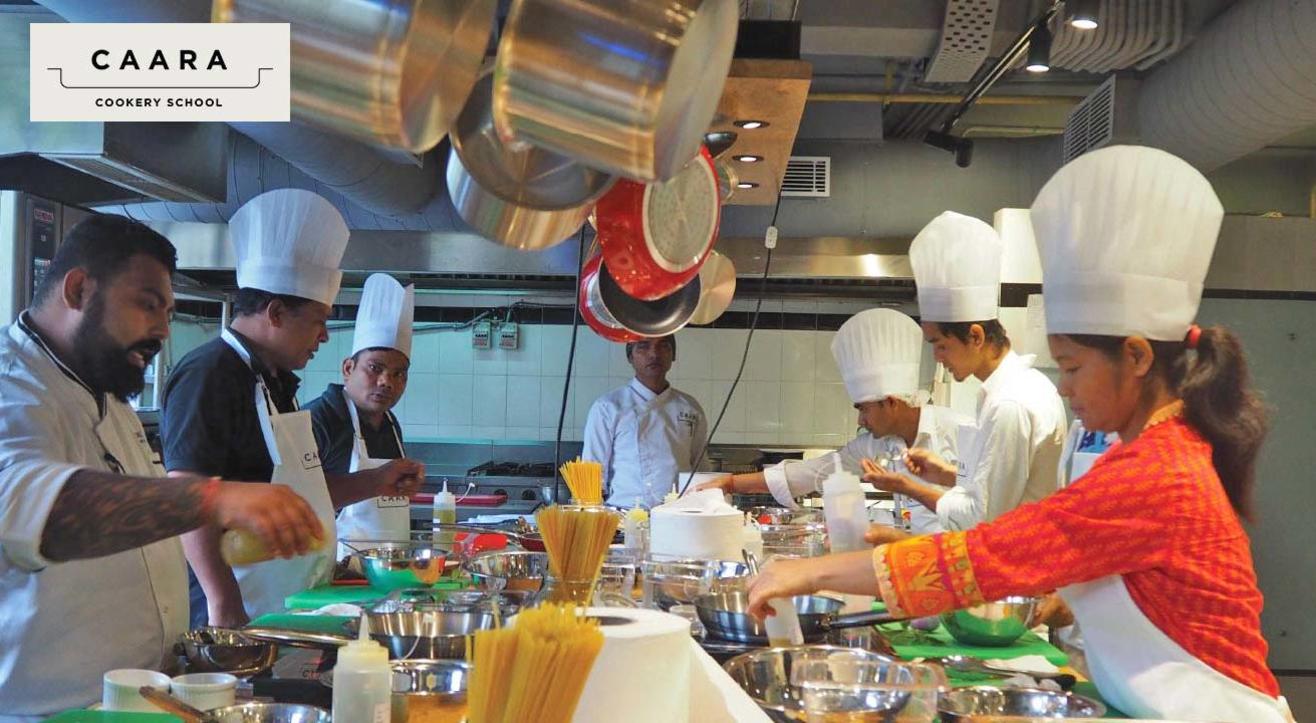 Cook
Domestic Staff Classes; The Cookery School at CAARA
About
Our domestic staff classes are led in Hindi. Classes are interactive, combining practice and theory in cooking, presenting and serving Western menus. The focus lies on laying foundations for a thorough understanding of kitchen hygiene, food handling, storage and freezing guidelines, preparation, time management and food presentation and includes looking at balanced diets and dishes which compliment each other. Your staff will return from the classes able to cook simple but delicious 3-course menus to the highest standards.
The classes will be led by our Hindi speaking Head Chef, Lokesh Swami.
Domestic Staff Classes include the following
Kitchen management & menu planning:
- Food hygiene; hand washing, colour co-ordinated boards
- Food handling; storage, freezing, refreezing and knife skills
- Kitchen time management; how to coordinate making several courses within a timeframe
- Preparing foods alongside each other, not mixing up with the equipment and cooking in a hygienic, organized and tidy way.
Part 1: Breakfast, Lunch & Dinner
These classes takes inspiration from our favourite Breakfasts, Lunches & Dinners and will form the foundations of reliable, go-to dishes which are fail safe and can be repeated time and time again.

Tuesday 10 October
09:00 – 12:00 - Breakfast

Tuesday 17 October
09:00 – 12:00 - Lunch

Tuesday 31 October
09:00 – 12:00 - Dinner

Part 2: Entertaining at Home
Our series of Entertaining at Home classes are inspired from our catering menu. Our aim is to help make entertaining at home just that little bit more straightforward.

Tuesday 7 November
09:00 – 12:00 - Canapés & Snacks

Tuesday 15 November
09:00 – 12:00 - Starters

Tuesday 21 November
09:00 – 12:00 - Mains

Tuesday 28 November
09:00 – 12:00 - Desserts

Part 3: Inspiration from the West
Following CAARA's core values, this course focuses on Western menus using local ingredients & freshly sourced produce. Not only will your cook be able to whip up something local, they'll also become adept at using local ingredients for menus inspired from slightly further afield.

Tuesday 5 December
09:00 – 12:00 - Italian

Tuesday 12 December
09:00 – 12:00 - American

Tuesday 19 December
09:00 – 12:00 - Spanish
Venue
CAARA Base Kitchen
630, Westend Marg, Butterfly Park, Saiyad ul Ajaib, Sainik Farm, New Delhi, Delhi 110030