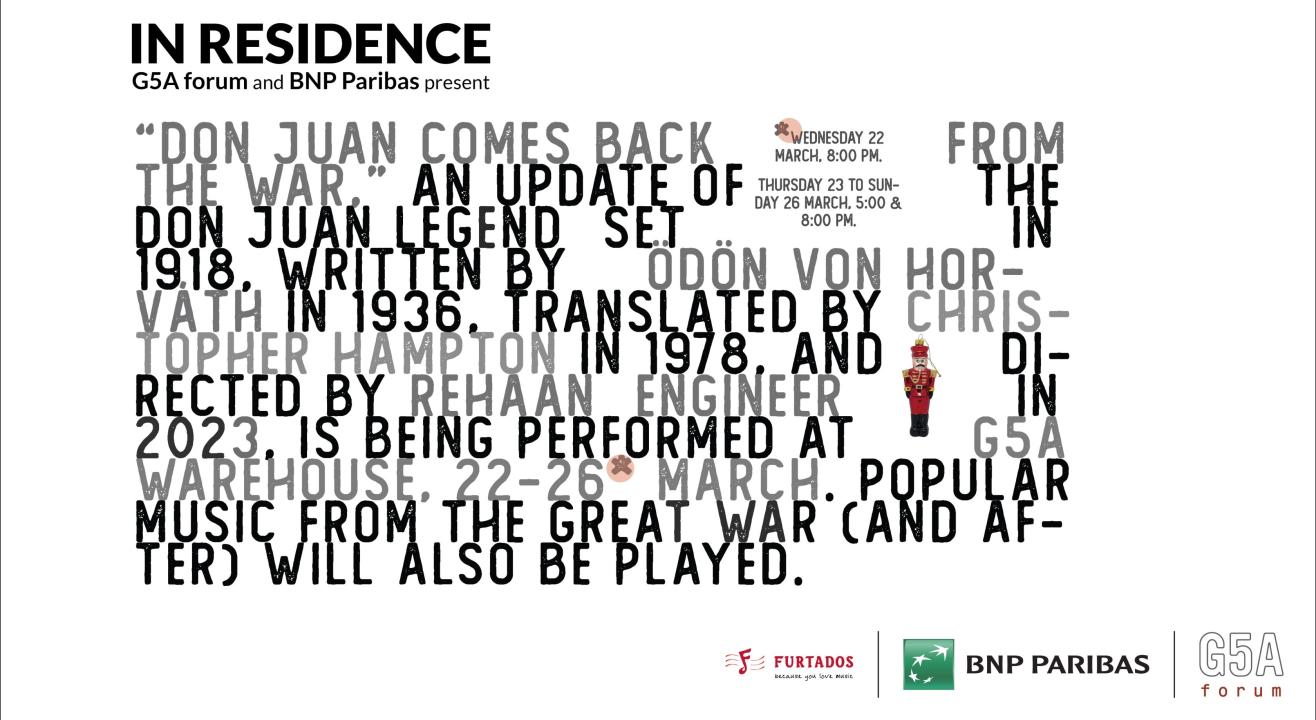 In Residence | Don Juan Comes Back From The War
Invite your friends
and enjoy a shared experience
In Residence | Don Juan Comes Back From The War
Invite your friends
and enjoy a shared experience
Covid 19 Safety Measures
This event adheres to the following

Health & safety measures
Limited Capacity
Sanitisation before the show
Invite your friends
and enjoy a shared experience
Covid 19 Safety Measures
This event adheres to the following

Health & safety measures
Limited Capacity
Sanitisation before the show
In Residence | Don Juan Comes Back From The War, a play directed by Rehaan Engineer
Written by Ödön Von Horváth, translated by Christopher Hampton.
In "Don Juan Comes Back From The War" (1936), Ödön Von Horváth updates the story of the notorious seducer Don Juan, placing him in the early twentieth-century.
It is 1918, and the Don, recently discharged from the army, is wandering the desolate landscape of Europe in the aftermath of the great war. Everywhere he looks, the world is full of women - to the point where he can almost seem to be the only man left alive. A perfect situation, one would imagine, for someone famous for his endless debaucheries. Except that the Don is now finding his old role hard to play.
Haunted by the memory of a girl he used to know before the war - his former fiancée, whom he cheated on and jilted - he becomes increasingly fixated on finding her once again. But, of course, as he sets out to look for her, he encounters an army of other women along the way. These women - some bemused, some lustful, some newly-empowered, some nursing old grudges - all seem to want something or other from the ageing Don, and all of them, in one way or another, seem to remind him of his lost sweetheart.
Bleakly funny and unflinching in its analysis of romantic illusions, von horváth's text modernises the figure of the legendary philanderer, and a character who intrigued Mozart, Byron, Kierkegaard, Jane Austen, and Bernard Shaw, is re-invented, here, and given a new and surprising life.
G5A forum
produces and co-creates interdisciplinary and multidisciplinary work that is bold, experimental, and just.
Through In Residence, we work with contemporary, visionary artists to bring their ideas and concepts to life through conversations, space for rehearsals and workshops, along with presenting long runs of their work.
Cast [In order of appearance]
Nisa Shetty
Kyla D'souza
Puja Sarup
Shubhaavi Choksey
Janhvi Marathe
Purnima Rathod
Kalki Koechlin
Kiyomi Mehta
Uma Katju
Shivani Vakil Savant
Priyanka Setia
Shahnaz Anand
Mallika Singh
Maya Sarao
Mansi Multani
Sukhita Aiyar
Pavani Mishra
Prerna Chawla
Monica P. Mahendru
Faezeh Jalali
Rytasha Rathod
Shivani Tanksale
Sabreen Baker
Delna Patel
Naila Zaidi
Jyoti Dogra
Aarti Aney
Salone Mehta
Padma Damodaran
Uttara Menon
Jaana Sinha
Rachel D'Souza
Isa Baani
Kaahini Menon
And Also:
Arunoday Singh
Crew:
Priyanka Charan | Prompter
Guy Hershberg |Music
Robert Kres | Music
Yohaan Pissurlenker | Music
Mansi Multani | Singer
Avantika Bahl | Choreography
Arghya Lahiri | Lights
Rehaan Engineer | Director
Sachin Kamani | Production
Reetha Balsavar | Production
Hussain Zaidi | | Production
Meghana AT | Assistance
Priyanka Babbar | Assistance
Gargi Datar | Assistance
Madhusmita Das | | Assistance
Strictly no late entries will be allowed.
G5A Warehouse
G-5/A, Laxmi Mills Estate, Shakti Mills Ln, Mahalaxmi West, Worli, Mumbai, Maharashtra 400011, India
GET DIRECTIONS
In Residence | Don Juan Comes Back From The War
Invite your friends
and enjoy a shared experience