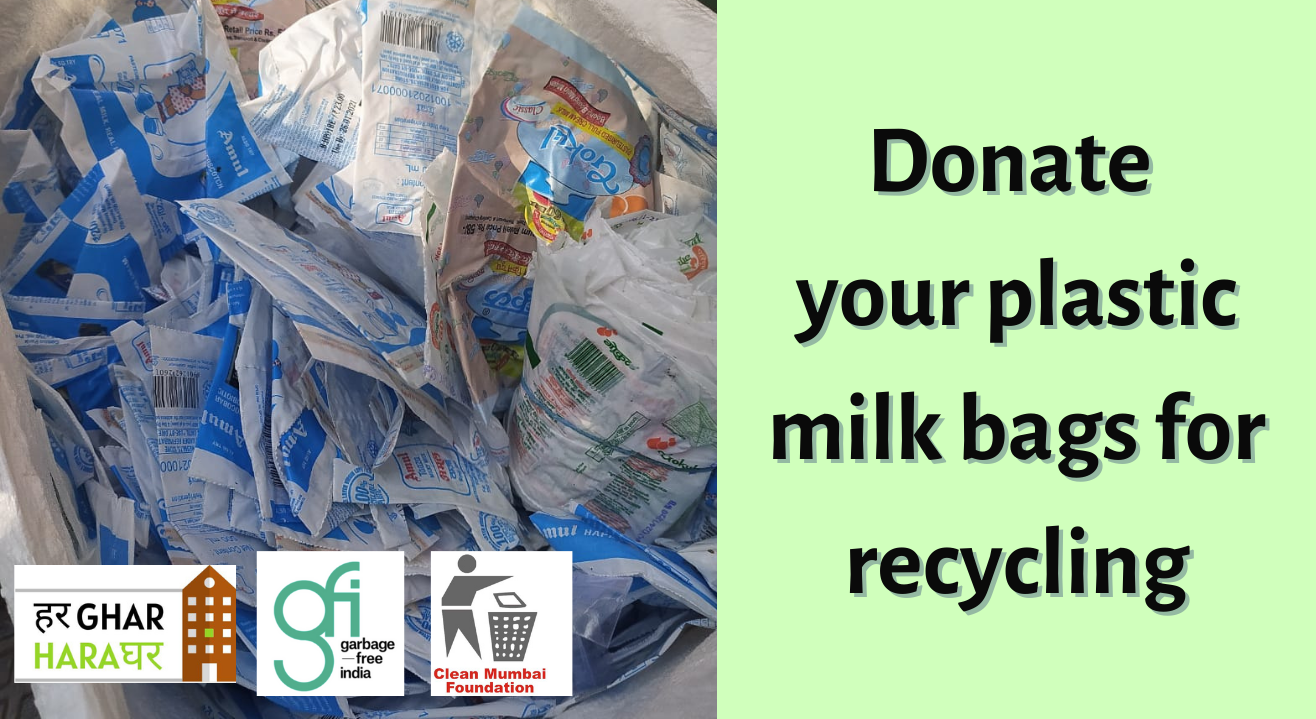 Donate your plastic milk bags for recycling
Event Guide
Digital Event
Multiple Venues, Mumbai
For Age(s)
Family Friendly
Online Game
Participate and have fun
Invite your friends
and enjoy a shared experience
Donate your plastic milk bags for recycling
Event Guide
Digital Event
Multiple Venues, Mumbai
For Age(s)
Family Friendly
Online Game
Participate and have fun
Invite your friends
and enjoy a shared experience
Event Guide
Digital Event
Multiple Venues, Mumbai
For Age(s)
Family Friendly
Online Game
Participate and have fun
Invite your friends
and enjoy a shared experience
Want to start recycling your plastic waste but don't know where to start? How about starting small with a commonly found household item - the milk bag!
Rarely picked by rag pickers due to the low resale value, milk bags often end up in landfills and water bodies due to poor disposal. The Milk Bag Project is here to help you recycle your milk bags. All you have to do is clean, store and courier the milk bags to their collection centre.
Things to keep in mind:
Ensure that the milk bags are properly cleaned and rolled up neatly. Check out the video below for a simple tutorial. Please courier the collected milk bags to Milk Bag Project's collection centre at "Milk Bag Project: Kunti Oza, 91 Bennett Villa, Nathalal Parikh Marg, Cooperage, Mumbai - 400001. Ph: +91 72085 89759"
Volunteers will need to courier the collected milk bags at their cost
The collected milk bags can be couriered at your convenience but when you do so, please share the courier details with the team at themilkbagproject@gmail.com
Meet the team:
Started in May 2019 the "Milk Bag Project" aims to create awareness and facilitate recycling of milk bags. Founded by Hansu Pardiwala (Har Ghar Hara Ghar), Kunti Oza (Clean Mumbai Foundation) & Chitra Hiremath (Garbage Free India), the Milk Bag Project has helped save more than 700kgs of milk bags from going into Landfills and choking water bodies. Some of their regular donors include The World Trade Center, IDBI, LIC, Leopold Cafe, Cricket Club of India (CCI) and Indian Merchants' Chamber (IMC).
Additional questions? Contact the team:
Email them at themilkbagproject@gmail.com
How to cut, clean and store the milk bags
Donate your plastic milk bags for recycling
Event Guide
Digital Event
Multiple Venues, Mumbai
For Age(s)
Family Friendly
Online Game
Participate and have fun
Invite your friends
and enjoy a shared experience