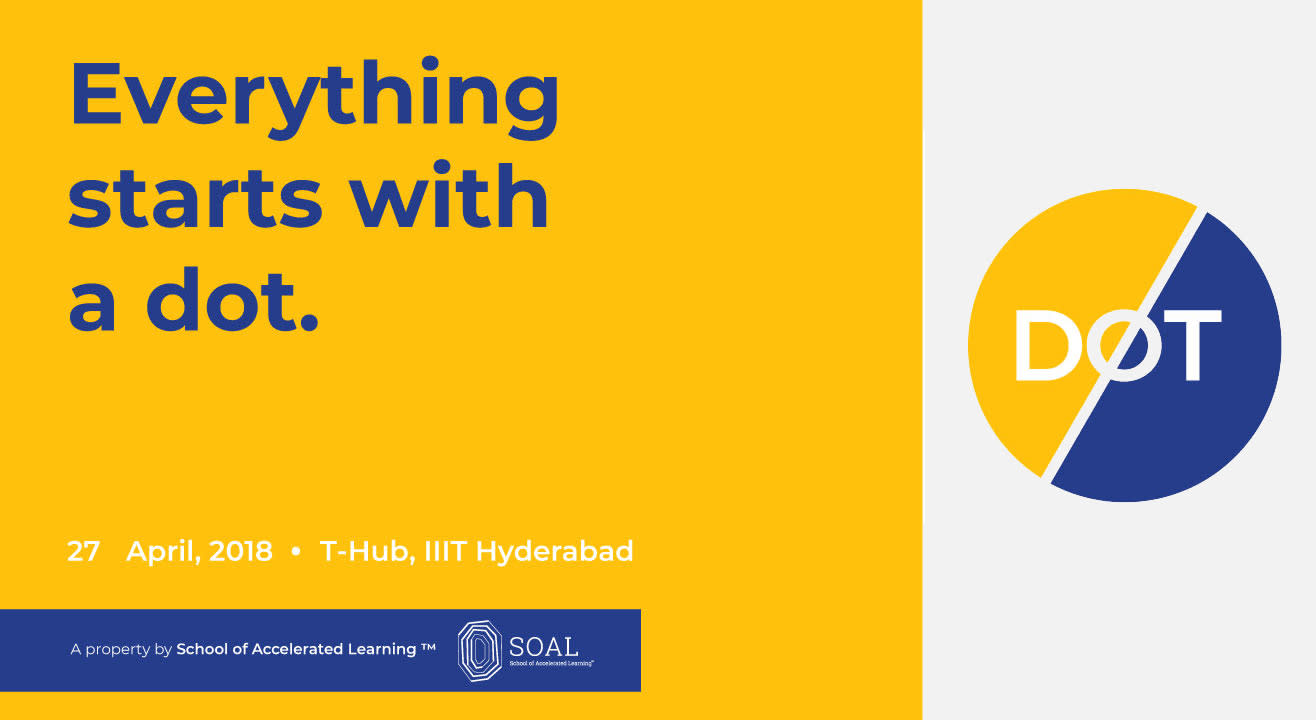 Discussion
DOT
T- Hub, School of Accelerated Learning
About
The DOT is the most minimal symbol that exists, yet with many meanings. For writers, it is the symbol of being done. For developers, it is the symbol of exploration. For creators, it is the very point of beginning.
For us, DOT represents a point in time, where like-minded stakeholders come together, discuss, co- create a learning ecosystem fit for the information age of today and the technology driven world of tomorrow.
The 1st DOT, is readying to host an elaborate panel of speakers and catalysts that will share their perspective and rich experience on topics such as Women in Tech, Lifelong Learning, Design and Creativity, among many more.
Hive Mind: How life long learning is inevitable in an ever changing world
One Billion Minds: Nurturing India's demographic dividend with education
The Future is Female : Bridging the gender divide in technology
Learn, Unlearn, Relearn: Industry driven alternate systems of learning technology are indispensable in a skill based World
The 6th C - Code: How computational thinking is the epicentre of the future workplace

These are hand curated sessions by industry leaders, where in a select group of individuals get an opportunity to interact and learn in an intimate setting. These will be 60 minute many to many sessions for not more than 20 people.
Mind Tools: Mental Models for the product developer of tomorrow
Play2Transform: A design sprint on how that will empower you to create intuitive solutions for your users
Carve your Niche: Create your personal brand with Linkedin

Venue
T- Hub, School of Accelerated Learning
School of Accelerated Learning. T-Hub, Events Room, IIIT-Hyderabad Campus, Gachibowli. Hyderabad- 500032