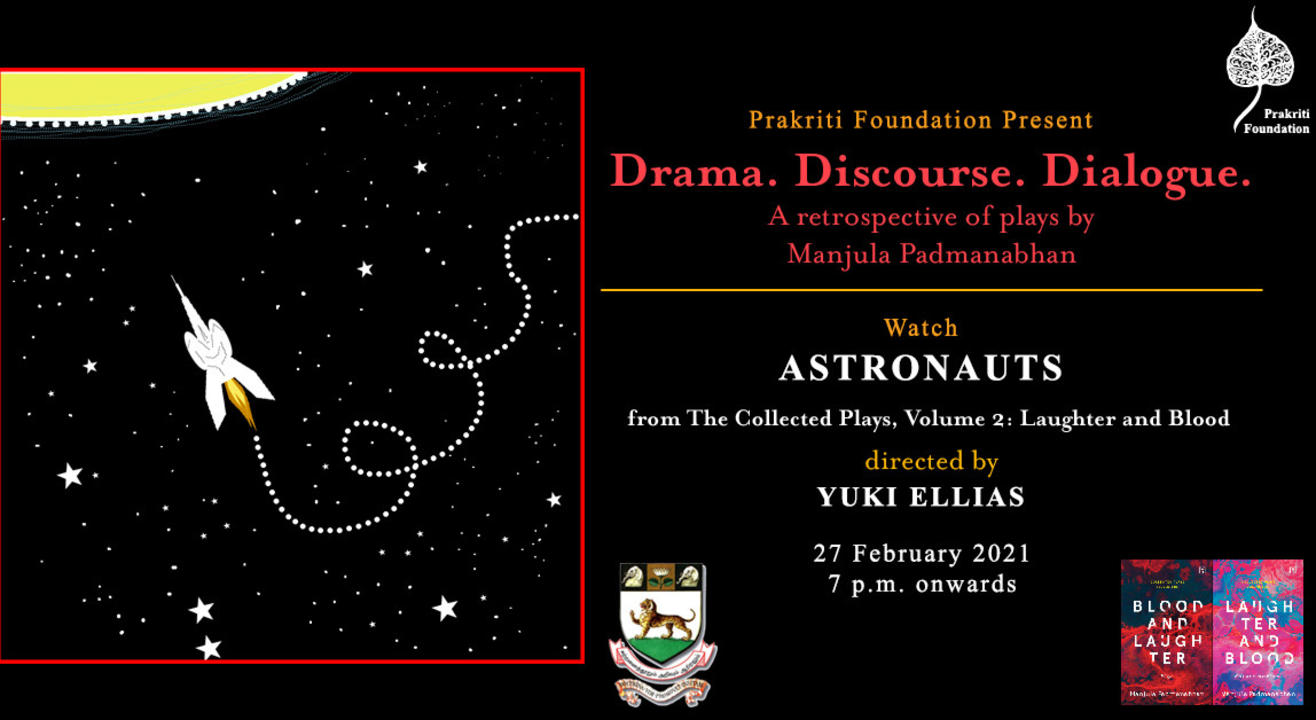 DRAMA. DISCOURSE. DIALOGUE
Enjoy this event from your home
Event Guide
Digital Event
Watch on Zoom
Live Performance
Enjoy a unique experience
Invite your friends
and enjoy a shared experience
DRAMA. DISCOURSE. DIALOGUE
Enjoy this event from your home
Event Guide
Digital Event
Watch on Zoom
Live Performance
Enjoy a unique experience
Invite your friends
and enjoy a shared experience
Event Guide
Digital Event
Watch on Zoom
Live Performance
Enjoy a unique experience
Invite your friends
and enjoy a shared experience
This event is in collaboration with the Department of English of The University of Madras.
A retrospective of play by Manjula Padmanaban presented by Prakriti Foundation
This is streaming of an Excerpt video of the plays followed by a discussion with the playwright and the creators.
This play is meant to be a comedy, written to be performed by high school seniors.
A diverse group of life forms representing Earth has been invited to attend a prestigious inter-galactic conference. The group includes humans and non-humans. The humans, represented by many warring ethnicities, are an extremely quarrelsome bunch. They absolutely cannot agree upon a joint statement to present to the conference members. Ultimately the decision is taken out of their control by the conference hosts and the joint-statement is delivered by one of the non-humans.
Adaptation or rehearsed readings from the book of plays (Laughter & Blood, Blood & Laughter).
Directed by Yuki Ellias.
Actors: Vidyuth Ven, Gerish Khemani, Arjun Iyer and Yuki Ellias
Music and sound effects by Pruthu Parab
Background Video art by Sheldon Fonseca
Yuki Ellias is a performer, teacher and corporate coach. She trained at the Jacques Lecoq International School of Theatre in Paris and is a trained pedagogue from the London International School of Performing Arts. As an actress she has performed in the UK, US, Canada, Australia, Italy and India. She performed in international venues like the Royal Shakespeare Company in Stratford Apon Avon, The Roundhouse London, Theatre Romano Verona and the Sydney Theatre Company. Her debut feature film "Love You To Death" as co writer and actress won an Audience Choice Award at the Anchorage International Film Festival and the Royal Reel Award at the Canada International Film Festival in 2012.
Yuki's one woman solo performance "Elephant in the Room" just won three awards at the Mahindra Excellence in Theatre Awards 2017 for Best Actor female, Best light Design and Costumes.
Yuki is also a pedagogical advisor and instructor at Drama School.
DRAMA. DISCOURSE. DIALOGUE
Enjoy this event from your home
Event Guide
Digital Event
Watch on Zoom
Live Performance
Enjoy a unique experience
Invite your friends
and enjoy a shared experience