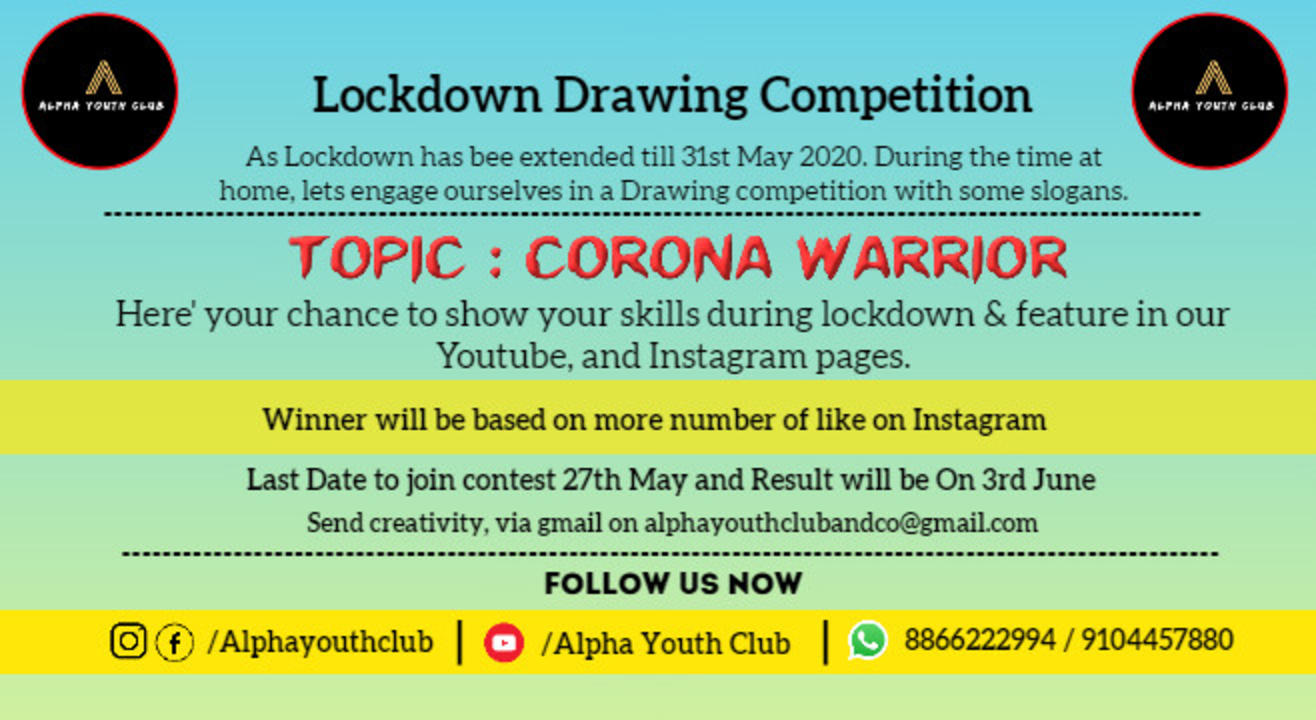 Drawing Competition Contest Powered By Alpha Youth Club
June 1 | 2:40PM - June 8 | 2:40PM
Enjoy this event from your home
Invite your friends
and enjoy a shared experience
Invite your friends
and enjoy a shared experience
About the Event
About Us -
Alpha Youth Club is a community who organize a events for family & friends . We host Fun events, Sports events Commercial events and meet-ups events, with games, food and music, for all the family and friends to have a good time, and to rekindle their relationships.
About The Event -
On public demand, and to make More fun for families in the lockdown, we are here with "Drawing Competition".Here your chance to show your culnary skills during lockdown & feature in our Youtube, Facebook and Instagram Pages, Take Photo of your creativity and send to us.
How to Join In Contest -
Once you sign up, You will receive an confirmation email
The Contest Will be Hosted On Instagram Page @Alphayouthclub
Once you register you have to draw a Image of Corona Warrior.
You have to write two or three words slogans along with drawing.
You have to draw in A4 Size Drawing Paper.
After completation of drawing you have to send us a creativity which you made with your photo and Your name on email alphayouthclubandco@gmail.com.
Once You send We provide you the link which you have to share to everyone for more likes on your pictures.
Some Ideas that might help you :
Draw a image of Docters, policeman or other who are helping for us and write small slogans like stay home, stay safe, be protect from covid-19 etc...
You can search on Google write drawing for corona warrior then you get images from that you get ideas.
Your Entry Guidelines -
One Drawing Per person will be acceptable.
Draw drawing in A4 size White sheet.
Drawing will be judged on originally creative work and originally skills.
Email Creativity on alphayouthclubandco@gmail.com
Includes your name, City, Your Image, Phone Number and Age.
Entries will be closed on 27th May 2020 at 10 Pm.
Age Limit : Open For all age groups.
Winners -
Three Best Creative winner get Exciting Prize.
Top 3 Winner will be based on More likes on instagram On Him/Her Creative with Best Creative Work.
You have to share your creative link to all of your contacts which we provide by us.
Top 1st Winner will get 250/- Cash Prize with Ludo Tournament 1 entry Ticket and also get certificate.
Top 2nd Winner will get 2 Entry Ticket of Ludo Tournament with certificate.
Top 3rd Winner will get 1 Entry Ticket Of ludo Tournament with certificate.
Note : You Can redeem Ludo Tournament Ticket From 3rd June to 5th June in which You can win Upto 500/-
Entry Fees : Free Of Cost.
Submission And Result -
You Have to submit Your creativity till 27th May.
Result will be declared on 3rd June At 5 Pm On Instagram Post You can see the winner.
When you mail your creativity in next 3 hour we send you a link to you gmail you can share that link till 2 june.
// Time To Express Your Self on Our Platform during this Lockdown //
For More Details You can Call or Whatsapp on : 9898877712 / 9104457880.
Follow Us Now
Instagram : https://www.instagram.com/alphayouthclub/
Facebook : https://www.facebook.com/alphayouthclub/
Youtube : Alpha Youth Club
Gmail : alphayouthclubandco@gmail.com
Stay Home | Stay Safe