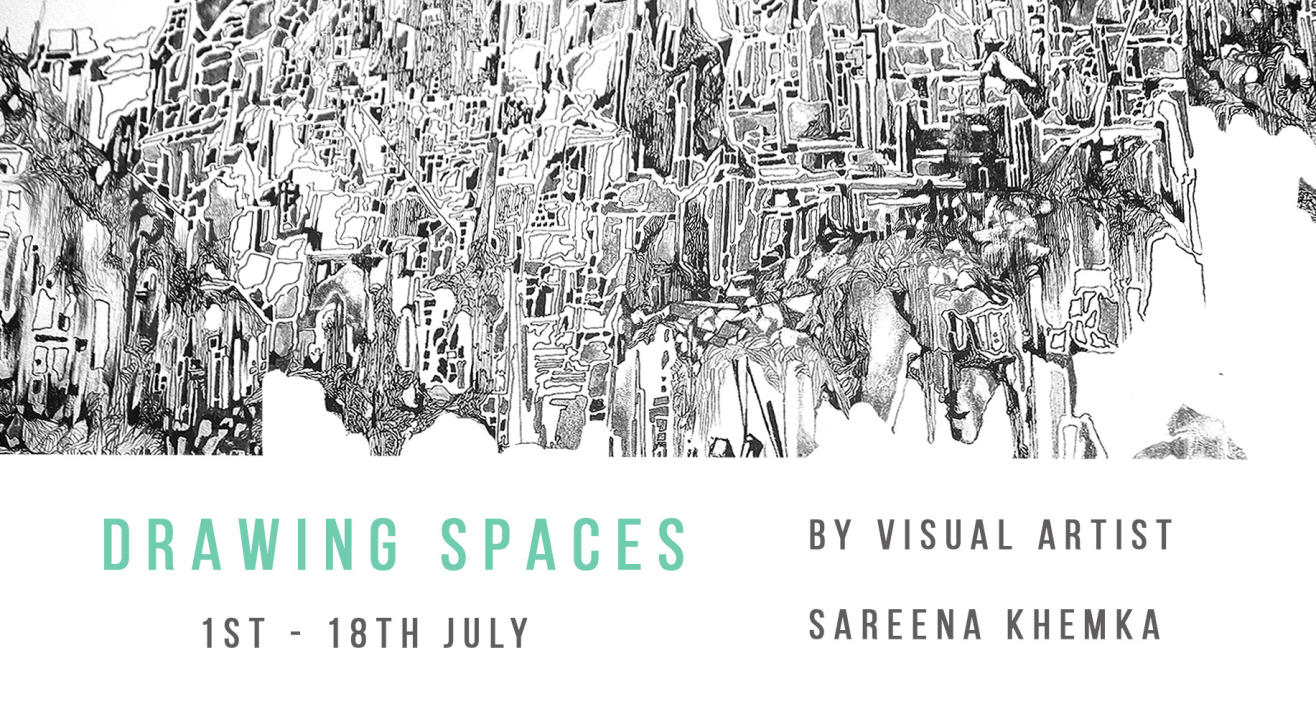 July 15 | 4PM - August 29 | 5PM
Invite your friends
and enjoy a shared experience
Invite your friends
and enjoy a shared experience
About the Event
DRAWING SPACES
An online drawing workshop
By Visual artist Sareena Khemka
DATE: Wednesday & Saturdays 1st - 18th July (6 sessions)
TIME: 4 pm - 5 pm
Ages: 16+ (No experience needed)
FEE: 3500/- per person
Course Description
A Space that one occupies, evokes a strong connection and leaves indelible impressions in one's mind. How do we make sense of these places visually with the attachments and emotions we associate with it? During the course of this pandemic we may have been confined to our homes, cities, an alternate living spaces, spending time navigating it, that we have now developed muscle memories of that place. We know where each object is kept and have an associated emotion of each room we have occupied. We are able to visualize these spaces with our eyes closed. How do we interpret these places through drawing? Conversely we have yearnings of a place we wish to go to, walk on a particular street, go to our own house, a park, places within our city or our hometown itself. How do we draw the memory of these places and our imagination of them which may morph and adapt the images we have in our minds?
This course is an exploration in navigating spaces through drawing and collage to visually interpret a space through memory, maps and images using various tools and techniques to distill images of a places using imagined, remembered and real references in creating original artwork.
ABOUT THE INSTRUCTOR
Sareena is a visual artist working in mixed media drawing and sculpture. Mapping cityscapes through narratives of its past and the future, her preoccupation with building a research-based practice on the subject has led her to work with several mediums that started with drawing and now includes sculpture and found object, merging science with art within her creative process. Sareena studied painting at the art Institute of Chicago and Kala Bhavan Santiniketan. She has been a part of several shows across India and has taught art workshops in Chicago, Calcutta and Bombay.
Materials Required:
A laptop with high speed internet - the class will be conducted on zoom
scissors, ruler, newspaper, old scrap magazine, pens, pencils, colour pencils, glue, eraser, drawing paper (mandatory), a writing notebook.
Optional:
exacto knife, cutting mat, watercolours, inks, printouts
Detailed breakdown of Sessions:
Session 1 Talking about spaces with reference to cities, maps and personal spaces and our own journey, navigation and association with them. Showing artists working with the city, home and spaces as a theme and starting point for their work. (30 - 40 mins slide show presentation and talk) Sharing databases of information and image repositories one can use for the same. Discussing how to use information from your city, or space around you to create patterns, image database for your map/drawing of the city.
Offline work: Readings provided on the idea of the city and spaces.Taking print outs, photos and measuring the space you currently occupy.
Session 2 Looking at real vs artists maps and discussing the idea of deep mapping, making multiple sketches, map of a space you currently occupy using material collected. Exercise on drawing using patterns and networks and techniques on distilling information. Materials and techniques one can use to draw the city spaces and maps with images as examples and demo of processes.
Offline: Writing a paragraph, using descriptive words of the place you keep thinking of is vivid in your imagination or a place you want to be in and is familiar to you. Reading excerpt provided.
Session 3 Memory and space : Making sketches and drawings of a particular space based on memory and images. Using visual cues to identify particular images, objects of association as a starting point as well as maps to make these drawings.
Session 4 Materials to explore for making a drawing, using photographs, print outs, old magazines to collage with drawing as an option. See images of artists working with collaging and how one can use that to create your own artwork.
Session 5 Conceptualising and creating layouts and sketches for your final work that uses all the tips and tools used in the previous classes. Taking notes and writing key words describing the space you want to create. Working on your original drawing of the map/city space.
Offline Work: Continuing the artwork one has been working on if desired.
Session 6 Working on the drawing, incorporating everything taught so far followed by a critique and feedback on every one's drawing, where all participants get a chance to talk about their work.