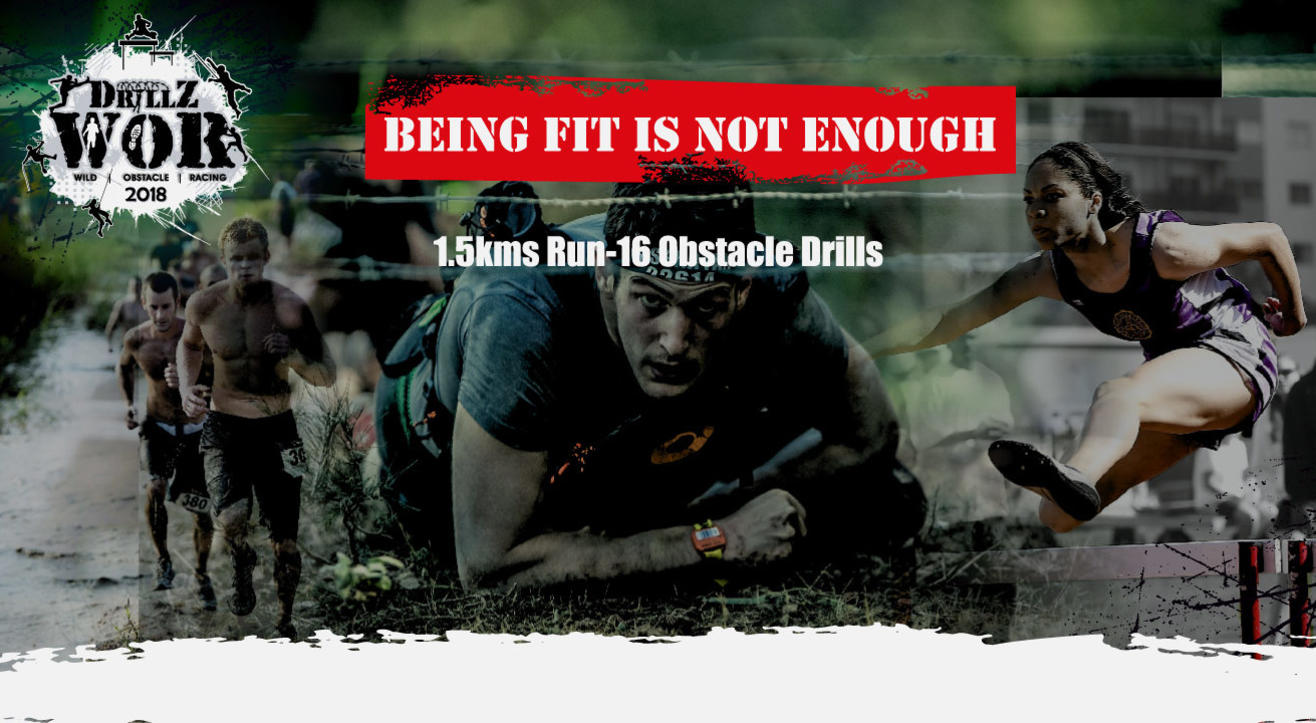 Marathon
About
With the concept of promoting Robust fitness with fun – initiated the event
DrillzWOR-2018 (Obstacle Racing)
The beauty of the DrillzWOR is, Everybody can do it – Thrilling & Entertaining.
Designed the Event - Keeping in mind all fitness enthusiast and common passionate individuals as well.
Proper technicalities & Safety measures. (On Venue – TECHNICAL TRAINER & DOCTOR assistance)
2 kilometers of track having 16 obstacles.
Step up snag (Crossing 3.5 feet of barriers)
Hanging Tyre troll (Passing thru the tyres - hanging down the rope)
Rise up Rope (Climbing on Rope like push ups )
Muddy Tyre trail (Run thru the – tyres placed in mud)
Tarzan Toil (Jump over the mud patch by hanging on rope)
Sit n Surf (Sit up position hands and feet on parallel surface and crawl horizontal
Python's crawl (Crawl on ground by the patch has height of 1.5 feet)
Bamboo Maze (Passing thru the bamboos placed zig zag)
Puzzle NET (Fleeting Under the NET which has placed over the MUD patch.
Waving ladders (Climbing the waving rope ladders)
Fireman's lift (lifting a cemented bag of 10 kg and run of 25 meters)
Stalwart's JUMP (Climbing and jumping thru the wall of 8 feet)
Mud March (Walk thru the mud dig of 3 feet)
Plank Repelling (Climbing on the plank height of 8 feet - with the help of rope)
Terror Tunnel (kneel down and crossing the 10 feet long tunnel)
Frozen Threat (crawling and crossing the ice slabs by elbow and body)
The total participants would be divided into groups upto 22 as per timing slots
(It is not a Group racing – Groups are for time slots)
(Registration happens on Time slot basis)
(An individual can select Time slot as per availability)
(All participant would be notify their race timing slot on Registration.)
Racing decides the top-16 "DrillzWORriors" pertaining to the highest drills accomplishment with lowest timing from entire competitive category on individual basis.(Authorities would be taking note of the Timing of each participants)
Top-16 "DrillzWORriors" would COMPETE for the next level of DRILL ZONE – Where the Winner and Runners up would be decided. (Next Day) – same criteria as mention above
It is for all the individual who believe in adventure – fun – thrill – and Entertainment. This category belongs to those who believe in giving healthy challenge to own capabilities.
Promoters : D Nx Gen Events
The name stands for discovering the Next Generation. We believe in conquering new thoughts with upgraded conceptualization. We strive to deliver creativity with qualitative approach.
We are collaborative and adaptable in our approach to the detailing of an each individual event by partnering with technical needs of the customers and trends.
At – D'Nx'Gen – The promoters carries vast experience of more than 17 years in the field of marketing and management.
As a cultured professional - Mr. Ruchir Parikh has diversified experience of sports in terms of athletics. And has taken part as an athlete on state level in the past.
A company has expertise in high end know how of technical part of all the events. The bygone bucket of events has mix of many corporate product launches, destination weddings and specially designed Sports Events. The company has been specially appreciated in the past for delivering a new concept of Cricket by – Sixes Carnival Tournament. Have been managing Sports League in Ahmedabad for an IT Association of Gujarat – GESIA, since 2014 till date.
How do I enroll with DrillzWOR?
You can directly book it thru the Registration link or by contacting us on given number.
How can I participate in DrillzWOR ?
There is no special training required to participate in DrillzWOR. Its all about adventure with fun and fitness. The obstacle has been designed keeping in mind all individuals in relevance to the fitness.
Is there any Age Limit ?
Yes, since it is an Adventure Event, all participating members are required to be over 10 years of age and should be below 65 years of age.
What should I wear for DrillzWOR ?
We suggest participants to wear clothes, which will allow them to comfortably move around during the run and will not lead to any accidents or injuries. Quick dry fabrics are always advisable. Good footwear is a must.
We encourage you to wear the most creative and funky clothes you can muddily manage. However, for safety purposes, we suggest all of you wear old sneakers or boots that will be comfortable for running and messing up.
Can I friends and family come ?
Yes, Per participants 2 guests are allowed at free of cost. Thenafter - Rs. 100 charged extra per guest. The passes would be available free/for sale at the venue near Registration counter.
We will try to keep as many viewing points as possible so they don't miss a moment.
When should I come/reach the venue for DrillzWOR ?
All participants are requested to come with ample time prior to theallotted run/race timings, as you will need time to park, stretch & warm upfor your adventure run. It is mandatory for all participants to arrive at least 1 hour prior to the allotted race timing on event date - to deal with registration and your arrangement in the holding area.
What should I bring?
Basic requirements include a towel, a change of clothes, socks, shoes, and your wallet to purchase food and beverages. A cleaning zone and an enclosed changing room will be provided for all participants.
What should I get against Registration Fees ?
Along with your participation to the Run, you will receive T-Shirt, Travel Discount Voucher and sponsor's offer (if any) at Registration counter at Venue.
And an Energy drink and Medal over after Finishing the DrillzWOR race.
Is it Safe ?
Safety is our utmost priority. We have taken all precautions to ensure every participant has a safe run and takes home nothing but great memories from the event. However given the nature of the run and individual running style, in case of any untoward instances we have medical booths setup with doctor at venue & an ambulance in case of emergencies.
Where can I put my belongings at the venue?
Yes, we will be providing you a baggage counter to keep your belongings which will be open till 7pm.
Venue
360 Celebrations
Chaloda Chandisar Road, Village Chaloda, Bakrol-Dholka Highway, Ahmedabad, Gujarat 382260