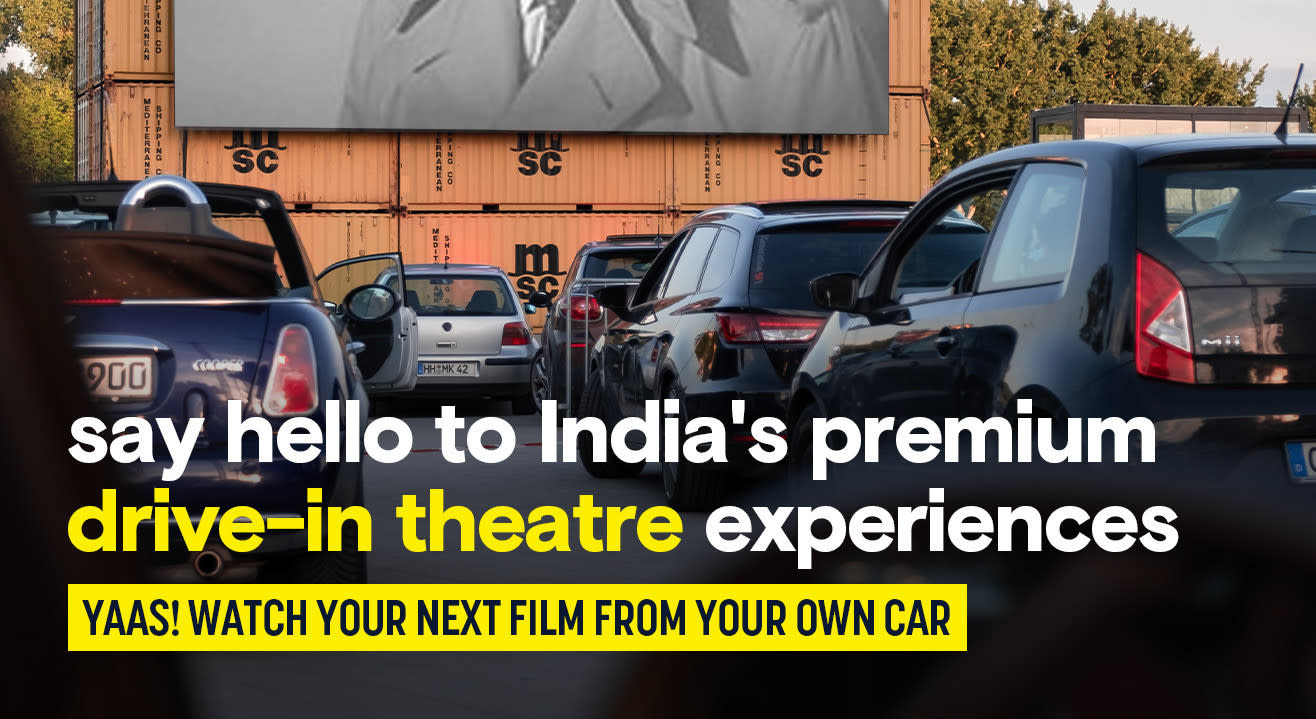 You've been hearing about Drive-in Theatres, now experience it
2020 changed how you live, eat, drink and also, how you watch your next film. Say hello to the world of outdoor cinema.
Invite your friends
and enjoy a shared experience
Drive-in theatres are making a comeback! Old-timers know this one, but for some of us - open-air cinema is a completely new experience. And even though it feels odd to say this in 2020, we're super excited to give this a shot. Maybe, we'll even turn it into a weekend thing. (Weekends, you remember?)

Peep! Peep! Drive-in experiences incoming:
Oh! Before we forget, there are Drive-In Food Festivals too.
Food Festivals yaar! It's been forever since we went for one. Just remembered how much missing is happening for festivals in general. However, some good news - there's a drive-in food festival happening in Bangalore this October that might be a good way to take a break during this quarantine. It's a one of a kind drive-in experience packaged with all your favourite restaurants, contactless dining, safety protocol, entertainment, and a whole lot more, all from the safety of your cars!
New Normal. New Experiences. New Releases.
Be ready to witness some new movie releases at these drive-in screenings all across India. For starters, Supermoon Drive-in is screening the Ishaan Khatter & Ananya Panday starrer 'Khaali Peeli' - on the day it releases at their outdoor cinema experience. That feeling of watching a new film on a Friday Night, it's baaaack! Not just Bollywood, but from what we heard - there's going to be regional cinema as well.
You love the classics, you do it in a classic way
What? Theme based open-air movie screenings alert! Date Nights. Bollywood Special. Halloween Special. Blockbuster Weekend. And lots more in the works. It's got classic films and the contemporary ones that we all love, too. Be it watching Conjuring on the big screen for Halloween, or The Lion King over a blockbuster weekend - it's all possible. The folks at Sunset Cinema Club have a few tricks up their sleeve that you've gotta keep an eye out for.
Midnight in Paris, A Star Is Born, Jab We Met, Yeh Jawaani Hai Deewani, Bangalore Days, Pretty Woman, & many more movies coming ahead. Stay tuned for more of these drive-in theatre screenings.
Please Put On Your Seat Belt. Please Put On Your Mask.
Organizers from all over India have taken extra precautions to ensure you have a safe experience at these drive-in theatres. All movie screenings will practice social distancing and will have safety guidelines to ensure all of us stay healthy, hearty, and happy.
Parking area. What even is that?
One thing we love about drive-in theatres is that you don't need to spend time for parking at all. Jeez! That's a relief isn't it? Drive down to the theatre, pick your spot, pick your snacc, adjust your seats (comfort anusaar) and here we go. To be honest, we're a little extra excited, since it's our first time.
Not sure about driving-in? Do it the old way with an Open Air Screening
No doubt, watching a film from a car is one experience we're really looking forward to. It'll probably be our highlight for 2020. But we miss open-air screenings a lot too. And thank goodness that Dineout SteppinOut has a couple of screenings happening in Bangalore.
Subscribe to receive our newsletter!
Find the best experiences happening out there in your city or enjoy handpicked content while sitting comfortably at home. Paytm Insider is your go-to place to figure out what to do today!