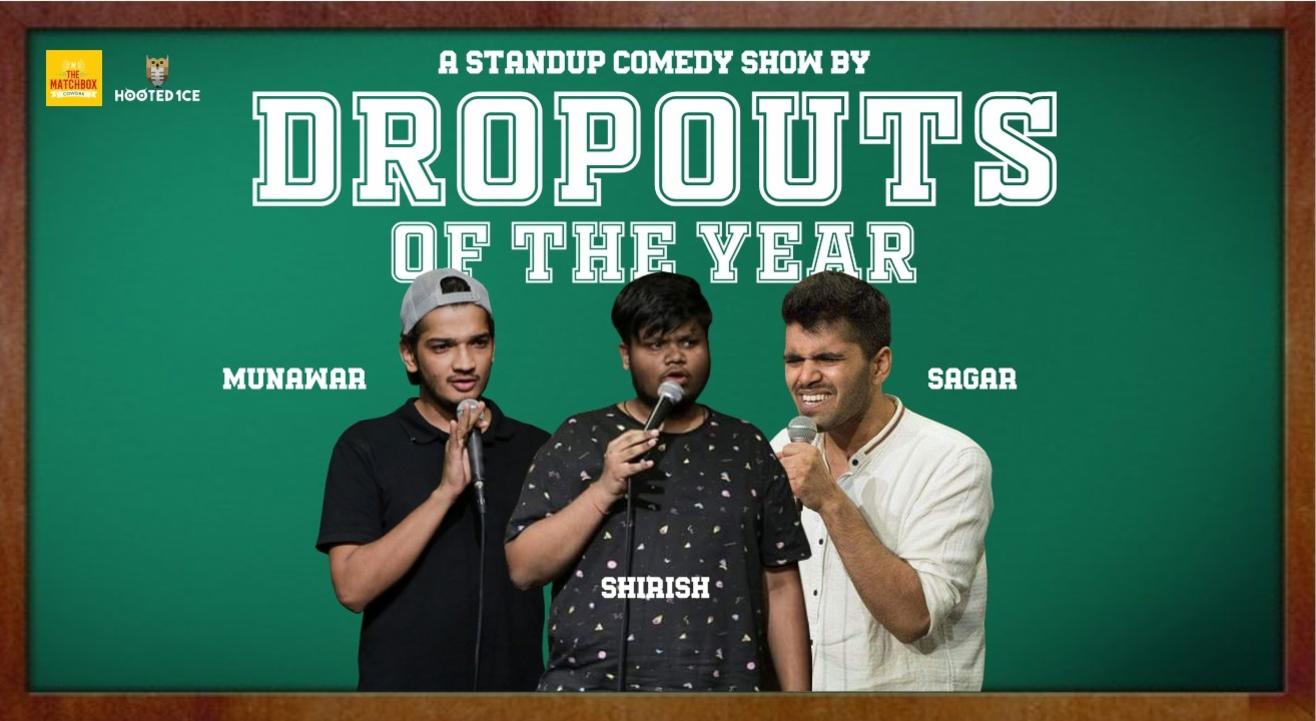 Comedy
About
Dropouts of the year is a Standup comedy show by 2 dropouts and 1 wannabe dropout. Will do parody songs, improve stand-up and lots of Masti, This show will take you on a laughter ride with some witty observational jokes regarding school life, bollywood, politics, etc.Also relive your experiences as they share their hilarious hostel/ college stories.
Sagar Punjabi
Sagar is a Bahrwi Pass, the original Dropout(as if anyone cares). A Professional Struggling Actor who bitches about Bollywood on stage and offstage.His struggles include travelling in local trains without ticket (He has mastered the art of playing Hide & Seek with the TC). At the end of his StandUp routine, he twerks for the audience and also lap dances if given extra money.This is most action he gets in his life.
Shirish Boga
Shirish is an 18 year old engineering student and an existentialist. His routines include of the stories that have never happened to him in real life,like loosing his virginity,etc.He's enthusiastically dark and edgy meanwhile his mother regards to him as Kala Chaand.
Munawar Faruqui
Munawar is a Muslim Stand-up comedian Born and survived in Gujarat, now Lives in Mumbai. He is the quintessential cute guy for every girl out there but he's also funny.He has won various competitions organised by the local buildings for musical chair.He fights like a hero in PUBG battles.Has 5k followers on Instagram to show off.After 100+ houseful shows he finally left his job as Ticket Blacker at Maratha mandir and now he is pursuing his career as a Stand Up Comedian.He was listed as the #1 comedian in
imaginary article by Scoopwhoop and Buzzfeed of Top 10 comedians you should watch before they stop doing comedy.
Venue
The Matchbox Cowork
901 Gazdhar Enclave Near Fun Republic Mall, Off, Link Rd, Andheri West, Mumbai, Maharashtra 400053