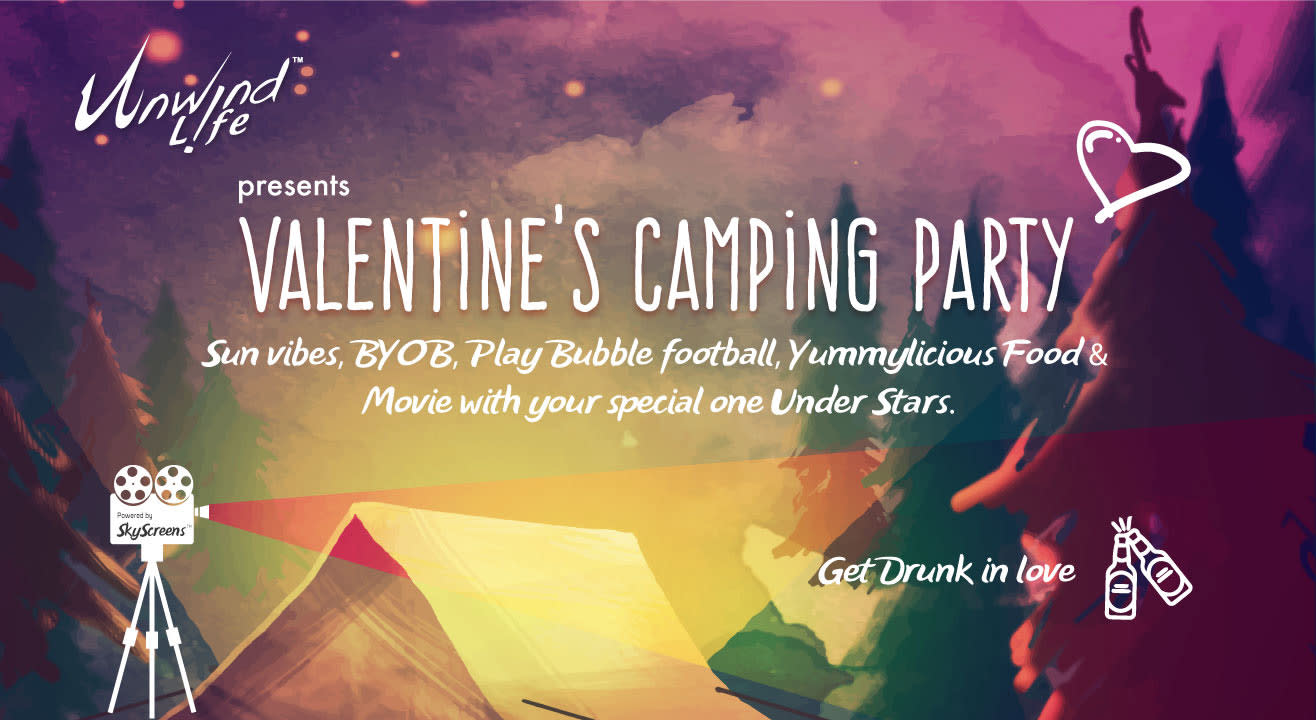 Drunk in Love | Valentine's Camping Party
February 10 | 13 | 4:30PM
Unwind Life Prakash Farms, Palra, Delhi
Invite your friends
and enjoy a shared experience
Drunk in Love | Valentine's Camping Party
February 10 | 13 | 4:30PM
Unwind Life Prakash Farms, Palra, Delhi
Invite your friends
and enjoy a shared experience
Invite your friends
and enjoy a shared experience
Are you still planning to go out to clichéd Valentine Parties with little-known singers, over-expensive booze in closed, dark halls with excessively loud music?
Life is beautiful when you add some mountain air, serene ambiance of lush greens and private time out with your loved one.
Now picture this – a few dozen couples in the quietness & serenity of a 19 Acre lush green area in Aravalis, beautifully decorated campsite, Karaoke Session, BYOB Drinks and unlimited yumilicious food.
Is that all? Certainly not, how about watching your favorite Romcom movie under open sky on 80 sq. feet screen while chilling out in blanket with beer/wine & yummy finger food? Also, what about running around in bubble balls, rolling & having fun while playing football at the same time? And to top it all, you can choose to do a morning trek on a hidden trail in Aravalis.
So, it's time to break the regular & venture out to get drunk in love, & make lasting memories with motivation for a healthy life.
This game is a funny mash-up of soccer and sumo wrestling in bubble wrap. It looks as the original football game, but is much easier, as all its players are encased in a giant inflatable bubble orb. This giant ball is transparent and has a tunnel opening in the middle, so that the players are not completely encased in it. Only their upper body down to their knees is housed in the transparent bubble. This makes the game extremely funny, challenging and engaging. Imagine charging your co-players at full speed only to bump and bounce against them on contact. You will either find yourself on the ground, with your feet in the air and unable to stand up or rolling away out of control!
SkyScreens – Watch your favorite Romcom under stars, BYOB drinks, yummy snacks, & more!
Camping under stars.
Bubble Football – The most fun game ever.
Barbeque - Unlimited Veg/Non-Veg Snacks.
Yummylicious Food.
On-demand Custom arrangements for surprising your partners.
Beautiful Trek in the Aravalis (Optional).
Most Secure Campsite with 18 CCTVs.
Just 15 Kms from Gurgaon.
No Stags Allowed.
19 Acre Farm.
Pro-grade camping equipment - 4-season Hillsberg Tents, Down Feather Sleeping Bags, Air Beds.

No stags are allowed.
Optional pick & drop bus service from Huda City Centre are chargeable at ₹ 140 per person.
Two fixed time slots for buses – 11 AM & 3 PM.
No blankets available at the venue. Kindly get some light blankets.
Get your own booze, disposable glasses, etc. as no drinks will be served by the organizer.
The right of the admission is reserved with the organizer.
24 hours prior to your event date, Unwind Life will send you a mail with complete details of point of contact, things to carry, directions, etc.
The organizer does not take the responsibility for the loss or theft of any personal belongings or any injury that the ticket holder may accrue at the event.
Any inappropriate behaviour by any of the participants shall lead to eviction from the event.

Unwind Life Prakash Farms, Palra
Sakatpur Rd, Palra, Haryana 122103
GET DIRECTIONS
Drunk in Love | Valentine's Camping Party
February 10 | 13 | 4:30PM
Unwind Life Prakash Farms, Palra, Delhi
Invite your friends
and enjoy a shared experience