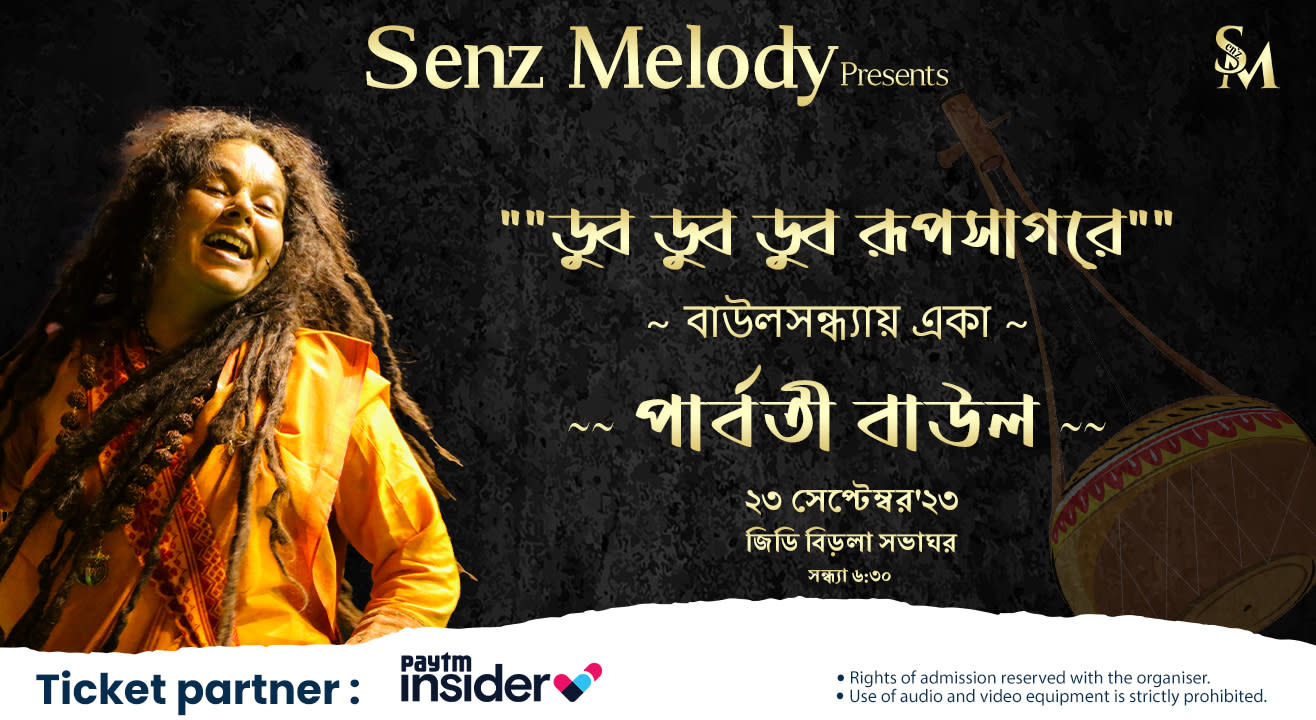 Dub Dub Dub Rupsagore I Parvathy Baul
GD Birla Sabhaghar জি.ডি বিড়লা সভাঘর, Kolkata
Invite your friends
and enjoy a shared experience
Dub Dub Dub Rupsagore I Parvathy Baul
GD Birla Sabhaghar জি.ডি বিড়লা সভাঘর, Kolkata
Invite your friends
and enjoy a shared experience
Invite your friends
and enjoy a shared experience
Parvathy Baul is a practitioner, performer and teacher of the Baul tradition from Bengal, India. She is also an instrumentalist, storyteller and painter.
She has performed in over forty countries, including such prestigious concert halls and music festivals as the Noh Theater in Kyoto, the World Music Center in New York City, Melbourne Arts Center and the Festival of World Sacred Music in Fez, Morocco.
She has also collaborated with world's leading theater director Eugenio Barba. She visits several dance, theatre and music institutions across the globe in the capacity of a teacher.
​
The depth of her mesmerizing performance is rooted in her deep spiritual practice. It is described by critics as "riveting" and "spellbinding."
Parvathy's performance work emerges from a long lineage of master Baul singers, dancers, and spiritual teachers.
She studied closely with two of the most respected Baul singer-gurus of the previous generation, Sri Sanatan Das Thakur Baul and Sri Shashanko Goshai.
She was recognized by her gurus as both a musical and spiritual teacher in the Baul tradition, carrying forward their spiritual legacy.
SENZ Melody is organising a fantastic musical show of "Parvathy Ma"
GD Birla Sabhaghar জি.ডি বিড়লা সভাঘর
29, Ashutosh Choudhry Avenue, Ballygunge, Kolkata, West Bengal 700019, India
GET DIRECTIONS
Dub Dub Dub Rupsagore I Parvathy Baul
GD Birla Sabhaghar জি.ডি বিড়লা সভাঘর, Kolkata
Invite your friends
and enjoy a shared experience