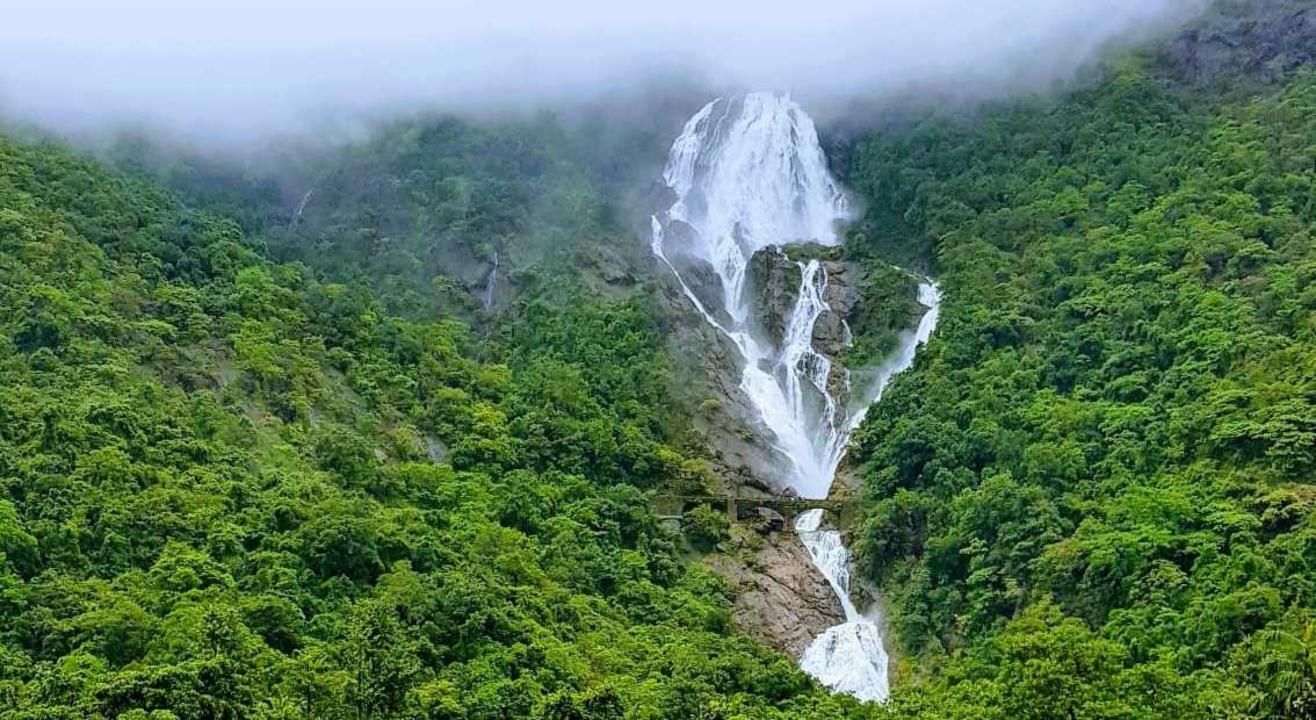 Dudhsagar Waterfalls Trek & Camping | NammaTrip
November 13 | 8PM - November 16 | 6AM
Step out and enjoy this event
Invite your friends
and enjoy a shared experience
Invite your friends
and enjoy a shared experience
About the Event
Dandeli is a Wildlife sanctuary that is very calm and peaceful which adds as a stress buster when you're here away from the city. At a distance of 462 km from Bangalore, Dandeli is a picturesque town on the banks of the River Kali in Uttara Kannada district of Karnataka
Information:
Slots for the trip: Usually between 10-20
Stay: At our Homestay or tent separate for boys and girls.
Food: 2 Breakfasts, 2 Lunch, 1 Dinner (All Veg included)
Local Style and Food Menu
Duration of the Trip: 2 Days/3 Nights
Where: Dandeli, North Karnataka
Dandeli
Dandeli is a town in the western Indian state of Karnataka. The Dandeli Wildlife Sanctuary, with its trails and dense forests, is home to animals including black panthers, monkeys, and elephants, as well as many bird species. A temple stands at the entrance to the limestone Kavala Caves, known for their stalagmite formations. West of the caves, Anshi National Park encompasses the Kali Tiger Reserve.
The Dudh Sagar waterfall is a 4 tiered waterfall and water jumps from the height of 310 meters above sea level and falls like a sea of Milk and hence it has got the name, Dudh Sagar. Dudh Sagar Falls lies in the Bhagwan Mahavir Wildlife Sanctuary. Dudh Sagar Falls is listed as India's sixth tallest waterfall and is 227th in the world at 310 meters.
Overview
Dudhsagar Falls (literally Sea of Milk) is a four-tiered waterfall located on the Mandovi River in the Indian state of Karnataka and Goa. It is 60 km from Panaji by road and is located on the Madgaon-Belagavi rail route about 46 km east of Madgaon and 80 km south of Belagavi. Dudhsagar Falls is amongst India's tallest waterfalls with a height of 310 m (1017 feet) and an average width of 30 meters (100 feet).
Featured in the movie Chennai Express, the Dudh Sagar falls offer multiple exciting experiences during your 2-day expedition. You will be able to hike on the railway trail along with the beautiful water streams. It also allows you to camp under the stars by the water streams. The total length of the trek would be around 10 kilometers making it suitable for beginners as well and no previous experience of trekking is required. Offering a perfect blend of nature along with adventure, this experience also offers you the greenest fauna and vegetation of Bhagwan Mahavir wildlife sanctuary. The best time for this trek is right after the monsoons.
Trek Distance : 10 kms Total
Trek Difficulty : Moderate - Challenging
Travel:
Traveler or Mini-bus with Push-Back seats depending on final numbers (Non-AC)
Starting time: Friday night at 7 PM
Ending time: Monday early morning around 5 AM
Pick up spots: Silk Board, Yeshwantpur, RR Nagar, BTM, Banashankari, Marathahalli and hebbal
Every place we visit Cleanliness is our Top Most priority and we expect every participant to follow it. Do not Litter, do not throw trash out in the open. Please keep our nature as beautiful as it is.
What you Expect from the Trek
=> Dudhsagar falls
=> Dandeli - Sintheri rocks
=> Falls - Streams
=> Breath taking views
=> Greenery ,Chill cold
=> Mandovi River
Dudhsagar & Dandeli Trek From Bangalore Itinerary
Day 1 - Pickup from Bangalore
07:00 PM Start From Bangalore.
Day 2 - Day of the Trek
07:30 AM Reach the campsite and have breakfast
Visit Dandeli on the way for river rafting and water activities
Visiting Sintheri rocks
Have snacks at the campsite.
Relax by the campfire. Have dinner (Basic veg food)
Accommodation in tents or Cottage
Day 3 - Return to Bangalore
07:00 AM Wake up & Come back by train
Have Break Fast
11:15 AM Start Trek from Dudhsagar station to Dudh Sagar waterfall top (Both side 10 Km)
01:30 PM Reach Dudhsagar waterfall top, have packed lunch, Relax
03:00 PM Spend some leisure time
04:30 PM back to Kolem in train
Leave for Bangalore and reach back by morning 5 Am
Stay
At our Homestay or tent separate for boys and girls (Every place we visit Cleanliness is our Top Most priority and we expect every participant to follow it. Do not Litter, do not throw trash out in the open. Please keep our nature as beautiful as it is)
Meal
2 Breakfast
2 Lunch
1 Dinner
Activity
Trekking
Sightseeing
Camping
Bonfire
INCLUSIONS & EXCLUSIONS
What's Included
Transportation Neat & Sanitized Non-A/C Bus, (from/to Bangalore)
Forest Permits.
Boating
Kayaking
Jacuzzi Bath
Life jackets
Service of an expert guide.
First aid
Breakfast on both days
Lunch on Day 1 and Day2
Dinner Day 1
Accommodation in Tents or Dormitory on a sharing basis at our very well maintained campsite
Campfire*
Tickets and entry charges to all locations
Trek Leads from Namma Trip
What's NOT included
River Rafting (Add-on can be purchased during check out. Rs.500 for 60 mins of rafting)
Other on Demand Water Activities like Zip Lining, Water Zorbing...
Dinner on Day 2
Any Personal Expenses
Any kind of Insurance
Anything not mentioned in inclusions.
IMPORTANT NOTES
River Rafting can be purchased as an Add-On during check out for a price of Rs.499 for 60 mins of rafting.
Due to unavoidable circumstances, if rafting is not allowed, other water activities like Water Zorbing, zip lining will be provided.
Once you've booked your tickets, we will reach out to you and provide you with more information like exact pick-up times, coach details and more.
Mode of Transport will be TT or Coach depending on final numbers.
Our facilities are neat and top-notch but not luxurious.
E-Mail or call us using Organiser details for more information.


PICK UP POINTS
Silk Board
Banashankari
Yeshwantpur
BTM
Drop points are same as the pickup points
Pick up Times are tentative. Once you register with us, we will send you the exact pickup times and location on Whatsapp.
THINGS TO CARRY​


Photocopy of your Government ID
Water Bottles
Comfortable clothes. Enough for all days of the adventure. Do carry an extra pair of clothes to change into once wet.
Comfortable Shoes with good grip for hiking
Torch - to be used at night
Sweaters/Jacket to bear the cold weather
Raincoat/Poncho in case of rains
Slippers/Flip-Flops to walk around the campsite
Personal Medication Kit (if any)
Portable Charger/Speakers
Cap/Hat/Sunglasses
Towel/Toothbrush/Soap and other essentials
Camera/DSLR if interested
Extra cash for Personal expenses/Meals not included
NOTES


Cleanliness is out top most priority. Please do not throw trash out anywhere in the open.
Your equipment and equipment distributed are to be carried by self, like bags, sticks, etc.
As you are exploring nature, don't expect luxury. Washrooms are only available at the hotel, campsite(you reach hotel/campsite for breakfast).
You agree to indemnify yourself for the risks involved in the outings varying from destinations to destinations.
NammaTrip is not responsible for misplacing/loss of any personal belongings.
For more info mail us at nammatripcrew@gmail.com
Cancellation Policy
If cancellations are made 15-30 days before the start date of the trip, 50% of the total tour cost will be charged as cancellation fees.
If cancellations are made within 0-15 days before the start date of the trip, 100% of the total tour cost will be charged as cancellation fees.
In case of unforeseen weather conditions or government restrictions, certain trips or activities may get canceled. In such cases, we will try our best to provide an alternate feasible. However, a refund will not be applicable for the same.
Cancellations are strictly subjected to cancellation policies mentioned on the website & are irrespective of the date of booking.
Terms & Conditions
Our facilities are neat and basic, not luxurious.Our accommodations are many times sleeping bags and Tents, Dormitories, rooms with beds and sometimes just sleeping bags under the glittering sky.
The average level of fitness is required to participate in the trek. We will not be responsible if any participant is unable to get to the summit due to their own limitations.
The food provided will be basic delicious Vegetarian food.Non-Vegetarian if mentioned in the itinerary.
NammaTrip shall not be responsible for any of your belongings, valuables, jewelry, etc.
We expect every participant to be responsible about littering. Please keep every place we visit clean.
You agree to indemnify yourself for the risks involved in the outings varying from destinations to destinations.
In case of damage or loss of any of the equipment or Items of NammaTrip, the responsible member has to bear the cost.
We have designated pick up and drop points, make your own arrangements of transports to the desired pick-up point accordingly.
We may revise the Terms and Conditions from time to time by updating this posting. The revised terms will take effect when they are posted.
Nammatrip is not responsible if any injuries or accidents occur during the event.
Any client consuming alcohol, misbehaving, causing delay during the event will be terminated from the event without any prior warning and no refund will be given.
Such clients should arrange their own transport to the way back, Nammatrip does not hold the responsibility of terminated clients.
Littering, smoking & consumption of alcohol is banned outdoors or anytime during the trek. We will provide you with a time and place to enjoy your drinks.
In case of unforeseen weather conditions or government restrictions, certain activities may be canceled and in such cases, we will try to provide an alternate feasible activity. However, no refund will be provided for the same.
If we cancel the event, we offer a full refund to all the participants. Cancellation / Refund is done by the third party based on their policies.
About NammaTrip
We as an Adventure company aim to show you nice people the most beautiful and pristine places in Karnataka.
Preserving the cleanliness & beauty of our beautiful land is our topmost priority.
Go deep into nature
Hike to see the beauty of the sunrise.
Trek to beautiful mountains.
Dip in the beaches of our beautiful coast.
Hike through the mystical rainforest of the Western Ghats.
Come Experience Namma Karnataka
For more info mail us at nammatripcrew@gmail.com
COVID-19 SOP
1) Mandatory use of face masks and gloves by the trekkers during the entire course of the trek.
2) The batch size will be limited to maintain social distancing. Trekkers must maintain a distance of 5ft among them during the course of the trail.
3) Trekkers must carry a hand sanitizer and use it regularly for their own safety.
4) Every trekker will be asked about their travel history during the last 10 days.If anybody has been in a red zone or has had an alarming travel history,he/she will be asked for covid tests done during the last 5 days and they can then proceed with the booking.
5) If the trekker shows any symptoms during the course of the trip or before, he/she will be advised to abort the trek.
6) The trekkers should not litter/spit/gargle during the course of the trek. They will also be strictly not allowed to share water bottles or any personal items.
7) Before boarding the bus, all the participants and the driver will be screened for temperature and face masks will be provided.
8) The mode of transportation used will be filled upto 70% of the capacity maximum.
9) All required information of the trekkers like Age,Phone Number and Home address will be recorded. A copy of Government Identification of all participants will be taken by us.
10) We will encourage all trekkers to follow respective Covid-19 Social Distancing Guidelines and State Government rules.
11) The trekkers will be made to sign a disclaimer form and made aware of everything they should not do during the trek.
12) The restaurants and hotels we choose for meals/accommodation will be of high hygienic standards and made sure the place is sanitized regularly.
13) All our Outdoor Leaders will be thoroughly briefed with everything that needs to be followed. We will also make sure there are organizers during the trip who will take care of all necessary precautions.
14) Any trekkers showing symptoms will be quickly isolated and will be asked to abort the trek at any time.
15) All the vehicles,restaurants,home stays and equipment used will be regularly sanitized with disinfectants.
Dudhsagar Falls
Dudhsagar Falls, Sonaulim, Goa, Goa, India
GET DIRECTIONS