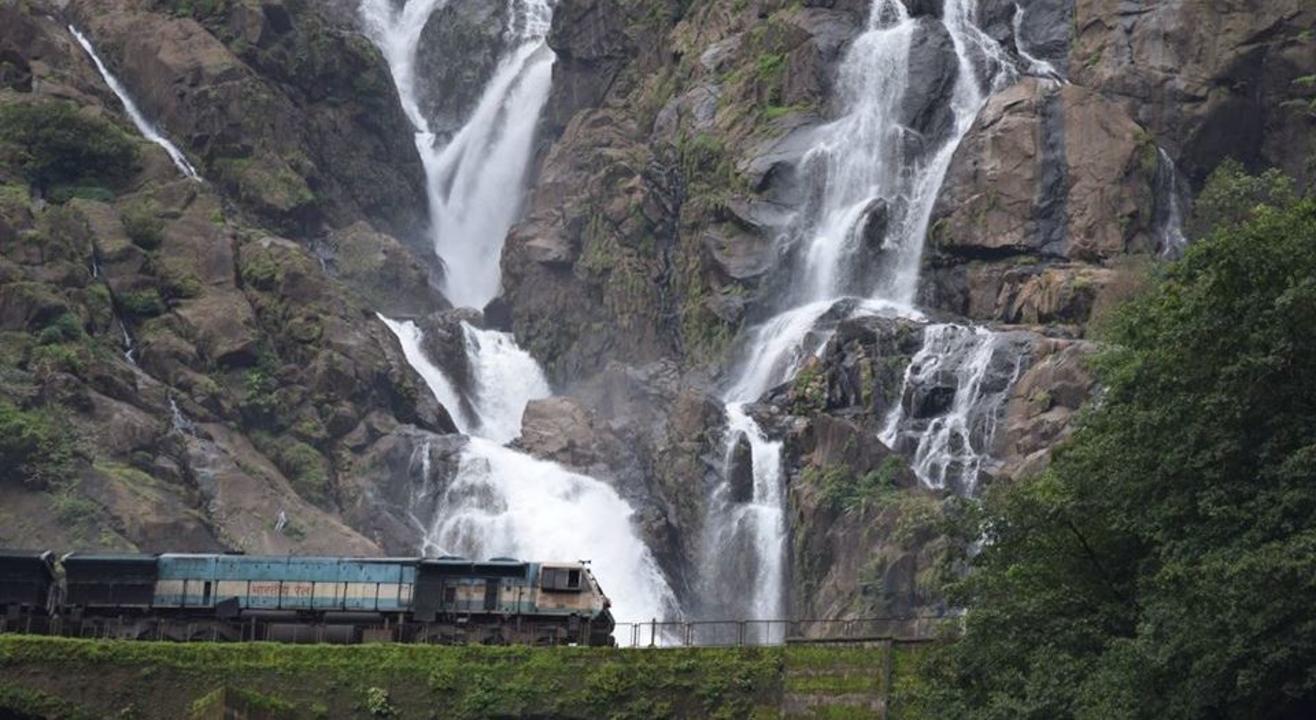 Dudhsagar Waterfalls Trek | Escape2Explore
Invite your friends
and enjoy a shared experience
Invite your friends
and enjoy a shared experience
About the Event
Mondovi River flowing in Western Ghats bordering between 2 states creates a drop at colleen of Kerala bordering Karnataka. This is 4 tiered waterfalls and water jumps from the height of 310 metres above sea level and waterfalls like Sea of Milk and hence the name Dudh Sagar.
Legend has Story about the falls is that the beautiful princess who lived in the kingdom close to the falls used to take bath in the streams of this falls and after completing it she used to drink the sweet milk in golden jug and on one such day after completing her bath she found she was. Being watched by a prince, Red with embarrassment at her inadequate bathing attire, she poured the jug of to water and entered the water to cover her body in the mean while the maids rushed to cover her with her dress. It is said that it is that sweetened milk that cascades down the mountain slope as Dudh sagar Falls to this day as a tribute to the virtue of the princess.
Dudh sagar Falls lies in the Bhagwan Mahavir Wild Life Sanctuary having much wildlife in it and this falls is one of the world's most exquisite falls. It lies high up in the Mondovi River's watershed, during the monsoon season falls are transformed into one of the most powerful falls in India. Dudh sagar Falls is listed as India's fifth tallest waterfall and is 227th in the world at 310mtrs.
We Organize Outings to Dudh Sagar Falls regularly and this falls is at a distance of 550 kms from Bangalore and outings include Transportation from Bangalore to Bangalore inclusive of Camping / Home stay accommodations with trekking to Dudh Sagar Falls and bonfire camping.
This trek is a must do for all trekkers / nature lovers / anyone interested in exploring nature due to the picturesque surroundings this place poses at the beginning and on the process takes you into its dream world of exotic views and we head in to the shoal forest of Western Ghats to reach the guest house near the falls maintained by Karnataka Forest Office. This place is surrounded by Bhagwan Mahavir Wildlife Sanctuary which is infiltrated with Wildlife, if you are a regular Trekker; the important thing to do first is take prior permission from Forest Dept before going on a trek and be guided.


Things To Carry
Backpack
Rain coat/Poncho
2 ltr Water bottles
Energy food, dry fruits
Personal medication
Sweater/ jackets for the night
Extra pair of clothes
Toiletry bag
Sports shoes or trekking shoes in good condition
Flashlight/Torch with extra batteries
Track pants and cotton T


Includes
Transportation (Non/Ac Push Back vehicle)
Tent stay
Basic Veg food (2 Breakfasts, 1 Lunch, 1 Dinner)
Safety and medical kit
Permission from Forest Dept
Coordinator charges
Total trekking distance: 15 to 16 kms approx.
Attraction: The Dudhsagar Waterfall.


Excludes
Lunch on Sunday and any other thing is not mentioned in the includes during travel.


Itinerary
Day 0
08:30 PM Start From Bangalore.
Day 1
07:30 AM Reach Hotel , Have breakfast
11:15 AM Start Trek from Dudhsagar station to dudhsagar waterfall top (both side 10 Km)
01:30 PM Reach Dudhsagar water fall top have packed lunch, Relax
03:00 PM Reach dudhsagar water falls
04:30 PM back to kolem in train
08:30PM Have dinner (Basic veg food)
Accommodation in tent stay
Day 2
07:00 AM Wake up & Come back by train
10:30 AM Have Break Fast
02:00 PM Have self-sponsored Lunch on the way back
10:00 PM Reach Back to Bangalore


Pickup points
1. Marathahalli (08:30 PM) : Near Kalamandir
2. Silk Board (09:00 PM) : Bus Stop, Opposite To Pizza Hut
3. BTM (09:10 PM) Udupi : Garden Bus Stop, Opposite To A2B
4. Banashankari (09:30 PM) : Bus Stop
5. RR Nagar (10:15 PM) : Gopalan Arcade, Mysore Road


Mode Of Transport
1 to 7 pax Zylo 0r Tevera
8 to 13 pax tempo traveller or winger ( 14 seat vehicle)
12 to 30 pax mini Bus ( 24 seat or 32 seat vehicle )
30 to 50 pax big boss ( 50 seater vehicle)


Note
Your equipments & equipments distributed to be carried by self. Like bags, sticks, etc.
As you are exploring nature, don't expect washrooms near hills. Washrooms only available at hotel, campsite & home stays are multi-sharing basis. (we reach hotel/campsite for breakfast or lunch).
Don't expect electricity & luxury in the camping area.


Organiser Details
For queries about this event contact the organiser Sonu 9886421211.


About Escape2Explore
Escape2Explore Adventures is not just one of Bangalore's leading adventure travel companies, it's a hub for all nature lovers, adventure enthusiasts and those who just need a little escape from the routine of life to explore outdoors. With Escape2Explore, find the much notable adventure activities near Bangalore. Choose from a wide range of exciting outdoor activities and destinations that best suit your team/group, and leave the arrangements to us.
Dudhsagar Falls
Bhagwan Mahavir Wildlife Sanctuary, Sonaulim, Goa 403410
GET DIRECTIONS