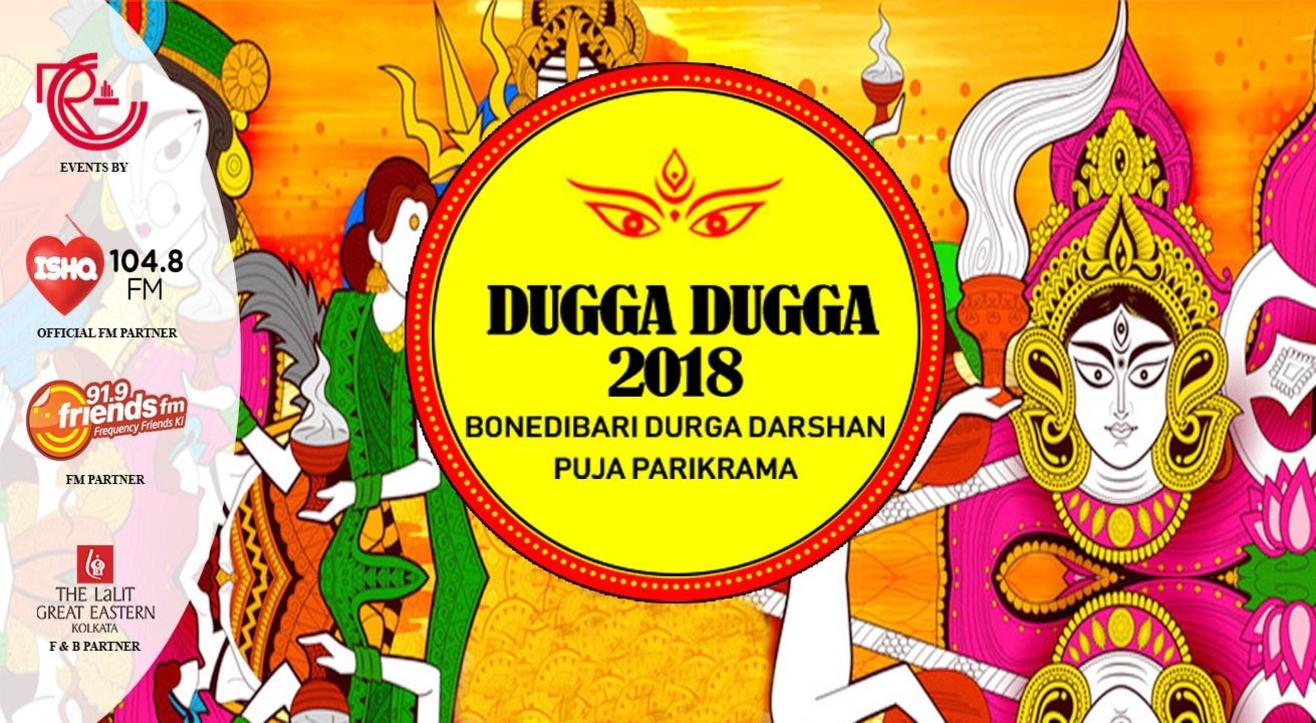 Durga Puja
Dugga Dugga – BonedibariDurga Darshan Puja Parikrama 2018
Esplanade Metro Gate number 5
About
Insider.in Durga Pujo Offer
Buy any Durga Pujo event on the app and get Rs 50 cashback. (T&C apply).
Download the Insider.in app on Android and iOS. No coupon code needed.
This package tour of Durga Puja Parikrama'18 includes the famous vintage Durga Pujas across the city. Which had been started by the wealthy landlords of Kolkata, some of them more than a century old. Celebrated in the old - fashioned way in the landlords (zamindars) palaces, these Pujas are a great way to relive the old word culture of the Kolkata that was.
Sightseeing/Tours Details -
Shaborno Roy Barir Pujo
Bhawanipur Mullick Barir Pujo
Rani Rashmoni Bari'r Pujo
Bow Bazaar P.C Chandra Barir Pujo
Thanthania Dutta Bari'r Pujo
Chatu Babu and Latu Babu's Pujo
Dorji Para Mitra Bari'r Pujo
Sovabazar Rajbari - 1 (Raja Radhakanta Dev's Palace)
Sovabazar Rajbari - 2 (Maharaja Nabakrishna Dev's Palace)
And some special puja of Kolkata may be covered like -
Behala Jagatram Mukherjee Bari for Sonar Durga pratima Darshan Girish Chandra Ghosh er Durga Puja - Manictola Ghosh Lane, Etc.
Type of Bus - AC Coach Volvo Tourist Bus
Pick up from selected nodal points of Kolkata.
Morning Pick-up schedule Time – 7:00 am
Trip End Drop Location : Esplanade Metro Gate No. 5
Pick up and drop location for non-scheduled pick-up : Esplanade Metro Gate No. 5
Medical Unit – Available
Cab Facility Available for Emergency Pick Up or Drop.
16th and 18th September (Saptami /Navami)

Radhaballavi
Aloo kosha
Kala jamun
Bottle of water (1000 ml)
Tetra pack juice (200 ml)
16th and 18th September (Saptami /Navami)

Welcome drink
Virgin mojito
Fruit punch
Assorted soft drinks

Salad
Bhaja simla aar aloo salad
Bhuta sheddho aar muttor salad
Pora kumro aar narkel salad
Boondi raita
Gondhoraj lemon
Green chili
Amrer chutney

Soup
Thenthuk vegetarian soup

Main course
Kaach kola aar bori die rui maacher jhol
Nutun aloo diye murgir jhol
Doodh potol
Gathi kochur korai suti niramish dum
Dal raibhadur
Aakhani jholer niramis pulao
Sada bhaat
Assorted Indian breads
Papad bhaja

Dessert
Baked rasogulla
Butter scotch ice cream
Venue
Esplanade Metro Gate number 5
Esplanade Metro, Jawaharlal Nehru Rd, Dharmatala, Esplanade, Kolkata, West Bengal 700013