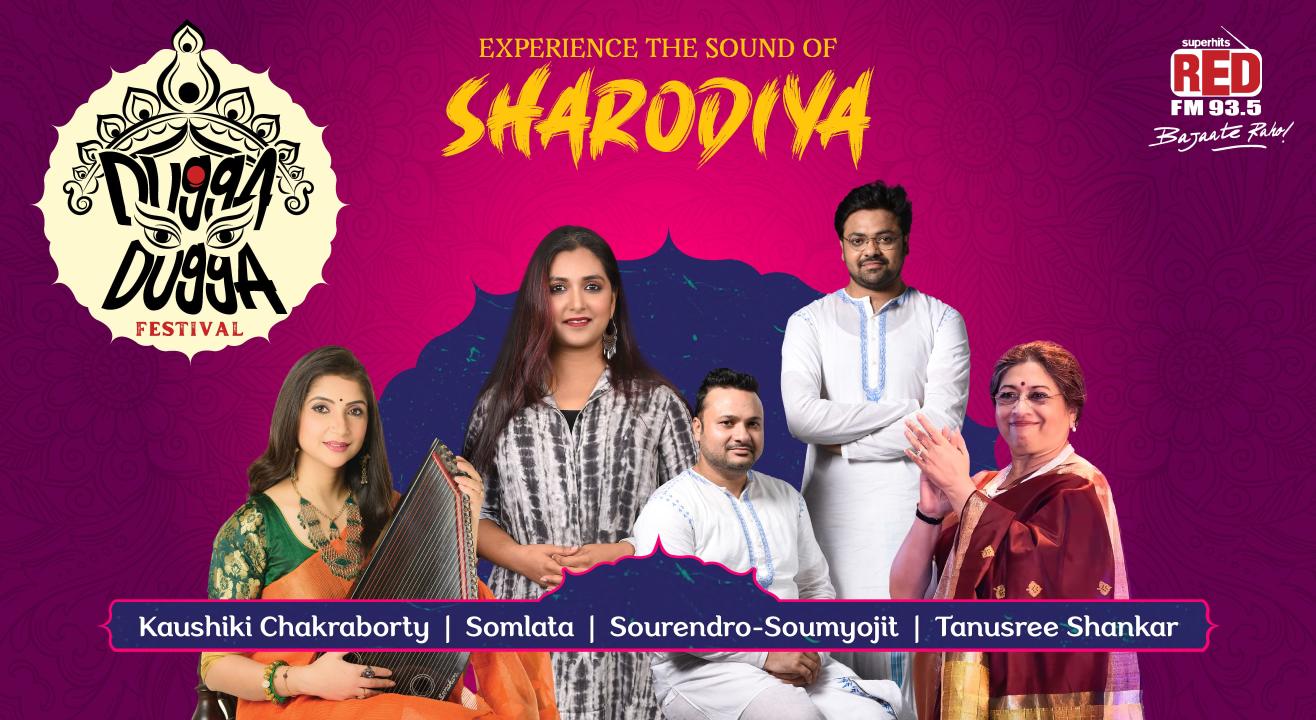 RED FM DUGGA DUGGA FESTIVAL | THE SOUND OF SHARODIYA | Durga Puja 2023
Dhono Dhanno Auditorium, Kolkata
Event Guide
Live Sports
Get in on the action
Invite your friends
and enjoy a shared experience
RED FM DUGGA DUGGA FESTIVAL | THE SOUND OF SHARODIYA | Durga Puja 2023
Dhono Dhanno Auditorium, Kolkata
Event Guide
Live Sports
Get in on the action
Invite your friends
and enjoy a shared experience
Event Guide
Live Sports
Get in on the action
Invite your friends
and enjoy a shared experience
"Join us for an enchanting evening of classical music and dance as we celebrate the spirit of Durga Puja at the third season of Red FM Dugga Dugga Festival ~ The Sound of Sharodiya, hosted by the charismatic Sujoy Prasad. Immerse yourself in the harmonious melodies and soul-stirring rhythms brought to you by a stellar lineup of renowned artists.
Featuring:
- Kaushiki Chakraborty
- Sourendro-Soumyojit
- Somlata and The Aces
- Tanusree Shankar & Her Troupe
Experience the timeless beauty of classical, semi-classical music, and Rabindra Sangeet as these eminent artists take the stage to captivate your senses. To add a touch of grace and elegance, Tanusree Shankar and her troupe will grace us with a classical dance performance.
Don't miss this opportunity to revel in the cultural richness of Durga Puja. Join us at the Dhono Dhanyo Auditorium for an unforgettable evening filled with artistry, tradition, and the essence of Sharodiya. Book your tickets now and be a part of this musical and dance extravaganza!"
Gates Open at 4pm
4:40pm – 5pm : Opening Announcements & Lamp Lighting
5pm – 6pm : Tanushree Shankar & Troupe
6:15pm – 7pm : Somlata & The Aces
7:15pm – 8:15pm : Sourendro – Soumyojit
8:30pm – 10pm : Kaushiki
Dhono Dhanno Auditorium
Thackeray Rd, Alipore Police Line, Alipore, Kolkata, West Bengal 700027, India
GET DIRECTIONS
RED FM DUGGA DUGGA FESTIVAL | THE SOUND OF SHARODIYA | Durga Puja 2023
Dhono Dhanno Auditorium, Kolkata
Event Guide
Live Sports
Get in on the action
Invite your friends
and enjoy a shared experience