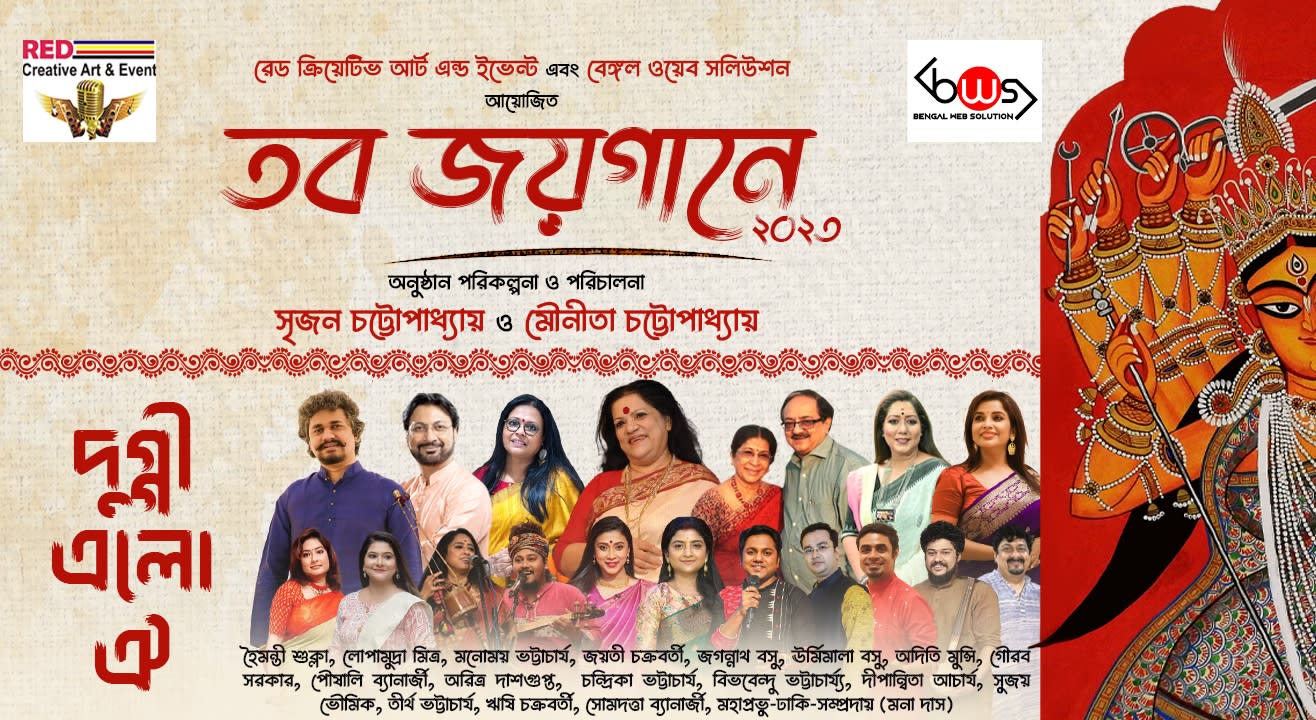 Duggi Elo Oi - Biggest Durga Puja Celebration 2023 | Durga Puja 2023
Event Guide
For Age(s)
Family Friendly
Live Performance
Enjoy a unique experience
Invite your friends
and enjoy a shared experience
Duggi Elo Oi - Biggest Durga Puja Celebration 2023 | Durga Puja 2023
Event Guide
For Age(s)
Family Friendly
Live Performance
Enjoy a unique experience
Invite your friends
and enjoy a shared experience
Event Guide
For Age(s)
Family Friendly
Live Performance
Enjoy a unique experience
Invite your friends
and enjoy a shared experience
In this segment, we seek to showcase Bengal's cultural tryst with Durgotsav both from antiquity and modern times . over the centuries , myriad artistic expressions such as dance, music, painting, theatre have got intertwined into the cultural fabric of Durgotsav. many such traditions have perished and some continue to exist. our goal is to engage our modern audience in a programme of modern sensibilities but at the same time stringing together the threads of the past. To achieve this, we seek to represent various old cultural aspects such as the near extinct tradition of 'Ramayan gaan' which in recent past formed an integral part of rural Durga worship. Keeping in sync with the martial spirit of devi, we will also stage the traditional war dance of Bengal called 'Raybenshe'. we also want to present 'Dhaaker lodai' – the fight of two traditionally skilled drummers, which once formed such an integral part of Durga puja culture and was a favoruite pastime of zamindars and aristrocracy. Traditional musical formats which have shaped the cultural identity of Durgotsav over the ages, such as kirtan, agamani, bijaya, tappa, baul and others will also be staged on this segment.
But our engagements with the past have not made us forget the relevance of the present. Pujar gaan is a modern time culture which continues to form and enrich the Bengali cultural narrative over atleast the last seven decades. The period of durga puja has witnessed the birth of many immortal compositions in the world of music. We also want to offer a befitting tribute to this continuing culture through our programmes. Artists, Performers who have come forward to turn this dream into a reality needs no new introduction to the audience. For adhunik pujor gan our stage will be graced by eminent vocalists such as Lopamudra Mitra, Manomay Bhattacharya, Jayati Chakraborty, Aritra Dasgupta, Gourab Sarkar, Sujoy Bhowmik, Somdatta Banerjee, Chandrika Bhattacharya. For 'Shruti natak' eminent recitation artists Jagannath Bose and Urmimala Bose will present their well known productions. The folk songs will be represented by Dipannita Acharya, Pousali Banerjee, Tirtha Bhattacharjee and Rishi Chakraborty. 'Ramayan gaan' will be presented by Bibhabendu Bhattacharya. Kirtan will be presented by Aditi Munshi. 'Dhaker lodai' will be presented by internationally reputed 'Mahaprabhu dhaki sampradaya' led by Mona Das. Srijan Chatterjee and Mounita Chatterjee will curate the whole programme as well as perform solo and duo.
Our goal is to present a beautiful autumnal bouquet of the cultural legacy of Bengal's Durga puja.
Nazrul Mancha
G977+728 Southern Park Southern Avenue, near Rabindra Sarobar, Lake, Dhakuria, Rabindra Sarobar, Kolkata, West Bengal 700020, India
GET DIRECTIONS
Duggi Elo Oi - Biggest Durga Puja Celebration 2023 | Durga Puja 2023
Event Guide
For Age(s)
Family Friendly
Live Performance
Enjoy a unique experience
Invite your friends
and enjoy a shared experience